How Much is Michael Phelps Worth?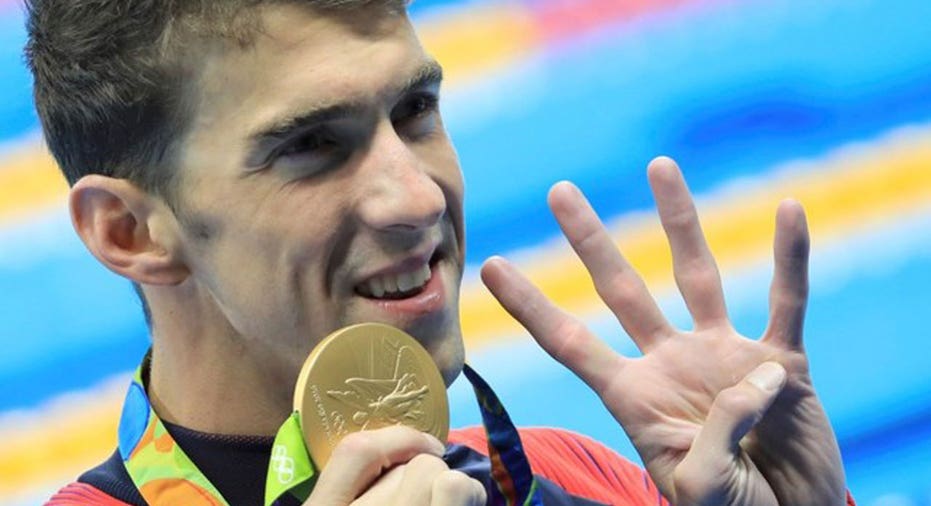 Michael Phelps
Net worth: $55 million (as of August 2016)
Year of birth: 1985
Education: University of Michigan
How Michael Phelps' Net Worth Was Built
Michael Phelps' net worth is estimated to be around $55 million, making him one of the richest athletes at the 2016 Summer Olympics in Rio de Janeiro. Gold medals and lucrative endorsements helped build his wealth. He closed out the Rio Games with a lifetime total of 28 medals -- 23 gold, 3 silver and 2 bronze.
The United States Olympic Committee awards medalists $25,000 for gold medals, $15,000 for silver and $10,000 for bronze. But endorsement deals with companies including Under Armour and Visa make up the majority of Phelps' income. His swimming competitions have brought in about $1.9 million, according to site Money Nation. Endorsement deals have brought in an estimated $94 million.
Phelps started swimming at age 7 and first competed in the Olympics at age 15. However, he didn't become a mega-star until the 2004 Olympic Games in Athens, Greece, where he won 8 medals (6 gold). He won 8 gold medals at the 2008 Beijing Games, setting a record for the most golds won at a single Olympics. His medal count reached 22 at the 2012 Olympics in London, where he took home 4 golds. He announced he'd be retiring after the 2012 Olympics but ultimately decided to compete in the 2016 Games.
Use Bankrate's net worth calculator to see how you stack up against Phelps.
What He's up to Now
Phelps finished the 2016 Olympics by breaking an ancient record. Phelps won his 13th individual gold medal, surpassing a mark set by Leonidas of Rhodes in 152 B.C. Phelps announced he won't compete in the 2020 Olympics in Tokyo.
Phelps has also written 2 books and co-founded a nonprofit organization, Swim With the Stars.
Accolades
Phelps is the most decorated Olympian of all time. He holds world records for the 100-meter butterfly (49.82), the 200-meter butterfly (1:51.51), the 400-meter individual medley (4:03.840 and the 4x100-meter and 4x200-meter relays.
Copyright 2016, Bankrate Inc.