How I Missed Out on a Free Year of College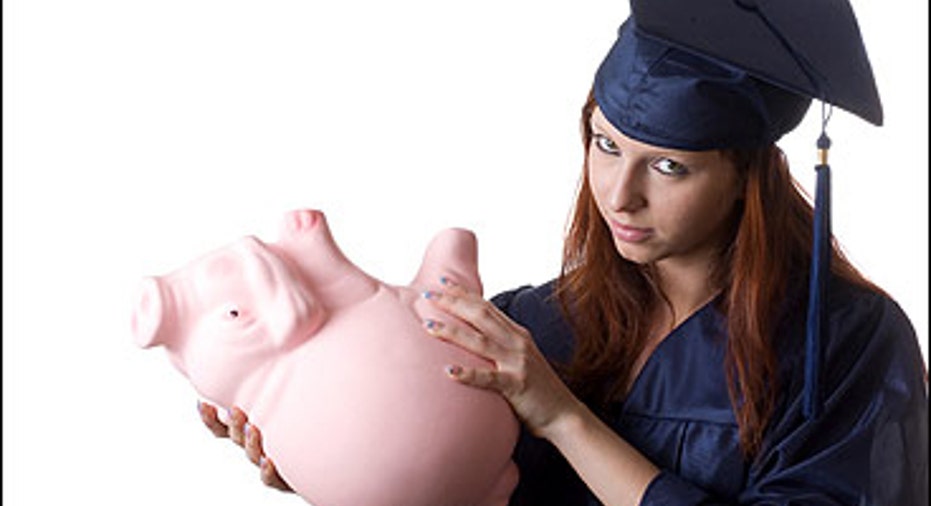 A couple of points on the math portion of the SAT tests cost Eva Baker a year of free college tuition. Baker was planning on getting a year of college classes under her belt during her senior year of high school through Florida's dual enrollment program. Dual enrollment allows high school students to take courses through a local community college tuition-free.
With this program, students may earn an associate's degree by the time they graduate from high school without having to pay tuition. In fact, some of Baker's friends have been able to start college in Florida as juniors.
Baker took the ACT in June of 2013 to initially qualify for dual enrollment. She did well on the English language portion of the test but not on the math portion. Nevertheless, she was able to take two classes through dual enrollment the first semester and one the second semester and earned all As.
The following summer it was time to take the SAT. She had been working hard on her math skills and expected to do OK. But when she received her scores, she was devastated. Her math score was not high enough to allow her to continue in dual enrollment. "I just barely missed it," she says. "I was so close — maybe two or three points off of where I needed to be."
Baker's plan had been to get a head start on her college education by taking a full load of college classes her senior year of high school. Now those plans were out the window, as she wasn't allowed to continue, despite her 4.0 GPA.
Baker understands well the financial implications of losing out on a free year of college tuition. In 2013, she started a financial blog called TeensGotCents. The impetus, she says, came when her mother forced her to listen to Dave Ramsey's Total Money Makeover audio program in the car. "I was really not happy about that," she says. But she found Ramsey so "funny and so engaging," that she was hooked. When she couldn't find the kinds of resources she wanted to read she decided to create her own blog. "My main goal is that I want to help kids so that they can be purposeful in planning for their future," she says. She knows that losing out on this opportunity will cost both time and money.
Tuition at the school Baker was attending runs $114.92 per credit hour for in-state students, so her year of dual enrollment would have been worth about $2,500 if she took 12 credits per semester. But the college she eventually attends may be more expensive, and since she will have to earn those credits later it is hard to say exactly how much this setback cost. Opportunities to go to college for free are limited, and student debt is a big burden for millennials. Many wind up taking out thousands of dollars in student loans, and as many as half of all borrowers have trouble making their student loan payments, which in turn can hurt their credit scores. You can see how your student loans are impacting your credit scores for free on Credit.com.
A Lot Riding on Scores
"The stakes for the SAT are much higher than people realize," says Debbie Stier, author of The Perfect Score Project: One Mom's Quest to Ace the SAT. As a mom trying to help her son prepare for the SAT, she took the test herself seven times in one year. She also bought and tried numerous SAT test prep books and test preparation programs.
"There is a $4.5 billion test prep industry," she says. But she also emphasizes that scoring well on the SAT is not simply learning tricks and tips to take the test. "The truth is the large part of what the test is testing is mastery of reading, writing and math," she says and "a large part of it is filling these gaps that occurred in education."
In math, for example, skills build on other skills and it is very hard to score high on SAT math — which requires both speed and accuracy — if a student has missed out on important concepts. "If you are wise enough to realize this early on you can keep the gaps from happening, so that by the time you get to high school you don't have the gaps," Stier says. In fact, she encouraged her daughter Daisy to take refresher classes in algebra and geometry so that she had a solid foundation before she started test prep.
As for Baker, she is now taking a remedial math course designed specifically to prepare students for college math. She says she's also leaning on her faith.  "It was hard. But I think that God really used it and showed me that this wasn't what I had to do right now." It was hard for her to accept her failure, and even harder to share her story on her blog, she says. But it's struck a chord with other students and parents. When she wrote, half-joking, that she's learned that "standardized tests are from the devil" she found there were plenty of other people who agreed.
Image courtesy of Eva Baker
More from Credit.com
Gerri Detweiler is Credit.com's Director of Consumer Education. She focuses on helping people understand their credit and debt, and writes about those issues, as well as financial legislation, budgeting, debt recovery and savings strategies. She is also the co-author of Debt Collection Answers: How to Use Debt Collection Laws to Protect Your Rights, and Reduce Stress: Real-Life Solutions for Solving Your Credit Crisis as well as host of TalkCreditRadio.com.