How Charlie Batch Went From NFL QB To Sports Medicine Entrepreneur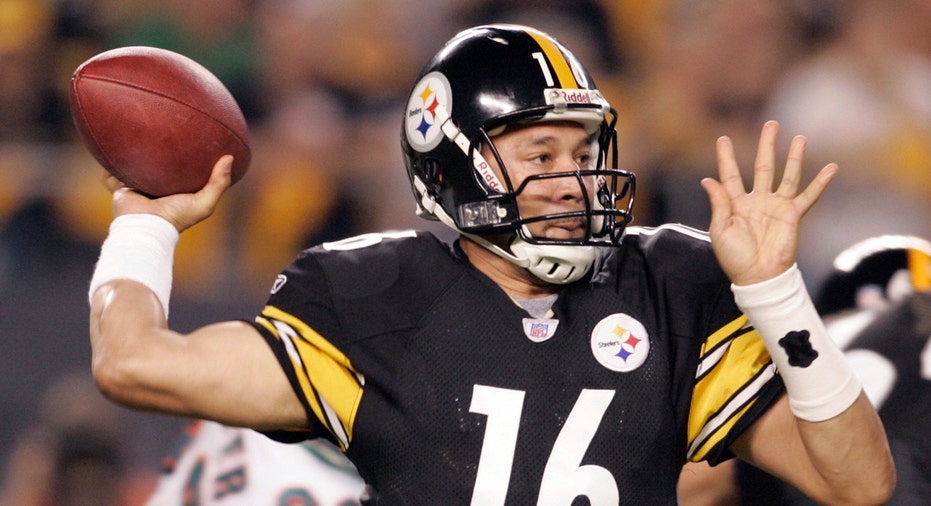 Charlie Batch didn't realize his pro football career was in jeopardy until after he woke up from surgery. It was the summer before the 2004 NFL season, and Batch, then a veteran quarterback for the Pittsburgh Steelers, was in a hospital for what he thought would be a routine procedure to "clean up" loose cartilage in his knee.
Batch expected to fully recover within a few weeks. Instead, the doctor performing the operation discovered the damage was more significant than anticipated. Batch needed microfracture surgery – a risky procedure used to treat degenerative knee ailments. Some athletes never fully recover and are forced to retire.
At age 30, Batch faced the real possibility that his playing days were over. It was weeks before he could place any weight on his surgically repaired knee. Unable to train, Batch spent hours every day on a stationary bike to maintain blood flow necessary to heal. Rehab was a grueling process.
"I'm like, huh? When we did we get to that point? That was something that was a wake-up call for me, because I had to miss the entire year," Batch told FOXBusiness.com. "I didn't know if I was going to be able to continue after that. They had a high success rate, but they couldn't guarantee you coming back from [that] injury."
Batch missed the entire 2004 season but made a full recovery. When he did retire, at age 38, Batch successfully transitioned from the football field to the business world. In January 2016, he co-founded Impellia, a Pennsylvania-based sports medicine venture. Formed in conjunction with experts at the University of Pittsburgh, Impellia aims to introduce the mainstream medical community to new technologies that will speed up the recovery process and prevent injuries for athletes and average citizens alike.
The idea to launch Impellia first arose through Batch's natural curiosity about the exploding tech industry, as well as his desire to build a post-career life in Pittsburgh, his hometown. Batch, along with his childhood friend Richard Walker and fellow business partner Dave Morin, realized there was a hole in sports medicine.
"I thought to myself, wait a minute. If we're privy to this as athletes, why isn't the general public privy to this?" Batch said. "You have so many cool [technologies] out there that people just don't know about. Wouldn't it be a cool thing to be able to generate a buzz and create something that would allow that to happen? That's how it shook out."
To start, Impellia settled on three university-developed sports medicine technologies that it will attempt to market.
The Versatile and Integrated System for Telerehabilitation, or "VISYTER," allows doctors to remotely examine potential injuries and access electronic medical records. "InterACTION" is a rehabilitation tool that uses sensors to transmit data about an injured joint's range of motion and movement to mobile devices. From there, physical therapists can chart their patients' recovery and alter their rehabilitation regimen passed on the information.
"If you're an athlete or just an average person, you'll walk into a facility, you'll do your rehab two times, maybe three times a week." Batch said. "Chances are you don't do your exercises as intensely [at home] as what you would do when you go. This is just a way to monitor that and really give you feedback."
Impellia's "PIVOT" software, developed by noted orthopedic surgeons Freddie Fu and Volker Masuhl, is perhaps its most intriguing technology. PIVOT allows doctors to use quantitative data, rather than their subjective analysis, to diagnose injuries to the anterior cruciate ligament, or ACL. These tears are devastating for professional athletes and surprisingly common among the general population.
Efforts to market the products are in their infant stages, but Batch says the company has had conversations with "multiple health systems" that are interested in Impellia's devices. He's also investigating other products, such as a gait-pattern tracker that would assess the way a person runs and help to correct sloppy technique that can lead to injuries.
Impellia plans to approach professional sports organizations to gauge interest in its products, but the company's long-term business plan is to focus on the healthcare industry, not just athletes.
"Nobody wants to go in for a second surgery, because these hospital systems are getting penalized for that," Batch said. "Ultimately, they're looking to save money, and if they can save money by using these methods, I think that's a win-win for everyone."
Injuries are an occupational hazard for any athlete, from NFL stars to office workers playing in intramural leagues. Batch is betting that there's a strong market for advances in sports medicine that allow both patients and doctors to save money.
"You have a broad range of people who have to go through the rehab process. It's unfortunate, because you're talking about injuries, but what happens if you're able to pre-screen for these things?" Batch said. "Maybe you can cut down on some injuries and how they occur."