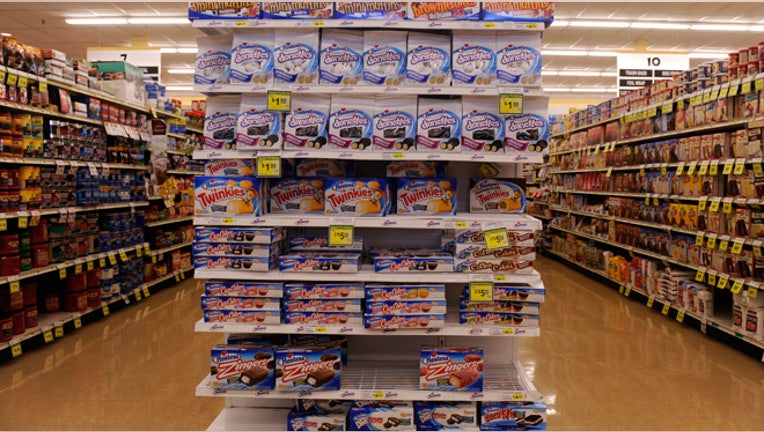 Hostess Brands won permission to put some of its brands, including Twinkie, up for auction as bankruptcy proceedings continued Monday.
On Monday, Judge Robert Drain of the U.S. Bankruptcy Court in White Plains, N.Y., approved the  baker's plans, revealed in the last few weeks, to sell its assets.
The auction for Twinkie and related assets is slated for March 13. Auctions for Drake's and bread brands Sweetheart, Eddy's, Standish Farms and Grandma Emilie's will take place on March 15.
Private equity firms Apollo Global Management (NYSE:APO) and Metropoulos & Co. are the stalking horse, or lead bidder, for most of Hostess' cake brands, including Twinkie, Ding Dongs, Ho Hos and Dolly Madison, as well as five bakeries and equipment. The firms offered $410 million.
Stalking-horse bidders set a baseline offer and are usually given breakup fees if they do not emerge as the winning bidder.
Little Debbie maker McKee Foods Corp. opened up the bidding for Drake's with a $27.5 million offer, which does not include Drake's Wayne, N.J., plant.
Franz Family Bakery, a subsidiary of Portland, Ore.-based United States Bakery, put $28.85 million on the table for the four bread brands, four bakeries, 14 depots and equipment.
Judge Drain will consider approval for the winning bids at a sale hearing on March 19.
A Hostess spokesperson confirmed the details, reported by Dow Jones Newswires late Monday morning, to FOX Business.
Last month, Hostess got approval to divest 20 plants, 38 depots and five of its major bread brands, including Wonder Bread and Nature's Pride. Flowers Foods (NYSE:FLO), the maker of Tastykakes and Nature's Own breads, has the opening bid of $360 million. That auction will be held on Feb. 28 with a sale hearing scheduled for March 5.
Hostess announced in November that it was shutting down its bakeries and selling off about 30 brands and 36 plants. The move came after the company could not negotiate a deal on cost-cutting measures with its second-largest union.
FOX Business reporter Adam Samson contributed to this report.