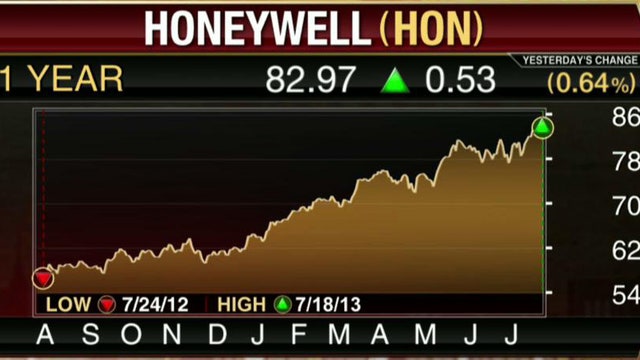 Honeywell (NYSE:HON) said Friday its second-quarter net income climbed 13% on wider margins and stronger automation and control-systems sales that overshadowed weaker demand in the industrial company's aerospace segment.
The Morris Township, N.J.-based company also raised the low end of its full-year outlook by five cents, now calling for adjusted earnings of $4.85 to $4.95 a share. The low end of its revenue forecast was raised by $100 million to between $38.9 billion and $39.3 billion.
"We remain focused on seed planting, funding cost savings initiatives across the portfolio, and remaining flexible given the continued uncertain global economic outlook," Honeywell Chairman and CEO Dave Cote said in a statement. "And, as a result of our first half performance, we are raising the low-end of our 2013 guidance by $0.05 with the expectation of modestly improved organic growth and continued margin expansion in the second half outlook."
Honeywell has said it would work on improving margins to aid profit growth amid weaker economic expansion that has dampened revenue. Efforts to streamline the company have largely been directed at Europe. In the latest period, operating margin improved to 13.7% from 12.9%.
It reported a profit of $1.02 billion, or $1.28 a share, compared to $902 million, or $1.14 a share, in the year-ago period. The company's April forecast called for per-share earnings of between $1.18 and $1.23, and analysts were expecting $1.21 a share.
Sales rose 2.7% to $9.69 billion, coming in at the high end of Honeywell's estimate for $9.5 billion to $9.7 billion.
Although the aerospace unit saw sales decline 1% to $3 billion, sales at the automation and control-systems business, which provides products to the commercial construction industry, increased 2.6% to $4.07 billion.
Sales of performance materials and technologies jumped 8.9%, while transportation systems sales were up 5.2%.
In December, Honeywell agreed to a $600 million deal to buy Intermec (NYSE:IN), which provides supply-chain products, printers and bar-code scanners. While Intermec shareholders have already approved the deal, the termination date was extended to Oct. 10 from June 10 after the Federal Trade Commission made a second request for information.
Shares were up 53 cents at $83.50 in pre-market trading. Through Thursday's close, the stock had climbed 52% over the last year.