Honda Ridgeline Enters Hot Truck Market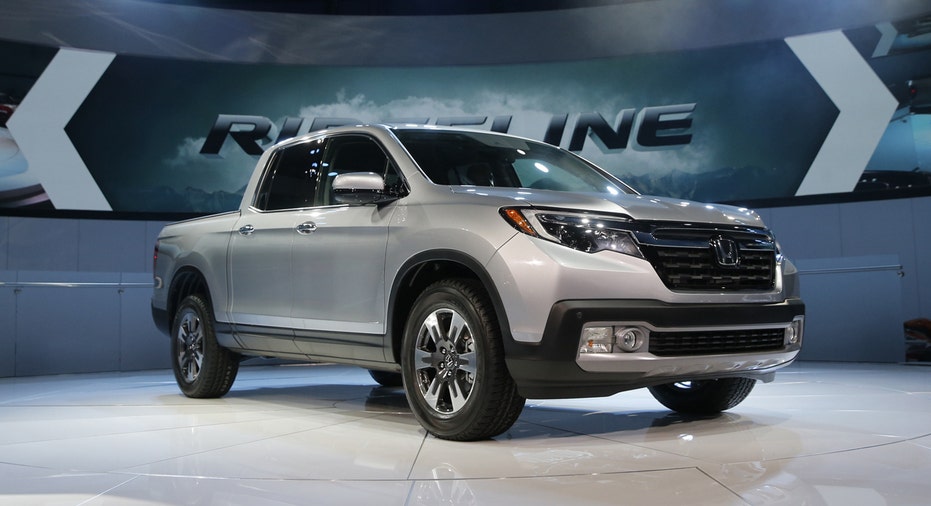 Truck buyers faced a dwindling selection of midsize pickup trucks after Detroit's Big 3 all headed for the exits by 2012. Then General Motors (NYSE:GM) brought back its small trucks in 2014, and Toyota (NYSE:TM) revamped its decade-old Tacoma a year later. Now it's Honda's (NYSE:HMC) turn.
Honda, which pulled its midsize truck from showrooms after the 2014 model year, has jumped back into the ring with a brand-new Ridgeline. The redesigned pickup started to arrive in Honda dealerships early in the summer. Through digital and TV ads launched in August, Honda is hoping to woo consumers looking for both truck functionality and car-like comfort. That combination is critical in the eyes of midsize truck buyers.
Honda touts the Ridgeline's maximum payload capacity 1,584 pounds, while towing capacity tops out at 5,000 pounds—less than its competitors but enough for most buyers, the company says. A trunk located under the truck's bed offers extra storage space, and a dual-action tailgate can swing open like a car door.
The Ridgeline is standard-equipped with a composite bed that's resistant to dents and scratches, as shown in a series of web videos. The videos mirror Chevrolet's TV ads comparing the Silverado's steel bed with the Ford F-150's aluminum bed. Like Chevrolet, Honda dumped landscape rocks and threw a toolbox into the bed, leaving minimal damage.
The Ridgeline also has plenty of new tech and interior amenities. One of the major selling points for Honda is an audio system built into the bed. (Honda calls the Ridgeline the "ultimate tailgate party" vehicle.)  Options include heated seats and steering wheel, driver assists like lane departure warning, keyless entry and an 8-inch touchscreen with Android Auto and Apple (NASDAQ:AAPL) CarPlay on-board.
Honda is making an appeal to a broad group of potential buyers, whether they want to drive the Ridgeline through the mud, on the jobsite or on the road. GM and Toyota have succeeded in that way, and Honda expects to grab a sizable piece of the market for itself.
The marketing campaign is "dedicated around the car that can do it all," Honda spokesperson James Jenkins told FOXBusiness.com. "It's the truck you can drive to the office Monday through Friday, and then go camping on Saturdays and Sundays."
So far, sales of the 2017 Ridgeline have totaled 9,429 trucks, including 3,437 deliveries in August. By comparison, GM's Chevrolet Colorado and GMC Canyon have combined sales of 93,921. Sales are up 24% year-to-date, even as auto sales have been mostly flat for GM and its rivals. The segment's leader is still Toyota, whose Tacoma has tallied 126,988 units sold this year, a 4% increase.
---
Honda Ridgeline Specs
Price: $29,475 (2WD) or $31,275 (AWD)
Engine: 3.5L V6 (280 hp; 262 lb-ft of torque)
Towing: 5,000 pounds
Payload: 1,584 pounds
Tech: 8-inch touchscreen (Android Auto and Apply CarPlay), truck bed audio system
More: Keyless entry, heated seats and steering wheel
---
What was recently a thin market has turned into a rather crowded one, and there may be more to come. Ford (NYSE:F) is rumored to be considering a U.S. return for the Ranger, which continues to be sold in other countries. Meanwhile, the U.S. version of the Nissan Frontier hasn't received a major upgrade in a decade and could get a facelift soon.
Still, the popularity of midsize trucks from Toyota and GM show there's plenty of room for Honda, according to Edmunds.com analyst Jessica Caldwell.
"There's a lot of growth and opportunity in this market," said Caldwell, Edmunds.com's executive director of industry analysis. "The Ridgeline came at the right time. In smaller trucks, people are looking for more content and all the amenities you have in nice vehicles. That wasn't the case" in past generations of midsize trucks.
Americans who don't drive pickup trucks are giving vehicles like the Ridgeline a shot. Most midsize truck buyers this year are trading in other small trucks (33%) or full-size trucks (16%) for a Colorado, Canyon, Frontier or Tacoma, based on Edmunds.com data. But midsize SUVs and compact and midsize crossovers accounted for 19.5% of trade-ins through August.
"I think we're strategically placed. Everybody is buying crossovers, and our truck is built on that with crossover-like features," Jenkins said.
The difference in cost has also made smaller trucks more appealing to bargain hunters. Buyers are shelling out an average of $31,886 for new small trucks this year, a savings of $13,434 when compared to an average full-size truck. The price gap was just $7,404 in 2002.