Holiday Discounts Eat Into Best Buy's 4Q Profits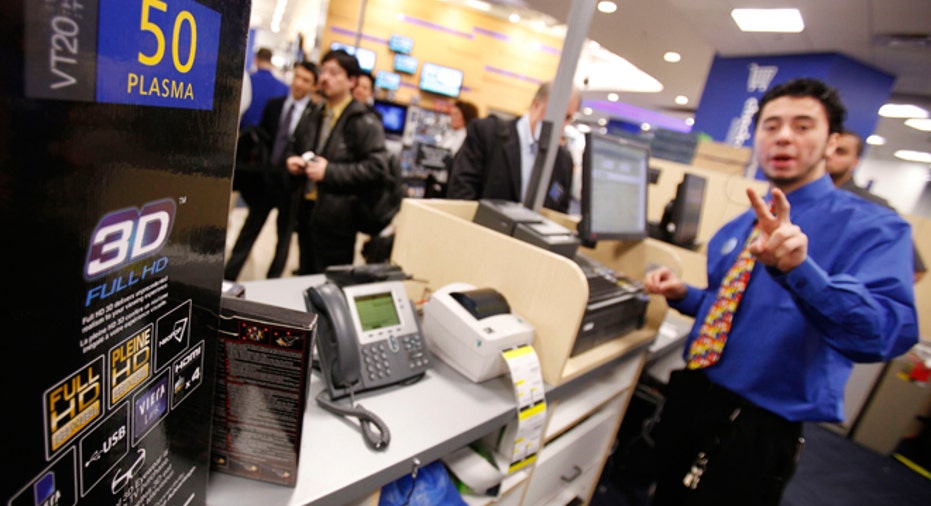 Electronics retailer Best Buy (NYSE:BBY) disclosed a steeper-than-expected 29% slump in third-quarter profits on Tuesday amid shrinking consumer electronic sales and heavy discounting.
The gloomy results from the Richfield, Minn.-based retailer sent its stock diving almost 9% in the premarkets.
Best Buy said it earned $154 million, or 42 cents a share, last quarter, compared with a profit of $217 million, or 54 cents a share, a year earlier. Excluding one-time items, it earned 47 cents a share, missing the Street's view of 51 cents.
Revenue ticked up 1.8% to $12.1 billion, compared with estimates from analysts for $12.14 billion. Domestic revenue rose 2% to $8.89 billion.
Same-store sales inched up 0.3% overall and 0.9% domestically, but international same-store sales slid 1.7%.
While Best Buy said it enjoyed sales growth in mobile computing, appliances, eReaders and mobile phones, it saw declines in digital imaging and gaming. Consumer electronics same-store sales dropped 4.8%.
In a sign of heavy discounting, Best Buy's gross margins shrank to 24.2% from 25.1%.
"We took actions to provide value to customers and drive our business in this competitive consumer environment," CEO Brian Dunn said in a statement. "We are pleased to report positive traffic, comparable store sales growth and continued progress on our key strategic focus areas, highlighted by strong performance online."
Looking ahead, Best Buy reaffirmed its forecast for 2012 non-GAAP EPS of $3.35 to $3.65, compared with consensus calls from analysts for $3.44. On a GAAP basis, the company sees a per-share loss of $3.17 to $3.52 due to charges.
Same-store sales are expected to be flat to down 3% in 2012, translating to revenue of $51 billion to $52.5 billion. Wall Street sees 2012 revenue of $51.81 billion.
Best Buy's disappointing report triggered a sharp decline in its stock, which was recently down 8.62% to $25.65. Best Buy was off 18.1% on the year as of Monday's close.