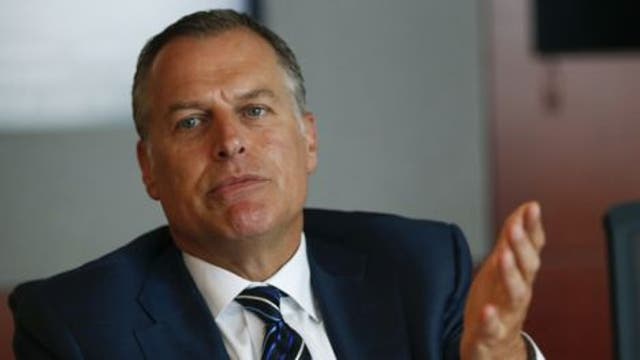 Meditation, playing bongo drums, and drinking wheatgrass juice. Sounds like a Woodstock revival for wanna-be hippies, but it's also a typical meeting given by management for the massive army of brokers at Merrill Lynch.
The Bank of America (NYSE:BAC) unit, which traces its beginning a century ago to a brokerage created by the legendary Charlie Merrill, has taken, what some people inside the firm consider, a bizarre and increasingly counter-productive cultural turn. The firm is moving away from its nearly Marine-Corps ethos of aggressively selling investments as Wall Street's "thundering herd" and toward embracing a New Age approach to the business of financial advice.
The brainchild of this weird reformation is a man named John Thiel, a former financial adviser who runs Merrill's Lynch's brokerage unit. Unlike other past brokerage chiefs, including the flamboyant John "Launny" Steffens, or the charismatic Sallie Krawcheck, or even Robert McCann who is the head of the UBS brokerage, Thiel has maintained a low profile, shunning most interviews with reporters, and rarely appearing on business television (he declined repeated attempts to be interviewed by FOX Business).
But where Thiel has been less bashful is in the area of changing the once macho culture at Merrill, particularly during meetings with his biggest producers, into something resembling a New Age spiritual retreat. Brokers say it is starting to cause fed-up brokers to leave the firm for competitors like Morgan Stanley, now the largest brokerage firm with more than 16,000 financial advisers compared with about 15,000 at Merrill, according to market research firm Aite Group.
According to brokers interviewed by FOX Business, Thiel has served wheatgrass and cucumber juice during meetings when just wine and beer would have done in the old days. He has encouraged brokers to take naps during the trading day, these people say. And speaks in the language of exotic spirituality, rather than finance, asking at one conference for brokers to find their "noble purpose."
Appearing at one Merrill brokerage meeting hosted by Thiel was Davidji, a self-described "internationally recognized meditation expert" who studied at the Chopra Institute. According to Davidji's website, he began a "new journey into wholeness…after a 20-year career in business, finance and mergers and acquisitions."
A Merrill Lynch spokesman denied that Thiel's so-called wellness initiative, as it is known inside the firm, is backfiring. He says after some attrition of brokers, the firm is now making new hires. As for the wellness initiative, he said "As our advisor force ages, they want to take care of their health,"  and that the bongo playing was part of a charitable event to donate percussion instruments to inner-city schools in Miami. As for Davidji, the spokesman said he "is the guy the advisors asked for specifically. (Davidji didn't return requests for comment)
"Being on top in every category for so long, we get used to anonymous potshots, but Merrill Lynch is doing great things with our clients and for our shareholders and John is doing exactly what…I need him to do," said Thiel's boss, David Darnell, Vice Chairman of Bank of America, in a statement to Fox Business.
In a rare interview posted on the website of his alma mater, Florida State University, college of business, Thiel described his secret to success this way: "Understand and accept. As so many before you, it all begins with the realization that hard work, curiosity and living your values will be a big determinant of your success.  If I did one or two things consistently, it was to continually invest in my own self-development (such as through the Dale Carnegie program and obtaining industry designations) and reflect on whether I could do or have done something more effectively.  Self-awareness is critical to anyone's success."
But brokers say Thiel isn't aware of the damage his touchy-feely approach is causing at Merrill Lynch. They point to low morale among many financial advisers and the loss of major brokerage teams to rivals, such as the veteran team from Miami that recently left for Wells Fargo. And brokers appear to be fleeing in even larger numbers; internal brokerage statistics from a rival obtained by Fox Business show that when you take away advisers working on Merrill's online trading system, known as Merrill Edge, the number of brokers at the firm falls significantly below the 15,000 level that's generally advertised to around 14,000.
One Merrill Lynch internal document reviewed by Fox Business also shows that the firm lost more brokers than it brought it for 12 of the past 13 weeks. The firm is also having difficult winning accounts from investors known as "priority households," or those with more than $250,000 in assets. These accounts are the most lucrative for the brokerage industry, and Merrill's rate of winning them, the document shows, recently fell to its lowest level in years.
To be sure, the heightened attrition and falling morale, isn't all Thiel's doing. Bank of America bought Merrill Lynch during the dark days of the 2008 financial crisis. The firm has been forced to adapt to new practices and procedures. Brokers complain they are under pressure to sell to their clients certain banking products, and about the maddening bureaucracy of working at one of the world's largest banks.
But Thiel, according to these people, has made a bad situation even worse. "Bongoing and meditating while the markets are going crazy?" asks one Merrill executive. "Tell me how that's working out."