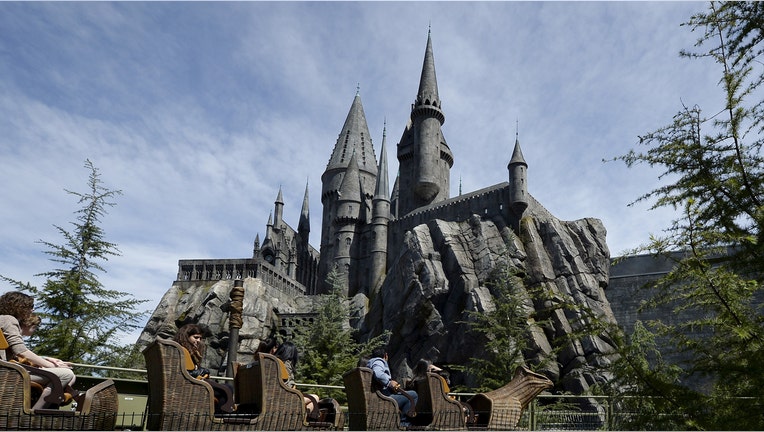 "The Wizarding World of Harry Potter" opened to the public on Thursday at Universal Studios Hollywood.
The park, a partnership between Warner Bros. – who distributed the Harry Potter films – and Universal Studios, is the second of its kind in the U.S.; The first Wizarding World of Harry Potter opened at Universal Studios in Orlando, Florida in 2010.
Universal announced that it had to halt online ticket sales for the first time ever after selling out for opening day. VIP Experience and Front of Line ticket options also sold out online through Saturday.
"This incredible consumer demand speaks largely to the arrival of 'The Wizarding World of Harry Potter,' and the dramatic 75% transformation of Universal Studios Hollywood into an entirely new destination," Larry Kurzweil, president of Universal Studios Hollywood, said in a press release.
The latest venture further proves the Harry Potter franchise, which is estimated to be worth up to $25 billion, has incredible staying power. It's been almost 20 years since the first book in J.K. Rowling's series about a boy wizard was published, and momentum is not slowing one bit.
The seven Harry Potter books have been translated into 74 languages and sold over 450 million copies globally. The eight films that followed have grossed $7.7 billion worldwide at the box office, with an estimated additional $2 billion generated in Blu-ray/DVD/Digital-HD sales and rentals.
In 2012, Rowling launched Pottermore, a digital entertainment and e-commerce platform for fans to further explore the world of Harry Potter and access new stories.
The franchise continues to expand; "Fantastic Beasts and Where to Find Them," a spinoff of the Harry Potter series, will hit theaters this fall.  And "Harry Potter and the Cursed Child," a two-part stage play, will open in London's West End this summer.
So what exactly keeps consumers piling money into all things Harry Potter? There are several factors according to Vincent Moy, an entertainment industry analyst at NPD Group, a market research firm.
"The aspirational story gives hope to everyone who has ever felt like they didn't fit in," he told FOXBusiness.com
"Diversity and inclusiveness are key elements of the wizarding world. Gender, ethnicity, quirky personalities and even different species are all part of the Harry Potter DNA. The fact that good and evil wizards come in all forms give light to the proverbial, 'you can't judge a book by its cover.'"
Moy notes that readers grew up with Harry as he transformed from a boy to a young adult. Many kids who became fans after the first book are now parents themselves and will likely pass down a love for the series to their own children.
As for the new theme park's chance of success, it is expected to break records. The Orlando park saw a 30% increase in business after the Harry Potter attraction opened in 2010. Comcast (NASDAQ:CMCSA), which owns a majority stake in Universal Studios, said theme park revenue increased 27% in its 2015 year-end report.
The Hollywood Harry Potter attraction features two new rides, a restaurant, beverage carts and a slew of souvenir shops. Tickets to enter the park range from $90 to $239.
Moy, who worked at Warner Bros. in the early 2000s –when many of the films were released – says each new iteration of the brand will keep devoted "Potterheads" coming back for more.
"There hadn't been anything at that level of deep fanship [before Harry Potter]. It changed the way kids were thinking about reading and kind of made reading cool and fascinating…As they have new properties, it can reinvigorate people that used to be interested and it doesn't feel stale."
Universal Studios Hollywood did not return a request for comment at the time of publication.