Gun Buyers Scoop Up AK-47 Rifles After New Sanctions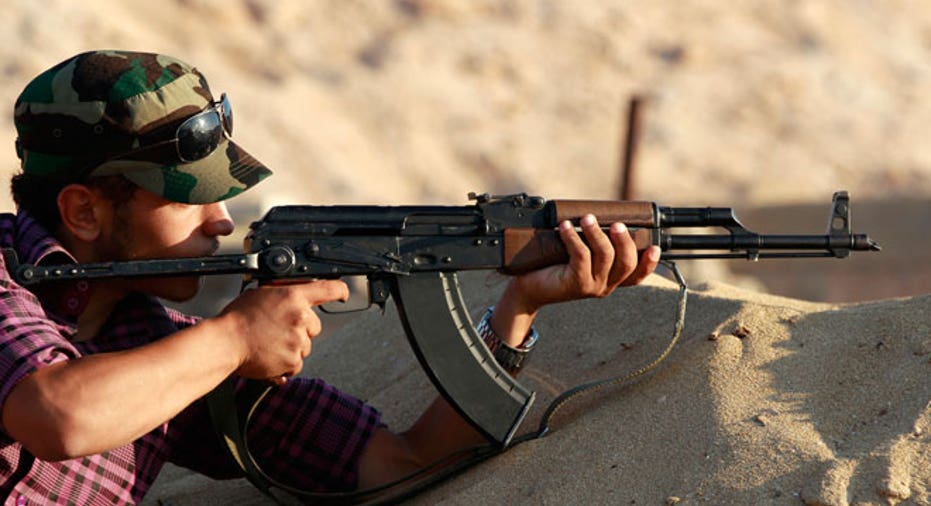 Following another round of sanctions, demand for Russian-made firearms like the AK-47 rifle has picked up in recent days.
The U.S. and European nations have imposed economic sanctions targeting Russian companies over the country's role in backing separatists that are fighting the Ukraine government. Additional penalties could be handed down in response to the downing of a Malaysia Airlines flight late last week. Federal officials believe the jet was shot down by a surface-to-air missile fired by rebels in eastern Ukraine.
The sanctions unveiled on Wednesday include Kalashnikov Concern, the maker of AK-47s and Saiga firearms. American companies are now prohibited from having Kalashnikov products imported into the U.S.
According to the Treasury Department, new transactions with Kalashnikov would violate the sanction, while current AK-47 owners can keep or resell Kalashnikov products. The Treasury also said distributors with an inventory of Kalashnikov firearms that aren't fully paid for should contact the Office of Foreign Assets Control.
Impact Guns, which operates two stores in Utah and one in Idaho, has limited or no stock of several Kalashnikov models online. A Saiga AK-47 and AK-74 made by Arsenal, a Las Vegas-based company that modifies guns imported from Russia, are listed as out of stock. The AK-74 uses a smaller caliber than its older sibling.
Craig Ball, director of operations at Impact Guns, said the stores have seen increased interest from buyers looking for AK-47s over the last few days. Gun stores typically don't keep many AKs in the pipeline, he added.
"Then something like this happens, and the supply dries up," Ball explained.
Quick on the Draw
Impact Guns reached out to distributors as soon as news of the sanctions on Kalashnikov broke, but most distributors have stopped taking orders.
"Some were quicker on the draw than others," Ball said.
Atlantic Firearms, a Bishopville, Md.-based distributor that specializes in AK-47s, is telling customers that many of its Russian firearms are unavailable.
"Due to recent import restrictions, we have had a run on our supply of Russian manufactured firearms. We are currently SOLD OUT of the Russian AK47 CAK-132 Wood as of 7/17/14. We are working with our importer to try and acquire what we can but are expecting price increases," Atlantic Firearms said in a message on one product page.
A similar note appears on Atlantic Firearms' product page for the Saiga IZ240 AK-74, Saiga-12 IZ109 and other models.
K-Var, one of the primary distributors for importer FIME Group, lists multiple versions of the AK-47 and Saiga-12 shotgun as out of stock.
"The products of Kalashnikov enjoy great demand in the United States," Kalashnikov, which is named after AK-47 designer Mikhail Kalashnikov, said in a statement published on the company's website. "Preorders on civilian products are three times the annual volume of deliveries. Thus, the sanctions taken against Kalashnikov go against the interests of American consumers."
Considering the import ban, some buyers may be looking to make an investment in AK-47s and other Russian firearms. Ball noted how Chinese versions of the AK-47 became rare commodities and went up in value when shipments to the U.S. were banned.
"A lot of people are looking down the road," Ball said when asked about a possible jump in AK-47 prices.