Greece's Lame Tax Attacks on IMF's Lagarde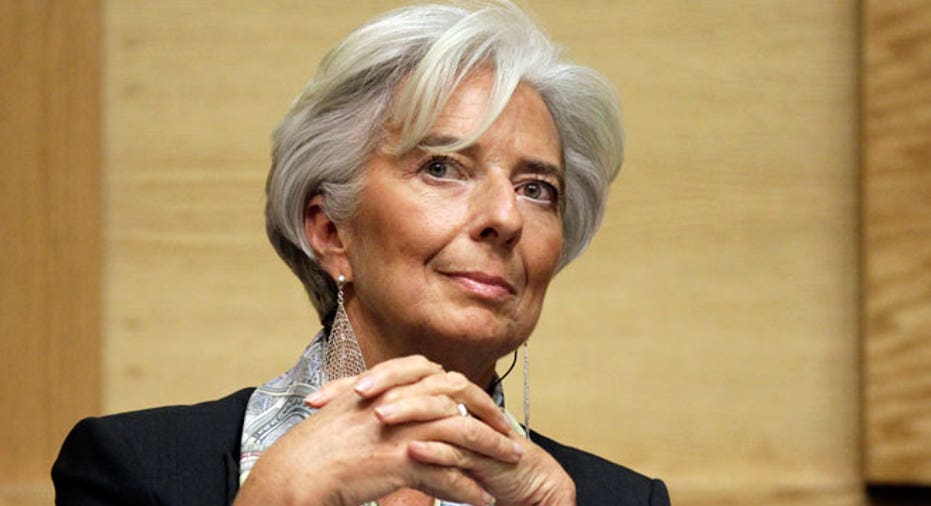 Officials in Greece are blasting Christine Lagarde, head of the International Monetary Fund, over her zero income tax bill after her criticisms that Greece's massive tax evasion are behind the country's fiscal collapse.
Speaking last week to the Guardian newspaper about Greece's fiscal problems, Lagarde, the former French finance minister, said: "As far as Athens is concerned, I also think about all those people who are trying to escape tax all the time. All these people in Greece who are trying to escape tax."
Since then, Lagarde's Facebook page has been flooded with sharp, personal attacks because the IMF managing director does not have to pay income taxes on her net $551,700 in salary and allowances.
That's got Greece and others up in arms.
"Greek people have suffered incredibly heavy sacrifices over the past few years and I think they deserve all due respect," retorted Dimitris Tsiodras, a government spokesman for Greece.
"If you do not pay any tax, you do not get to tell other people off for not paying tax," blusters the magazine the New Statesman in Great Britain.
Lost in the debate is the fact that there is a reason why Lagarde and other diplomats pay zero taxes on their IMF pay. It's to avoid harassment and vendettas launched by other countries via their home country's tax systems, as well as falling prey to bribery or kickbacks (the exact same corruption which, news flash, is what's plaguing the tax system in Greece).
And the furious backlash is a distraction from the fact that Greece is running a dysfunctional economy where corruption and tax evasion are a national pasttime, where officials want to preserve a system built on vice and limitless debt in order to feed growing government power and a teetering, bankrupt entitlement state.
Greece is ranked as one of the worst countries in the world for tax evasion, worse than Italy, an intractable problem leaders of the European Union and even Greek officials have decried. Tax fraud is a "scourge" in Greece, a spokesman for the EU's economics commissioner now says.
Government statistics estimate that one-third or more in taxes is not paid annually to the Greek government. This country of 11.3 million people owes an estimated $440 billion in government debt, or about 198% of its economy.
And tax evasion has gotten worse, as Greek citizens now refuse to pay their tax bills in anticipation of a possible exit from the eurozone.
The country's cash flow is expected to turn negative within a few weeks amid a sharp fall in government tax revenues.
Greeks have a long history of borrowing money with no intention of paying it back, and the country was living beyond its means even before it joined the eurozone.
After it joined in 1999, public spending skyrocketed. Government wages soared 50% between 1999 and 2007 – much more rapidly than other countries in the EU, as the government waded heavily into the private markets buying hotels, casinos, and ski resorts, among others.
More than a third of Greeks work for the state and retire early. In 2004, Eurostat, a European Commission data agency, found Greece had understated its deficit.
The IMF as well as the United Nations reduce the pay for their workers and executives by the amount of the tax bills they owe, meaning, they get paid on a net basis. Workers at the IMF and the United Nations don't pay national, regional or municipal taxes, says article 34 of the Vienna Convention on Diplomatic Relations, an international treaty signed by 187 countries in 1961.
Again, that article was enacted so diplomats do not face harassment, pressure or fall prey to corruption from other countries via their home country's tax systems.
A spokesman says Lagarde does pay local taxes in the U.S. and France; in addition, Lagarde paid taxes for years up until her IMF posting.
Lagarde's predecessor, Dominique Strauss-Kahn (ousted after a sex abuse scandal) also got the same tax deal. The laws are tricky here -- Treasury Secretary Timothy Geithner initially failed to pay payroll taxes on income he received from the IMF in 2001, and then repeated the error in three subsequent years. The IMF, like the UN, reimburses U.S. workers for half of their U.S. self-employment taxes.
So the IMF pays Lagarde's tax bill for her, just as U.S. companies sometimes covered the tax bills for executives here in the U.S., in what were called "tax gross ups."
That corporate compensation practice was popularized during the merger mania of the 1980s, where companies like AT&T (NYSE:T), Home Depot (NYSE:HD) and Morgan Stanley (NYSE:MS) lured leading executives away from other concerns with promises to pay their tax bills, a practice that drew heavy fire from corporate governance watchdogs.
But it was Lagarde's characteristically blunt comments about Greece that got the diplomat in hot water. When asked about the impact of austerity measures in Greece, Lagarde replied: "No, I think more of the little kids from a school in a little village in Niger who get teaching two hours a day, sharing one chair for three of them, and who are very keen to get an education. I have them in my mind all the time. Because I think they need even more help than the people in Athens."
When asked if she thinks about them more than the people in Greece now struggling to survive without jobs or public services, Lagarde replied: "I think of them equally. And I think they should also help themselves collectively..by all paying their tax."
After a backlash on her Facebook page, Lagarde put up this statement, indicating the IMF managing director is not backing down: "As I have said many times before, I am very sympathetic to the Greek people and the challenges they are facing. That's why the IMF is supporting Greece in its endeavor to overcome the current crisis and return to the path of economic growth, jobs and stability."
Lagarde adds: "An important part of this effort is that everyone should carry their fair share of the burden, especially the most privileged and especially in terms of paying their taxes. That is the point I was emphasizing when I spoke to the Guardian newspaper as part of a broader interview some time ago."