Google, Apple Tackle the Next Digital Frontier: Cars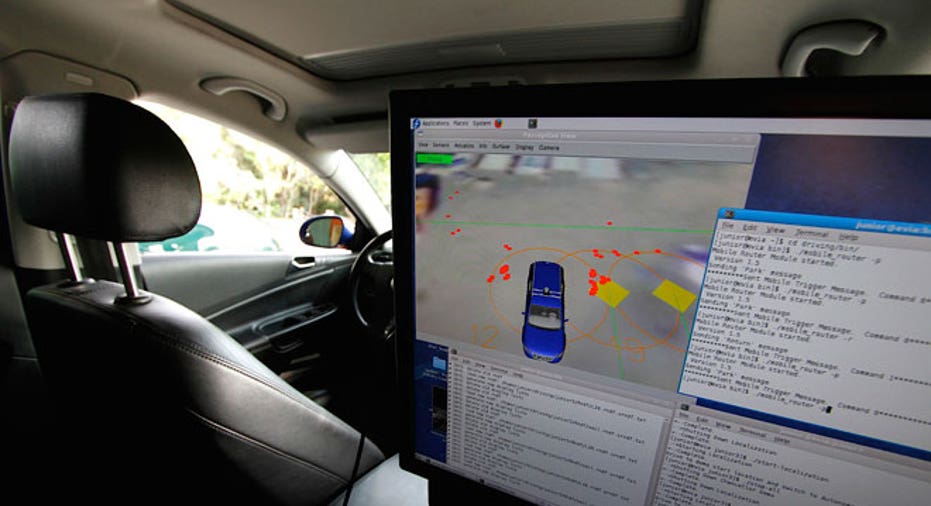 Your vehicle could be running strictly on iOS, Android and batteries in the future.
Google (NASDAQ:GOOG) and Apple (NASDAQ:AAPL) are taking their competition to a new digital frontier, fighting for control of the technological revolution driving today's auto industry.
The two are set to unveil new partnerships with automakers this week at the Consumer Electronics Show in Las Vegas to create "connected cars."
"The car is the ultimate mobile computer," NVIDIA chief executive Jen-Hsun Huang said in a statement. "With onboard supercomputing chips, futuristic cars of our dreams will no longer be science fiction."
On Monday, Google announced a deal to develop in-car entertainment and information systems with Audi. It also unveiled the Open Automotive Alliance, a coalition with automakers aimed at bringing the Android platform to cars starting in 2014.
The group, which so far includes Audi, General Motors (NYSE:GM), Honda (NYSE:HMC), Hyundai and NVIDIA (NASDAQ:NVDA), says it is dedicated to using innovation to make driving safer and more intuitive.
"The worlds of consumer and automotive technologies have never been more closely aligned, and this alliance will only pave the way for faster innovation," said Ricky Hudi, Head of Electrics/Electronics Development at AUDI AG.
GM says it foresees an expansion of Android paired with OnStar 4G LTE in future Chevrolet, Buick, GMC and Cadillac vehicles.
The Google alliance comes half a year after Apple first announced plans to integrate its iOS system into a slew of automobile dashboards, including those made by BMW and Mercedes-Benz.
Robotic Cars
The involvement from Silicon Valley underscores the growing push to modernize today's cars and integrate them with mobile devices, the ultimate vision being to create vehicles that one day drive themselves.
Google has been trying to popularize the idea of autonomous cars for years, having racked up hundreds of thousands of miles with one of the world's first robotic cars and publishing annual surveys that show its prototypes are safer than traditional drivers.
Last year, The Institute of Electronics Engineers predicted driverless cars will "easily" make up about 75% of traffic on the road by 2040. Kelley Blue Book senior analyst Karl Brauer in an interview with FOX Business in July said there will be a point where the industry will have the ability, if not the requirement, to have the car doing "all the thinking for" its drivers.
Audi this week at CES is expected to demonstrate new technologies that would allow vehicles to drive on their own in certain situations for short periods, according to The Wall Street Journal.
Other technologies used by the likes of Tesla (NASDAQ:TSLA) are expected to take hold in the coming years as well, with some innovators even envisioning batteries that could one day be reenergized wirelessly as they pass over super-charged pavement.
Driverless driving has been experimented with for years but has faced a number of hurdles, including public perception. NVIDIA's Huang said the "open development" structure of Google's alliance enables the car industry to bring these next-generation vehicles to market faster than previously expected.