Google Android, Video Games Dominate Mobile World Congress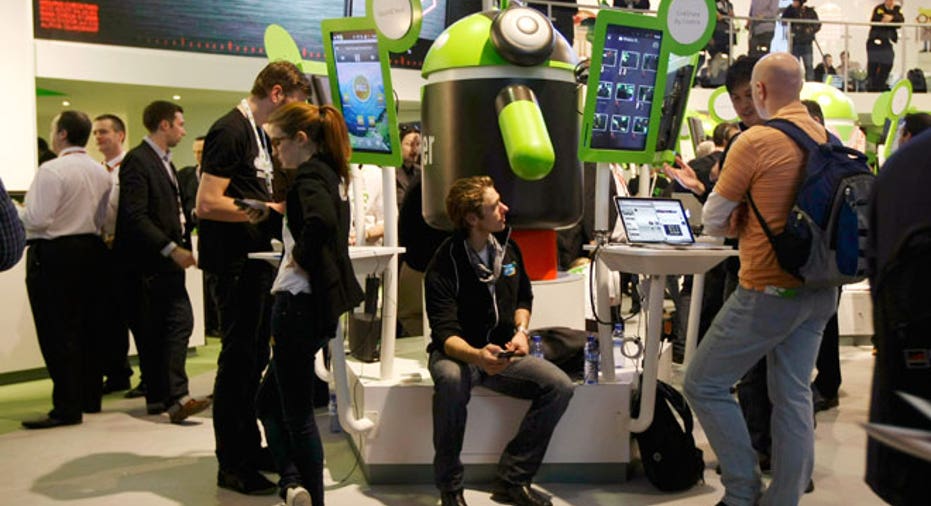 The 2011 installment of Mobile World Congress, which gathered 60,000 professionals from 200 countries, served as the official coming-out party for the next generation of Google Android smartphones and tablets.
Android had a massive, two-floor booth packed with all the new smartphones and tablets shipping in the coming months running off the various Android platforms, including Sony Ericsson's Xperia Play phone, which operates on Gingerbread, and LG's Optimus Pad tablet, which is powered by Honeycomb.
The Android booth featured a huge arcade section where developers from around the world showcased the next generation of mobile games. While graphics and gameplay have improved in the mobile space over the years, the new wave of smartphones and tablets will push the capabilities of these devices to the level of PlayStation 3 or Xbox 360 -- and beyond even the best iPhone 4 and iPad games that are currently on the market.
Check out FOXBusiness.com's new technology page at foxbusiness.com/technology
"Video games drive the mobile business because they're the best showcase of what these new devices can really do," said Gonzague de Vallois, senior vice president of publishing at Gameloft, one of the largest mobile game companies in the world. "Our experience in the console market is helping us deliver quality titles to these new devices for the mobile market."
Gameloft, which previously supported Apple's launch of iPhone and iPad with games, had franchises like Asphalt 6, Let's Golf and NOVA running in autostereoscopic (glasses free) 3D at LG's booth on the new Optimus 3D phone. The company also will support the March launch of Xperia Play with 10 titles, including Star Battalion. And the publisher has recently started developing new games to run on NVIDIA's Tegra 2 dual-core technology.
Tegra 2 brings PC gaming graphics and speed from just a few years ago to the mobile space on new Android smartphones and tablets, which will run 10x faster than the processors in today's smartphones like iPhone 4. The Tegra 2's dedicated graphics processor also delivers 1080p HDTV playback of movies, TV shows and games. On battery life, Tegra's ultra low-power design delivers over 16 hours of HD video or 140 hours of music on a single charge.
"This technology will impact the games we release because it will absolutely increase the available market," said Mike Breslin, vice president of marketing, Glu Mobile. "There will be a lot more people with access to these new smartphones and tablets thanks to the marketing push from Google, NVIDIA and all of the consumer electronics companies, carriers and headset makers."
Last fall, Android overtook Symbian to become the top smartphone platform in the world. According to research firm Canalys, global sales of Android phones in the fourth quarter of 2010 was 33.3 million, compared to 31 million Symbian phones, 16.2 million Apple phones, 14.6 million RIM devices and 3.1 million Microsoft phones.
Overall, the global smartphone market grew 89% compared to the fourth quarter of 2009, exceeding 100 million units for the first time. And 2011 is poised to be an even bigger breakthrough year for Android.
Another new trend showcased at Mobile World Congress was cross-platform gaming on Android and Tegra devices, which will allow players to team up in games like Trendy Entertainment's Dungeon Defenders: First Strike to play across PlayStation 3, PC and mobile platforms.
"This is a really profound change in the way mobile games are designed," said Jeremy Stieglitz, development director at Trendy Entertainment. "There will be a huge influx of quality content very quickly on these new Tegra-based platforms, where you basically can have the same game running on a mobile device as you have on a PC or console."
NVIDIA showcased brand new Tegra 3 technology at the show, code-named Kal-El after Superman. New phones will ship with this quad-core chip beginning this August and tablets will follow in late fall. NVIDIA demonstrated a game, Great Battles Medieval, that ran at 720p HD and featured 650 enemy soldiers on the field at once.
According to Michael Rayfield, general manager of NVIDIA's mobile business unit, over the next three years projects codenamed Wayne, Logan, and Stark will further push the gaming potential of mobile devices. By 2014, when Stark becomes a reality, the technology will feature a 75x improvement over the performance of today's Tegra 2.
"Our customers and partners have already indicated that they're confident they can use everything we give them," said Rayfield.
HTC introduced a new tablet, Flyer, which will introduce streaming subscription video game service OnLive to the mobile space. Gamers will be able to play games like Assassin's Creed Brotherhood, NBA 2K11 and LEGO Harry Potter on the new tablet, or connect the tablet to any HDTV, without needing to buy any new hardware or software.
There is a negative side to the increased capabilities of mobile gaming. And that's for portable gaming companies like Sony, which will launch its Next Generation PlayStation (NGP) system this fall.
"IHS believes that the market opportunity for a specialist device such as the NGP is shrinking rather than growing, and that short- and medium-term market conditions are less supportive of the release of a high-end handheld console," said Piers Harding-Rolls, video game analyst at HIS Screen Digest.
Harding-Rolls said by the end of the fourth year after its release, the NGP is expected to accrue a total installed base of 22.8 million units. In comparison, the PSP achieved a base of 30.7 million, 34.8% higher, during the same length of time.
"The competitive landscape for handheld and on-the-move gaming has been highly disrupted in recent times, with disruption occurring on the device, content and distribution levels," added Harding-Rolls.
Moving forward, more consumers will use one device for everything, including gaming, multimedia, entertainment and Web browsing. And Android is perfectly positioned to take advantage of this shift.