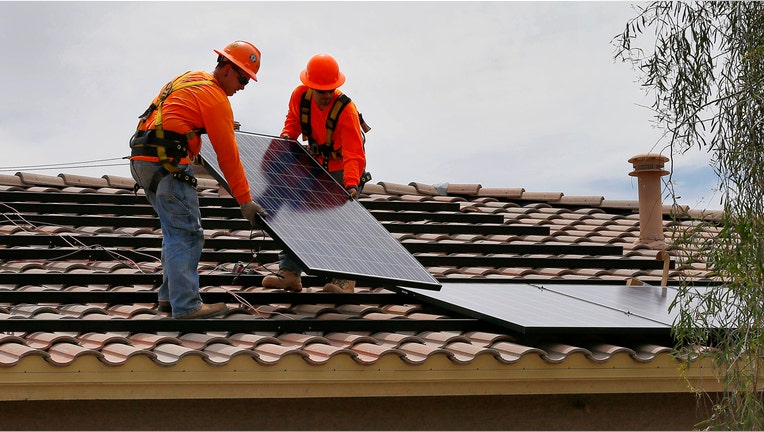 Last Saturday, officials from countries around the world signed off on the most important climate agreement since the Kyoto Protocol was signed in 1997.
Developed and emerging economies signed on to new, ambitious strategies to reduce emissions plus a framework to keep tabs on these plans. Wall Street is weighing in, with Goldman Sachs (NYSE:GS) now saying that it sees "the deal as a boost to the low carbon economy, now a fast-growing $600 billion-plus market."
But Goldman also warns: "It's all about the process," meaning, which parts of the agreement carry binding targets and which parts do not. What's key is the deal is not "a global rulebook on emissions," Goldman says, instead, "key regulation will continue to be determined country-by-country, and sector-by-sector," plus, "there is no formal enforcement mechanism for the new national targets governments have set themselves."
There is a planned international review of the countries' strategies that is supposed to start earlier than expected in 2018. Despite all that, modelling done by the International Energy Agency shows that global C02 emissions will continue to inch up towards 2030. But Goldman is more optimistic due to technological innovation, which it says will "maintain our view that these calculations underestimate the global impact of fast-growing low carbon technologies including onshore wind and solar" power.
Goldman adds it sees the Paris deal "as a positive for sentiment on key low carbon technologies, including solar," as well as windmills, and "hybrid and electric vehicles. It offers nine stock picks "with attractive exposure" (with the potential conflict-of-interest caveat that it either does or "seeks to do business with companies covered in its research reports.")
Specifically, the nine companies operate in these areas: light-emitting diode products, or LEDs, onshore wind, solar panels, and hybrid & electric vehicles. Goldman Sachs says these nine stand out due to their market scale, a consistent track record of volume growth.
"Collectively they present a set of breakthrough technologies that we expect to rapidly take market share in global lighting (LEDs forecasted to take 69% by 2020 vs. 28% today), new power generation (51% by 2025 vs. 20% today), and autos (22% in 2025 vs. 3% today). In particular, Goldman has an optimistic forecast for the solar, wind and electric vehicles. "Solar and wind installations are now a $200 billion-plus market and our analysts project grid-connected vehicle sales growing from $12 billion in 2015 to $244 billion annually by 2025," it says.
Here are the nine, the space they are in, plus Goldman's revenue growth forecast for next year:
Solar-Edge, semiconductor, 50% Vestas, onshore wind, 8% Nordex, onshore wind, 7% Gamesa, onshore wind, 2% Continental, tires and rubber for electric, hybrid cards, 7% Tesla (NASDAQ:TSLA), electric cars, 79% Albemarle (NYSE:ALB), specialty chemicals, 2% Acuity Brands (NYSE:AYI), LED lighting, 25% Hella, lighting technology, electronic auto parts, 9%