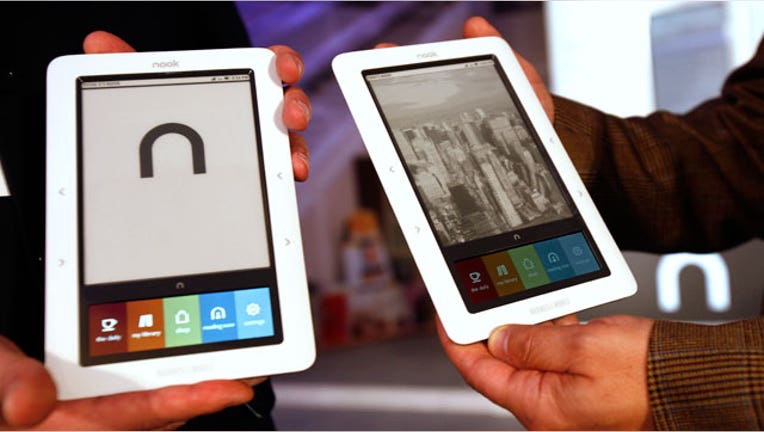 Welcome to OnSale at FOXBusiness, where we look at cool deals and insane bargains.
Get a dozen days of giveaways thanks to this new app and pay attention to trailers with your smartphone. Never miss an Oscar-nominated film again, and a very popular word game is making an appearance on two Nook e-readers. Sony Ericsson has something super up its sleeve, and save more when you buy a season of TV shows.
12 Days of Freebies
For those OnSale readers who received a new iPhone, iPad, or iPod Touch during the holidays, you'll be happy to know that Apple (NASDAQ:AAPL) is offering some fantastic freebies this week. Now through Jan. 6, select downloads will be available for free via the 12 Days of Christmas app.
That's free songs, free books, free videos, and free apps, for 12 days in a row. The first offering: some music by Coldplay. Offerings change every day, and are available only for 24 hours, so make sure you check back regularly to get your free download. If you didn't get a new Apple gadget this Christmas, you may also download these great goodies directly to your computer.
Trailer Tool
Other iPhone recipients (or those who had one already) will want to check out a new app called MoviePal. Just in time for Oscar season, MoviePal aims to keep you in the know about all the movies you must see next year. The idea is similar to music-identifying app Shazam, which lets you hold your phone to a stereo speaker and identify the song that's currently playing. The MoviePal app lets you find out information about a movie trailer, while you're sitting in the movie theater watching previews. Want to know when that next big blockbuster is set to hit theaters? Activate MoviePal, and in ten seconds, you'll have a movie trailer to tag and archive. Then you can set a reminder for when the film is actually released. Download it now by clicking here.
New Game on Nook
Those who received a Nook Tablet or Nook Color from Santa this year can play the popular game Words with Friends.
The well-known game is among the first of what Barnes and Noble (NYSE:BKS) says is an introduction to new, high-profile apps and games. There's more to come in 2012, including Twitter and Plants vs. Zombies. For those without a Nook, Words with Friends is also available on Facebook, Apple's app store, and the Android Market.
Super Phone Soon?
Anyone planning to get a new smartphone for the new year may want to wait for the International Consumer Electronics Show.
It is rumored that Sony Ericsson has a new device up its sleeve, and this one is reportedly a can't-miss. The LT28at may have a clunky name, but it's being called a "super phone" by those who have actually seen it. Among the wow-worthy features are a 13-megapixel camera and LED Flash, among others. There's no exact release date, but OnSale guesses it's headed for launch next month.
Show Tunes
Apple is offering discounted videos to its lineup on iTunes. For a while now, iTunes has been offering customers savings on digital music downloads when they purchase an entire album as opposed to just one single.  Now, the deal is being extended to TV shows. The "Season Pass" purchase option is now available for most television series. Now, instead of spending $3 for your favorite episode, you'll be saving about $10 to $15 on an entire season of your favorite show. If you've already purchased single episodes within a season, there's a deeper discount available to you as well.
Know of a killer deal or insane bargain? E-mail the goods to OnSale@FOXBusiness.com and share the wealth.