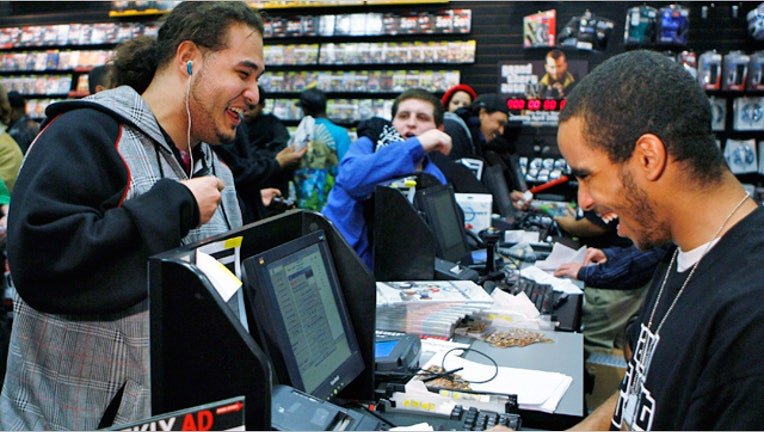 GameStop's (NYSE:GME) holiday sales dropped $2.88 billion, or 4.6%, compared with the 2011 holiday sales period, as lower store traffic offset digital growth and the launch of Nintendo's Wii U.
The company also announced that based on the weaker holiday sales, it expects same-store sales of -7.0% to -4.0% for the fourth quarter and -9.0% to -7.5% for the full year. Total comparable store sales for the nine weeks ended Dec. 29, 2012, decreased 4.4%, with U.S. same-store sales faring better than international numbers.
"GameStop experienced mixed results during the holiday selling period. Our successful Wii U launch, strong digital growth and continued momentum in the mobile space were countered by a decline in store traffic," Paul Raines, GameStop's chief executive, said in a statement. "As a result, GameStop expects its fourth quarter 2012 earnings per share results to be at the low end of its current guidance range. Our strong market share positions us well for the future, and we look forward to new product launches in 2013."
New hardware sales decreased 2.7%, despite selling 320,000 Nintendo Wii U units worldwide. Sales of new video game software decreased 5.1%. GameStop's pre-owned category declined 15.6%, citing the release of fewer new titles in 2012 and less promotional activity.
Meanwhile, digital receipts increased 40%, and sales in the video game retailer's mobile business were $76.5 million during the holiday period. Global e-commerce sales also improved over 2011.
Shares of GameStop were down $1.82, or 7.35%, in early morning trading. The company also announced that it has approximately $488.3 million remaining of its current $500 million share repurchase authorization.