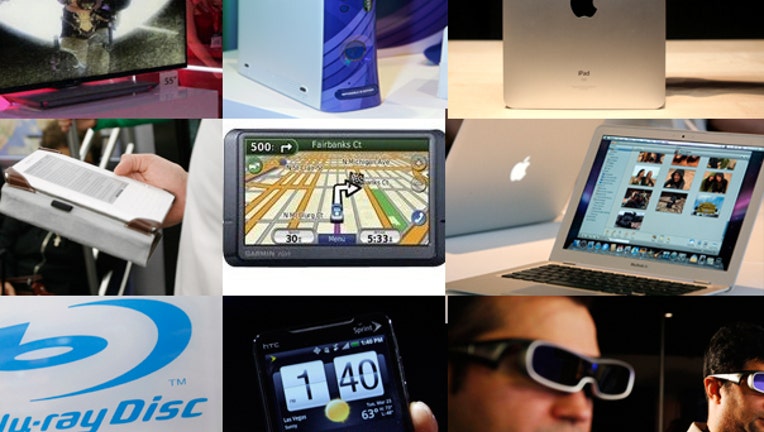 Get a rundown of this year's must-have tech innovations from CES and beyond, ideal for road warriors and entrepreneurs on the go.
Do you spend 50 percent or more of your working hours in a car, train or plane? Do employees at the airline club lounge know your favorite drink? If so, you'll want to know about these latest tools for road warrior productivity, many featured at the 2011 International Consumer Electronics Show in Las Vegas.
Here's the entrepreneur's gadget checklist for 2011:
Tablets, tablets everywhere
The overriding theme at CES this year was tablets: Dozens of models appeared from major vendors, including BlackBerry developer RIM, Dell, Samsung and Motorola. Tablets aren't just cool-looking — they're practical too.
Tech pundit and analyst Rob Enderle loves using his tablet when he's out and about because it's lightweight and has a long battery life. "If you're filling out forms or taking notes, they're super handy. They're a good alternative for those who don't do a lot of heavy document creation when away from their desk." So far, tablets have been particularly popular with salespeople and executives.
Whether you decide to go for the industry-leading iPad or try one of the newer devices, consider the connectivity options. "Tablets are increasingly coming with 3G built in," Enderle says.
Connectivity made simple
Michael Sommer — aka "The Gadget Guy" for "America's Car Show," "Rudy Maxa's World" and other radio and TV programs — is hooked on his MiFi, a portable wireless hot-spot device offered by Sprint and Verizon with plans beginning at $20 per month. MiFi can be shared by up to five devices. This helps you avoid costly hotel Internet charges and gets Web access from anywhere cellular service is available, according to Sommer.
Here's another helpful, inexpensive idea: adding another phone line to your Apple or Android device with Line2. For $10 a month, you can have separate lines for personal and business uses, or for running two different businesses. Line2 can even transform your iPod or tablet into a fully featured phone, and it includes texting, call waiting and other features. The service is tri-mode, meaning it can work withWi-Fi, 3G/4G data, or cellular networks, depending upon which coverage is best in your area.
When you're in remote areas, Spot Connect is a global satellite network that lets you send messages and GPS coordinates from "virtually anywhere on the planet," according to its website. If you're frequently off the grid, it's worthwhile from an emergency perspective to fork over $170 for the device and the additional $100 for an annual service plan.
Chargers and battery packs
To eliminate carrying multiple chargers and cables in your luggage, get a dual charger. These devices allow you to charge your laptop or tablet and phone at the same time. Enderle likes the energy-efficient Innergie mCubePro, while Sommer likes one from Targus. Or, check out a universal charger, such as this one from Idapt, which works with most any device.
Need extra juice for those long travel days? Sommer recommends the Technocell Battery Boost, which fits in your pocket and plugs into your device with a micro-USB connector. The Battery Boost provides one hour of talk time and doubles as a micro SD card reader to store and transfer 32GB of content, including photos, documents and music files. Another option is to go on eBay and buy extra batteries for a few bucks each. "They weigh nothing in your bag," says Sommer.
For the car
You've got an earpiece for talking while driving, but you may also need a mobile app called DriveSafe.ly, which reads text and e-mail messages to you out loud in real time. "That takes care of distracted driving," Sommer says. It's available for Android, BlackBerry, iPhone and Windows mobile phones.
Vehicle diagnostic tools can help prevent roadside disasters. CarMD ($119) plugs into a port beneath your dash to deliver maintenance alerts and a diagnosis of your car if something is wrong. Connect the device to your PC to access a full report you can take to the repair shop. "Then you aren't paying the dealer to diagnose the problem," Sommer says.
Mavia from Mavizon Technologies lets you monitor your vehicle from your smart phone or laptop. Beyond delivering diagnostic information, the device can also locate a lost car (or the location of your teenager who is borrowing the car) and alert 911 and family members if you're in an accident and your airbags deploy.
More cool stuff
To look chic in meetings while avoiding angst and saving time, check out Livescribe's Echo smartpen, one of Enderle's favorites from CES this year. Here's what this pen can do: read your handwritten notes back to you, record audio during a meeting or lecture, transfer notes and audio files to your desktop or device, and use apps such as a calculator to extend its functionality. "It's the handiest device for taking notes, and they just dropped their price," Enderle says. There are several models beginning at $100, which includes special paper needed for the pen.
For the road warrior who has everything, there's the indispensable helmet camera, from companies such as GoPro and Contour. After all, business travel sometimes includes pleasure. "I use it skiing, and next week I'm going to use it bobsledding," Sommer says.