Gadgets Every Boomer Needs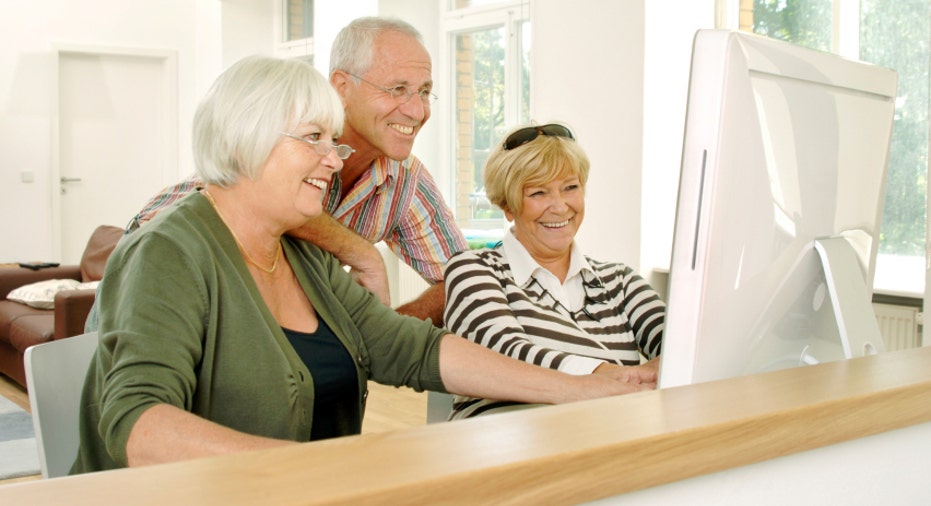 "The Boomer" is a column written for adults nearing retirement age and those already in their "golden years." It will also promote reader interaction by posting e-mail responses and answering reader questions. E-mail your questions or topic ideas to thefoxboomer@gmail.com.
Most baby boomers remember watching the animated show The Jetsons wondering if we were getting a glimpse of our future.
Well, we haven't quite made the transition to flying cars (but driverless cars are hitting the road), and we don't have talking robot maids (but we do have Rombas that vacuum on their own), but our society is full of technology that I am sure the creators of the show never imagined.
We have smartphones that can answer all our questions, and laptops thinner than most children's books. As technology continues to advance, boomers are working to keep up with all the changes, and many companies are taking note and catering to our tech vitality.
The marketplace for technology to assist aging adults is expected to grow sharply from $2 billion today to more than $20 billion by 2020, according a report from Aging in Place Technology Watch—and boomers are going to be on the receiving end of the advancements and innovations.
I reached out to Alexis Abramson, who often consults businesses that make products and services for baby boomers, to learn more about the technology and gadgets targeted at boomers and how we can take advantage.
Boomer:  We've all seen the old reliable "pill box" our parents used.  Are there other products available to help remind boomers to either take or that they already took their medicine?
Abramson: Baby boomers rely on their medications to keep them healthy, but complex medication schedules can lead to mistakes: missing doses, taking incorrect amounts, or taking medicines at the wrong times. These mistakes could lead to unnecessary doctor or hospital visits, illness and even death.  It's currently estimated that about one third to one half of baby boomers do not take their medications as prescribed.  With the complexity of medications many seniors take, it's no surprise that 1 in 10 hospital admissions for seniors are a result of medication errors.  A plethora of new products and services have recently been introduced to the market to not only prompt patients to take their medications on time but also in the correct dosages.
Walgreens Rx App: Walgreens' mobile health app called Pill Reminder helps users track their medication and receive alerts. The alerts can be scheduled nine different ways, including daily, hourly, weekly and can hold multiple prescriptions, vitamins and other supplements.
Alarm Pill Organizer: This organizer features a reminder alarm to help people take their medicine on time. The pill case is a weekly pillbox with one compartment per day and up to four daily alarms. 
Vitality's AT&T connected GlowCaps: These GlowCaps fit on standard prescription bottles and use light and sound reminders, which can be followed by a phone call or text message, so people don't miss a medication dose. Each time the pill bottle is opened data is recorded and used to compile periodic progress reports that can be relayed to patients, caregivers, doctors and family members.
The Philips Medication Dispenser: This electronic voice output medication reminder and dispenser is designed for individuals with vision, memory or cognitive disabilities.  Medications are placed in a one-ounce plastic cup, loaded in the dispenser and administered as scheduled.  Caregivers can also monitor activity through Philips Monitoring report which is always available online.
Boomer: If an active baby boomer had to choose between purchasing an iPad or a laptop which one would you suggest and why?
Abramson: The iPad is a great choice, especially for mobile baby boomers looking for a user-friendly and lightweight computer to access their email, catch up on the news, search the web and shop. The iPad is easy to carry, store and use. There is also no need for a mouse or any additional devices to be attached. The iPad also allows users to zoom in on text, making it larger and easy to read.  Many boomers find the iPad easy to use and more intuitive than competitors.
Boomers should note that tablets, in general, are mainly content consumption devices rather than work stations. If you plan to type a lot of text or need a device to deliver large scale projects, a tablet may not be the right device.
Boomer: Which e-book reader would you recommend for boomers?
Abramson:  As e-readers become more popular, digital book sales continue to climb. In fact, online retail giant Amazon is now selling more e-books than hardcover books and paperback books combined.
According to a recent Pew Research Center report, boomers are a promising demographic for e-readers (and sellers of e-books), since they (specifically older boomers) are the most likely of any age group to make a purchase online.  Boomers are increasingly looking for large-print books, and the ability to change the font size of text on e-readers is very compelling. Additionally, some e-readers have features that give a voice to the words on the page and libraries now offer a free digital-book lending service.
Currently, the Amazon Kindle Fire would be my recommended e-reader tablet for baby boomers - I especially like its crisp, hi-resolution multi-touch color display.  With its $199 price tag, it has to be one of the cheapest tablet PCs running on the Google Android platform. It has a 7-inch screen, Wi-fi support for connectivity, USB ports and is extremely lightweight at 14.5 ounces. The battery life is around eight hours.
Boomer: What technology is available for boomers that live alone and need to reach help in an emergency?
Abramson:  New and improved technologies emphasize wellness, mobility, autonomy and social connectivity.   These innovative products and services are promoting health and independence for aging baby boomers.  Here are a few of my favorite examples of new technology in the fall prevention and emergency monitoring space:
ActiveCare Personal Assistant Link: This one-touch system looks like a small cell phone with large buttons. With the push of a button boomers are connected to ActiveCare's call center with specialists that can help with everything from calling an ambulance to calling a physician or family members. GPS is integral to the PAL system, allowing users' locations to be tracked at all times, and can detect if an individual has fallen.
eNeighbor Monitoring System: This system is programmed to detect unusual activity in the home. A shower left running or a fridge that goes unopened for a day could trigger a phone call to the end user or a caregiver.    
GrandCare: This system offers a comprehensive communication and monitoring system for active seniors combining aspects of home automation, online communications and healthcare (telehealth) in one flexible and user-friendly package.
BeClose: The device tracks your loved one's daily routine by receiving information from discreet wireless sensors that are placed in various locations around the home (as well as a wearable alert button).  Caregivers have the freedom of knowing their aging loved one is safe because they are able to check on them at any time using a secure, private web page.  If there are any disruptions to daily life, the primary caregiver will be alerted immediately by phone, email or text message.
Boomer: Are there any electronic devices for boomers who love to travel?
Abramson:  Baby boomers comprise an increasing share of the nation's travel.  In fact, according to the Pew Internet and American Life Project, approximately 80% of leisure travel is comprised of baby boomers. Here are a few gadgets that will make your next trip a little less stressful and a lot more enjoyable!
Polaroid Zink : This zero ink, 14 megapixel digital camera pops out a bordered and dated photo on the spot. And unlike its '60s predecessor, the Z340 keeps a copy in memory so even if you lose the print you never lose the picture.
The Magellan Maestro 5310: This portable GPS-based navigation system is specifically geared toward boomers: it features a larger screen and improved readability. Boomers can also use this GPS device to keep tabs on aging parents, especially those with dementia.
iLuv Dream Traveler: This innovative product does away with hotel outlet challenges with a slim travel size combo power strip that included surge protection and a USB charger for up to six devices, including laptops, digital cameras, e-book readers, etc.
Cloud Camera 5000: This camera lets baby boomers keep an eye on their home while they're away. The camera has a motorized pan and tilt base that you can access and control through the company's interface. Set motion-sensor triggers to email you alerts of any disturbances.
Boomer: With technology changing daily and new gadgets constantly hitting the market, what three things would you suggest boomers look to purchase that may make their lives easier or more fun?  
Abramson:  Health, leisure activities and socialization are three areas that boomer technology companies are focusing on and will continue to do so as baby boomers reach 65 and beyond.
Jawbone UP – UP is the app-powered wrist band that inspires you to feel better and live healthier . It tracks every move you make, and will remind you to move more.  The sky-blue wristband measures activity, sleep and nutrition and downloads all the data collected to an app on your smartphone.  The battery lasts 10 days and even works in water.
Q i-wear:  These shatterproof sunglasses bring on the music via Bluetooth stereo earbuds while toning down the ambient noise. They also allow you to simultaneously take phone calls through a Blue-tooth enabled device.
Bionic Relief Grip Golf Gloves: The anatomical pad system of these gloves offer a  more secure grip with less effort, to reduce pain and hand fatigue for those with arthritis.