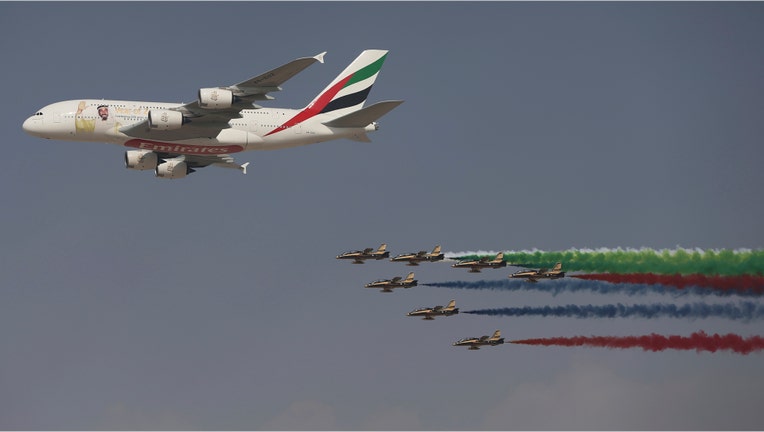 Airbus and Boeing are among the major plane makers that have made big deals in 2017, signaling strength in the global aviation market.
Airbus made its mark at the Dubai Air Show this year, though it trails its American rival Boeing in terms of orders in 2017. The French-based Airbus announced a total of 510 new aircraft orders and commitments, including its largest ever -- a $49.5 billion deal -- with U.S. private equity firm Indigo Partners. The memorandum of understanding the two companies signed is for 430 aircraft -- 273 A320neos and 157 A321neos. The deal adds to the already existing order for 427 A320 Family aircraft.
Meanwhile, Boeing announced 296 commercial jet orders and commitments valued at close to $50 billion, including two deals with Middle Eastern carriers Emirates and flydubai.
During the air show, low-cost carrier flydubai and Boeing inked a deal worth $27 billion for 225 737 MAX aircraft. The agreement includes a commitment for 175 MAX jets and purchase rights for an additional 50. More than 50 of the first 175 aircraft will be 737 MAX 10s, the newest version in the 737 MAX family. Also included in the deal are MAX 8 and MAX 9 airplanes. The 737 MAX is the fastest-selling airplane in the Chicago-based plane maker's history, with more than 4,000 orders from 92 customers, according to Boeing.
Once finalized, the company said the agreement will "sustain tens of thousands of direct and indirect jobs in Boeing's U.S. factories and network of suppliers."
The company's other big deal at the Dubai Air Show was made with Emirates. The Dubai-based carrier announced a commitment to buy 40 787-10 Dreamliners -- the largest of the 787 family -- valued at $15.1 billion at list prices (including airplanes and related equipment), which will be delivered from 2022. According to Boeing, via a U.S. Department of Commerce formula, a deal of this size would "support more than 75,000 direct and indirect U.S. jobs."
"The 787-10 order, to me, that was actually the most interesting, because the 787-10 will probably be their highest margin variant of the 787, but they only had about 177 of those in backlog at the end of September," Pete Skibitski, lead aerospace and defense analyst at Drexel Hamilton, told FOX Business. "So getting an order for 40 more, that's an over 20% increase to the backlog of that particular variant of the 787."
MIDDLE EAST DOMINANCE
Though the market in the Gulf region has taken a hit due to lower oil prices, less-than-stellar economies and political instability --Qatar facing the most severe woes due to a blockade on the country from neighbors Saudi Arabia, the United Arab Emirates, Bahrain and Egypt -- air carriers in the Middle East in recent years have been on a sky-high tear for both new aircraft and new investments within the industry.
For instance, Qatar Airways, which placed a $2.16 billion order for six aircraft in September, in addition to its $11.7 billion order from Boeing last year, expressed interest in purchasing a 10% stake in American Airlines. Qatar later walked back the offer after American CEO Doug Parker's cold response to the proposal. Earlier this month, the Middle Eastern airline bought a 9.6% stake in Hong Kong's Cathay Pacific.
"For years I think it's been part of the strategy of the countries of the Middle East to diversify their economies away from this oil. So I think that's an ongoing trend of these guys really having a sense of urgency to diversify," Skibitski said. "Anything away from oil that they can do to diversify is high up on their priority list."
ASIA DEMAND AND THE MARKET GOING FORWARD
The biggest question the industry now faces is: When will the order cycle for aircraft end? If the Asian market, which Skibitski said is driving the aerospace cycle with a greater than 10% growth in some countries within the region, continues to boom, the world could see more deals being signed between plane makers and airlines.
"As long as Asia stays healthy, as long as we don't go into some sort of global recession, we don't have some big credit event in Asia … Until we see a big slowdown in those trends, I think the cycle continues basically," Skibitski said.