FTC investigating Facebook over privacy practices; shares slide
The Federal Trade Commission (FTC) said Monday it has opened an open, nonpublic investigation into Facebook's privacy practices, after the social media giant's announcement that British political consulting firm Cambridge Analytica may have misused the data of about 50 million users to influence the 2016 U.S. presidential election.
"The FTC is firmly and fully committed to using all of its tools to protect the privacy of consumers," Tom Pahl, acting director of the Federal Trade Commission's Bureau of Consumer Protection, said in a statement. "Foremost among these tools is enforcement action against companies that fail to honor their privacy promises, including to comply with Privacy Shield, or that engage in unfair acts that cause substantial injury to consumers in violation of the FTC Act."
Lawmakers in U.S. and Europe – including the U.K. parliament – have pressured Facebook founder and CEO Mark Zuckerberg into explaining how the company handles users' data. A member of Britain's Parliament requested Zuckerberg to appear before the Digital, Culture, Media and Sport Committee to provide "oral evidence" related to the matter.
"It is now time to hear from a senior Facebook executive with the sufficient authority to give an accurate account of this catastrophic failure of process. There is a strong public interest test regarding user protection," committee chairman parliament member Damien Collins wrote in a letter to the Facebook executive.
Several companies have also distanced themselves from Facebook as a result of the scandal over the company's letting Cambridge Analytica access to users' personal data. U.S. auto parts seller Pep Boys said on Monday it is suspending all of its advertising on the social network, which comes after Mozilla Corp.'s decision to stop its Facebook advertising last Wednesday due to privacy concerns.
Elon Musk took action as well last week, deleting the Facebook pages of his companies Tesla, SpaceX and SolarCity after a brief correspondence with WhatsApp co-founder Brian Acton on Twitter.
Zuckerberg apologized for the scandal by taking ads out in U.S. and British newspapers on Sunday, including The New York Times and The Washington Post, saying the company doesn't deserve users' information if it cannot protect it.
"This was a breach of trust, and I'm sorry we didn't do more at the time. We're now taking steps to ensure this doesn't happen again," the ads said, regarding the 2014 leak of user data.
"I promise to do better for you," Zuckerberg said.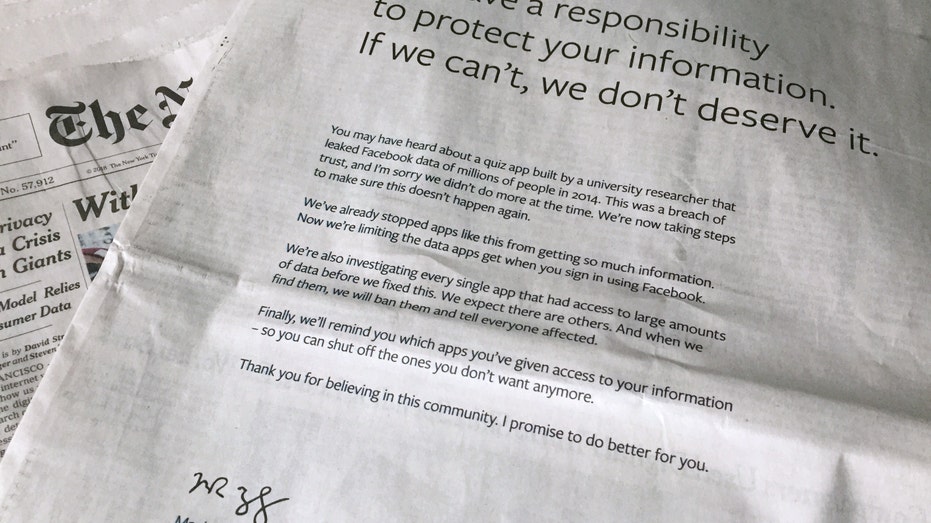 In the wake of the scandal, a Facebook shareholder filed a class-action lawsuit against the company, which saw its market valuation plunge nearly $50 billion last week. The lawsuit said the social media giant "made materially false and misleading statements."