Franchises You Can Start for Under $100K in 2012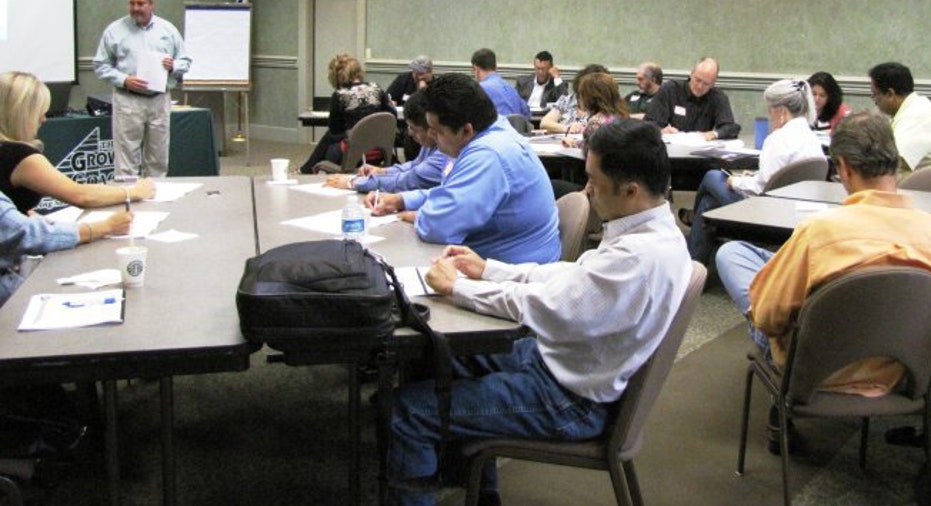 For those looking to escape the world of cubicles and unreasonable bosses, but not quite able to find their own great idea, franchising is one way to delve into entrepreneurship. Opening up your own store or business based on an already-successful model provides budding entrepreneurs the opportunity to be their own boss, flexibility and guidance as needed.
But buying and launching a franchise doesn't come cheap. Here are nine franchises you can start in 2012 for under $100,000.
No. 1: Home Helpers
What: A home care and personal emergency response system
Headquarters: Cincinnati
Opened: 1997
Investment: Between $50,000 and $75,000 for Home Helpers, and between $50,000 and $90,000 for both Home Helpers and Direct Link
Why you should consider franchising: According to Home Helpers President Emma Dickison, franchisees get major support during training to help them get started. They are also schooled in marketing and advertising, human resources and social media.
"We also help with lead generation, to help connect that local office to clients or consumers in their community hat will be their customer base," Dickison said.
In many states, those who open a franchise can also work from their home office, so there are fewer costs associated with getting started.
Today, there are more than 600 franchises in 42 states and Canada, Dickison said.
No 2: The Growth Coach
What: Business and Sales coaching
Headquarters: Cincinnati
Opened: May 2003
Investment: $50,000 in the first year, then an additional $500 a month for royalty fees
Why you should consider franchising: President Greg Scheingold said that his franchisees have the opportunity to help others improve their business, which is satisfying and rewarding.
"It attracts people to have their life have meaning. A lot of times, people have been going through up to that point and have become disenchanted (with their career)."
Franchise owners also have the opportunity to work from a home office, he said, which reduces start-up cuts. The Growth Coach has about 140 locations across the country.
No. 3: The British Swim School 
What: A swim instruction company that operates out of existing pools and fitness clubs
Headquarters: South Florida
Opened: 1993
Investment: Between $25,000 and $50,000 including operational costs
Why you should consider franchising: Founder Rita Goldberg, began her business in England in 1991, and then moved to the U.S. in 1993, said the initial investment is small, but the return is great.
"You're not using money to build a facility. It's basically renting pool time in multiple locations. The return is quick, and it's a very unique opportunity."
No 4: Painting With a Twist
What: An art studio that hosts art parties with a "twist"
Headquarters: Mandeville, La.
Opened: November 2007
Investment: About $75,000 including the franchising fee, studio and art copyrights
Why you should consider franchising: Founders Cathy Deano and Renee Maloney said the business's unique appeal allows for grassroots marketing opportunities.
"It's not a McDonalds, so you're not going to be able to put up a sign and have people know what it is," Deano said. "Word of mouth is huge for us."
Painting With a Twist has grown to more than 60 franchises in 15 different states.
No. 5: Weed Man
What: A lawn and garden care company
Headquarters: Oshawa, Ontario, Canada
Opened: 1986
Investment: Ranges from $43,700 to $58,450
Why you should consider franchising: Weedman's model has seen tremendous growth over the more than 25 years it has been open, according to COO Jennifer Lemcke. Lemcke said the company has experienced 20% growth over the past several years, and 80% of customers renew every year.
"We seem to really flourish in times of recession making it appear the we are recession proof. People tend to stay home more and also want to protect their biggest investment: their home," she said. "For little cost, they can really increase the curb appeal and increase property value."
Weedman has 120 license agreements in 262 territories and spanned across 31 states, according to Lemke.
No. 6: Caring Transitions 
What: A senior moving, relocation and downsizing company
Headquarters: Cincinnati
Opened: 2006
Investment: Approximately $40,000
Why you should consider franchising: The lagging economic recovery has forced many seniors to move out of their homes or downsize, according to founder John Buckle, who started the company based on his experience in senior home care.
"This is the next thing after we have done everything to keep them in their home," he said of the company's model. "When they have to move—what happens? How do they move to that next place?"
Franchisees can start up the business from their own home office, Buckle said, and nearly all costs are tied to revenue generation.
No. 7: EnviroTech Pest Services 
What: A pest management company
Headquarters: Brunswick, MD
Opened: 1994
Investment: Between $40,000 and $90,000
Why you should consider franchising: Unlike working in a corporate setting, owner Nick Petti said owning an Enviro-Tech franchise allows major flexibility.
"It allows the owner to determine what kind of role they want to take on in the business," he said. "As the business grows, if they don't want to be shackled at a desk, they can get out and interact with the community." Such action also helps to develop a strong customer base, he said.
EnviroTech has nine franchise locations in seven states, Petti said.
No. 8: Doc Popcorn
What: A fresh, natural-flavored popcorn company
Headquarters: Boulder, Colo.
Opened: 2003, Franchising began in 2009
Investment: Approximately $70,000
Why you should consider franchising: Doc Popcorn is a simple idea  and a convenient franchise to run, according to its owners Rob and Renee Israel. In addition to running the business with essentially one piece of equipment, the Mobile PopCart, franchise owners are also meeting consumer demand for healthier snacks.
"Popcorn is one of America's most popular snacks, but it's never been done the way we do it. We are doing for popcorn what Auntie Anne's has done for pretzels—improving upon and branding what has otherwise been a commodity product in high-traffic venues," Rob said.
Currently, Doc Popcorn has 57 franchise owners in 26 states. In addition, it has 45 units in operation with 200+ in development across the nation.
No. 9: PuroClean
What: A property damage remediation company
Headquarters: Taramac, Fla.
Opened: 1990
Investment: Investments can range from $74,260 to $99,375
Why you should consider franchising: Founder Rory O'Dwyer said the company's foundation has proven to be recession proof and has  major growth potential.
"Our franchisees also find what they do to be truly rewarding as they help families, business owners and their communities overcome stressful property emergencies," he said.
Training and support programs are also readily available for those who become franchisees. PuroClean has grown to 320 offices in 44 states across the U.S. and Canada, according to O'Dwyer.