Fourth of July fireworks spending may hit a record
With Independence Day festivities upon us, Americans are snapping up barbeque and picnic-related items, as well as the key spark to Fourth of July celebrations: fireworks.
The number of Americans setting off roman candles and sparklers this year may hit a record high.
"Fireworks use is expected to hit an all-time high this year, especially with the relaxed fireworks restrictions in New Jersey, Pennsylvania and Delaware," Julie Heckman, executive director of the American Pyrotechnic Association, told FOX Business.
With an increasing number of states easing regulations in order to reap the significant tax benefits that result from fireworks sales, this may translate to bigger consumer sales. Heckman estimates sales could reach $900 million this year, topping last year's $885 million.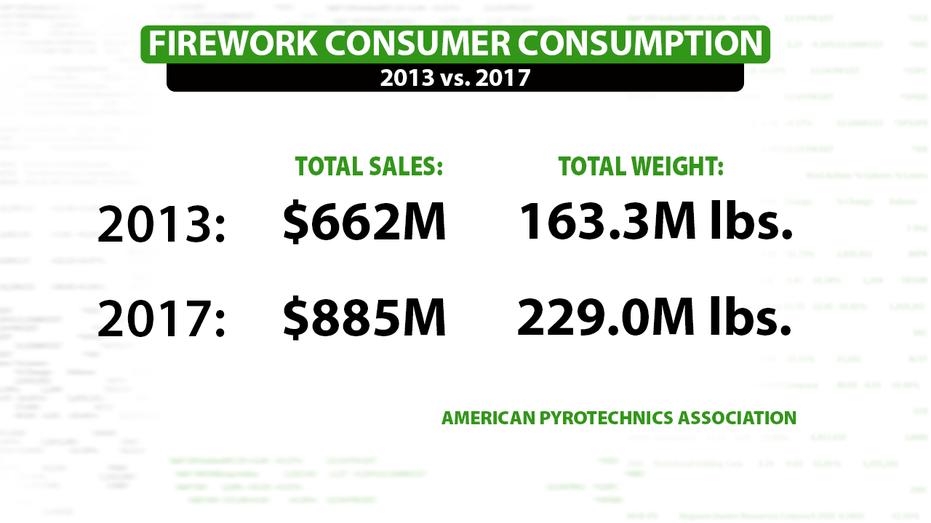 The average consumer in Georgia, for example, may spend about $100 to $300 for a backyard celebration. Meanwhile, Massachusetts remains the only state to uphold its strict prohibition against consumer fireworks sales.
While the overall trend has more Americans celebrating with fireworks, America's 242nd birthday is a "hump-day holiday" this year and the National Retail Federation estimates there may be a decrease in consumer spending, since fewer people will be able to celebrate in the middle of the week.
As for nationwide commercial fireworks celebrations, those figures are not as robust as years past. Many cities, states and local municipalities have pared spending on the celebrations due to budget issues, like Stamford, Connecticut.
Commercial spending for 2018 is estimated at an average of $360 million compared to last year's $353 million.
As for the crown jewel of July Fourth celebrations, the Macy's Fourth of July Spectacular – the nation's largest public fireworks display – in New York City will be the largest since the millennial celebration in 2000, according to the company.
Viewed by more than 3,000 local spectators, the 25 minute fireworks show is expected to shoot off 3,000 shells per minute costing at least $6 million in total, according to a WalletHub study.