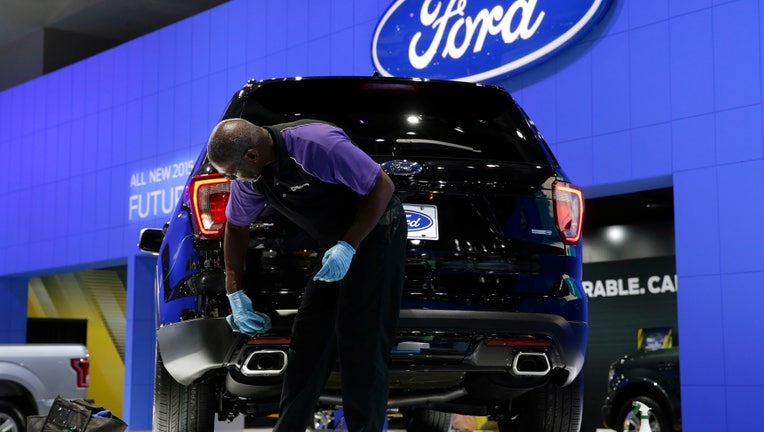 Ford (NYSE:F) announced plans to expand its lineup of sport-utility vehicles, saying the surge in demand is unlikely to fade away anytime soon.
The automaker will add four SUV nameplates globally over the next four years. The new models will compete in segments from which Ford is currently absent, although Ford didn't identify those segments. Karl Brauer, senior analyst for Kelley Blue Book, said Ford "absolutely needs a sub-compact SUV." The company could also launch more big SUVs under the Lincoln brand, which currently sells the Navigator and three smaller crossovers.
Ford believes the SUV craze will continue into the next decade. Millennials in the U.S. are starting families, Ford said, and company research shows that interest in SUVs rises sharply for new families. As for baby boomers, they still have a preference for SUVs.
"It's a demographic double whammy and it all points to one thing – more SUVs for the foreseeable future," said Mark LaNeve, Ford's vice president of marketing, sales and service.
The announcement, made at the start of the Chicago Auto Show, comes during a boom in SUV sales. Light-truck sales, which cover pickup trucks and SUVs, were up 13% in 2015 versus the prior year, according to Autodata. Meanwhile, passenger cars slipped 2.2%.
Ford saw its utilities grow 7.8% in 2015, driven by sales of the Explorer and Edge. Brauer sees more automakers, perhaps Toyota (NYSE:TM), committing additional resources to SUVs with sales going strong across the industry. In August, GM confirmed that it would ramp up production of large SUVs, such as the Chevrolet Tahoe, to satisfy demand.
The consumer shift to SUVs accelerated last year as gas prices plummeted, and GasBuddy.com is forecasting that 2016 will mark the fourth straight annual decline in pump prices. Last summer marked the first time that small SUVs was the highest-volume segment in the U.S.
But it's not just about cheap gas. Brauer emphasized that modern SUVs have fewer compromises than their predecessors. Fuel economy and ride quality have improved, making SUVs even more attractive to buyers who appreciate the ride height and functionality. So when gas prices begin to track higher, SUVs should remain popular.
"We will not see a swoon from the truck and SUV trend when gas prices move back up because there's not much of a negative in fuel efficiency" compared to smaller vehicles, Brauer said.
Ford's LaNeve noted that "some SUVs now rival the fuel efficiency of V6-powered midsize sedans from only a few years ago."