Ford, Shelby Raise the Stakes in Horsepower Wars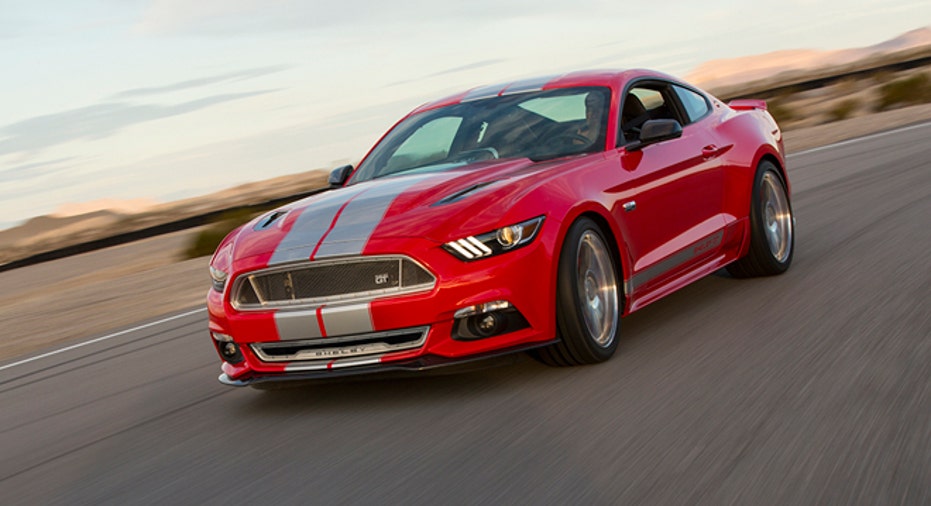 Ford Motor Co. (NYSE:F) and longtime partner Shelby American continue to raise the stakes in the battle for greater horsepower.
At the recent Barrett-Jackson collector car auction in Arizona, the Cobra maker unveiled the next iteration of its Shelby GT, a muscle car based on Ford's new 2015 Mustang. The 627-horsepower Shelby GT is the most feature-rich model to date, Shelby says, thanks to an array of carbon-fiber parts and a supercharger developed alongside Ford Racing.
Shelby has a long history of working with Ford on performance cars. Carroll Shelby, who died in 2012, started his company in 1962 with the launch of the two-seater Cobra. The original GT350 Mustang debuted three years later.
Ford's relationship with Shelby has been taken to a new level this year.
The automaker stole the spotlight at the Detroit Auto Show when it introduced its own Shelby GT350R Mustang, as well as the GT supercar. Plus, like the base Mustang, the aftermarket Shelby GT will be offered globally for the first time.
Mark Fields, president and chief executive of Ford, said the company reinvigorated its partnership with Shelby over the last decade. He also said keeping Carroll Shelby's legacy alive is important to Ford.
"We have the advantage and honor as a company to have a heritage. To me, heritage is history with a future," Fields told FoxBusiness.com. "As we go forward, Shelby will be a very important piece of Mustang. Every Shelby that we come out with has to live up to that heritage. It can't be a paint-and-tape job because our customers are passionate advocates."
Gary Patterson, Shelby American's vice president of strategic sales and media relations, said the car maker uses its knowledge of the performance market to provide input on what Ford should do next.
"Shelby's often looked at as a halo brand, and it certainly helps Ford with their image. Ford has also helped us [with] product development and engineering. Working together is always better," Patterson added.
Customers can acquire a 2015 Shelby GT through Ford dealers, which contact the Las Vegas-based company to have Mustang GT fastbacks or convertibles transformed into the Shelby version.
If the 5-liter supercharged Coyote engine isn't quite enough, buyers can opt for a performance upgrade that brings the Shelby GT's total horsepower to more than 700. Other upgrades include an adjustable track suspension package and a custom Shelby interior.
"People always like to personalize their car," Patterson said, noting that buyers can choose to paint the car's carbon-fiber bits a different color. "They have a hand in designing while not designing everything from top to bottom."
The starting price is $39,995, plus the cost of buying a Mustang GT from Ford. Shelby has opened the order process, and deliveries are expected to begin in the second quarter.
The Shelby GT and Ford's new Mustangs join a growing list of cars aimed at enthusiasts.
Fiat Chrysler Automobiles (NYSE:FCAU) turned heads with the 707-horsepower Dodge Challenger and Charger SRT Hellcat muscle cars. General Motors (NYSE:GM) launched the Chevrolet Camaro Z/28 and Corvette Z06, both tuned for the track. At the Detroit Auto Show, Honda's (NYSE:HMC) Acura NSX made its return to the stage.
With the horsepower wars in high gear, performance brands like Shelby are in the driver's seat.
"Well, I can tell you that the good old days are today," Patterson said. "Never before have you been able to appreciate the old with the new, and it's neat because we can actually offer both. We have the vintage, iconic Cobras, and we'll have the next Shelby GT."
Ford also stands to benefit from a stronger performance market, which has grown about 70% over the last couple of years, according to Fields.
Ford plans to bring a total of 12 new performance cars to market by the end of 2020, hoping to capitalize on growing sales across the industry. Moreover, Ford believes that the development of halo cars drives innovation.
"It's also a technology showcase for a lot of our engineers. When they go back into mainstream programs, they can apply some of that technology and innovation that they've used on these performance vehicles," Fields explained.