Ford bets on mobility chief Jim Hackett to lead transformation
The challenges that haunted Mark Fields—mainly, Ford's (NYSE:F) transition to a tech-focused automaker and skepticism on Wall Street—won't go away overnight. But Ford is betting that Jim Hackett, the executive in charge of Ford's "smart mobility" programs, can lead the century-old company as it merges the old with the new.
Ford announced on Monday that Hackett will take the wheel of Ford, replacing Fields as CEO.
"This is a time of unprecedented change," Bill Ford said during a Monday morning press conference at Ford's Dearborn, Mich., headquarters. Later, he added, "We can't talk about the core business and emerging business as separate units. This is one Ford."
Hackett, the longtime CEO of Steelcase (NYSE:SCS), is known for turning the office furniture maker into a company that also designs open workspaces and offers strategy consulting. In 2014, Hackett served as the University of Michigan's interim athletic director, and he made his mark by recruiting Jim Harbaugh as the football team's new head coach. Hackett, who held a seat on Ford's board of directors, later took over Ford Smart Mobility, the subsidiary established in 2016 to oversee Ford's self-driving cars, ride-sharing programs and other new ventures.
Momentum had been building for Ford to shake up its leadership team. Pressure from shareholders became clear during Ford's recent annual meeting, when investors questioned whether Ford has sacrificed too much of its bottom line amid heavy investments in upstart businesses. Ford, similar to its rival Big Three automakers in Detroit, is largely dependent on its lucrative pickup trucks and SUVs to boost profits. The Blue Oval's U.S. market share has declined this year.
Last week, Ford announced plans to cut 1,400 salaried jobs in North America and Asia in an effort to lower costs.
Perhaps the biggest thorn in Ford's side was its stock price. At the close of Friday's session, Ford was down 10.4% since the start of 2017 and 17.8% over the last 12 months. Tesla's (NASDAQ:TSLA) market value surpassed that of Ford in April, a symbolic development that highlighted Ford's struggles in the eyes of Wall Street. The electric car maker expects to produce about 100,000 vehicles this year. Ford sold 617,302 vehicles in the first quarter alone.
At Ford's shareholder meeting, Bill Ford told shareholders that his company was "as frustrated as you are by the stock price."
"Despite turning in credible profits, Fields was unable to turn Ford into a stock market darling, and that may well prove elusive going forward," Jack R. Nerad, executive editor and market analyst for Kelley Blue Book, said in an email.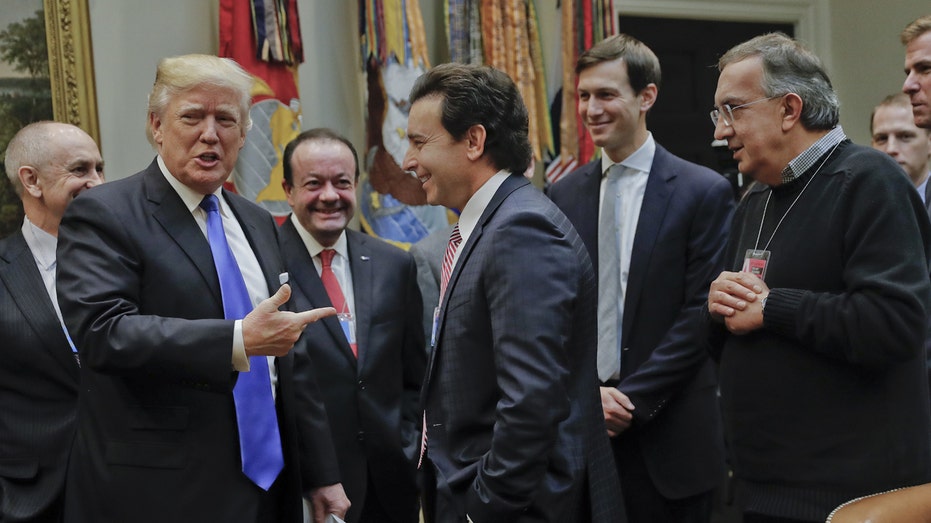 Fields also faced the difficult task of succeeding Alan Mulally, who is credited for keeping Ford afloat while General Motors (NYSE:GM) and Chrysler declared bankruptcy in the wake of the 2008 financial crisis. The former Boeing executive was responsible for selling off brands, strengthening the balance sheet, revamping the vehicle lineup and improving the automaker's internal culture.
"Alan Mulally set up Ford for success. At the same time, he set them up for failure. How do you succeed after that?" said Christian Stadler, a professor of strategy at Warwick Business School.
On Monday, Bill Ford and Hackett spoke often about improving Ford's message to Wall Street and industry analysts. According to Bill Ford, executives will provide new metrics that investors can use to judge Ford's ventures.
Hackett acknowledged that Ford's transformation, and convincing Wall Street that it's headed down the correct path, will take time.
"That's a confidence that comes after we do the things that we tell you we're going to do. It's a consequence. It's not a leading indicator. It's after we get things happening," Hackett said when asked about reversing the fortunes of Ford's slumping stock.
Ford's overall strategy is unlikely to change. Ford executives maintained that investments in new mobility projects, including self-driving cars, are crucial to the company's future as it seeks new sources of revenue beyond selling cars. Hackett signaled that Ford could move quicker in those areas.
Stadler said Ford and other automakers can succeed in a future that includes competition from Silicon Valley. As Bill Ford has stressed, the biggest challenge facing Hackett may be communicating Ford's progress.
"It's not a company in crisis," Stadler said, noting that Ford projects lower but nonetheless robust earnings of $9 billion this year. "Ford says it has to try to convince Wall Street. I think they're right."
In addition to elevating Hackett to CEO, Ford replaced its head of corporate communications with Mark Truby, and Bill Ford will oversee the company's communications and government relations going forward.
Jim Farley, who oversaw positive results in Europe, was named executive vice president and president of Global Markets. Joe Hinrichs, previously the head of Ford's North American business, will serve as executive vice president and president of global operations. Ford said Chief Information Officer Marcy Klevorn, the new president of mobility, will oversee Ford Smart Mobility, the subsidiary established in 2016.
Ford shares rose 1.5% to $11.03 in recent trading.