Floundering RIM May Attract Vultures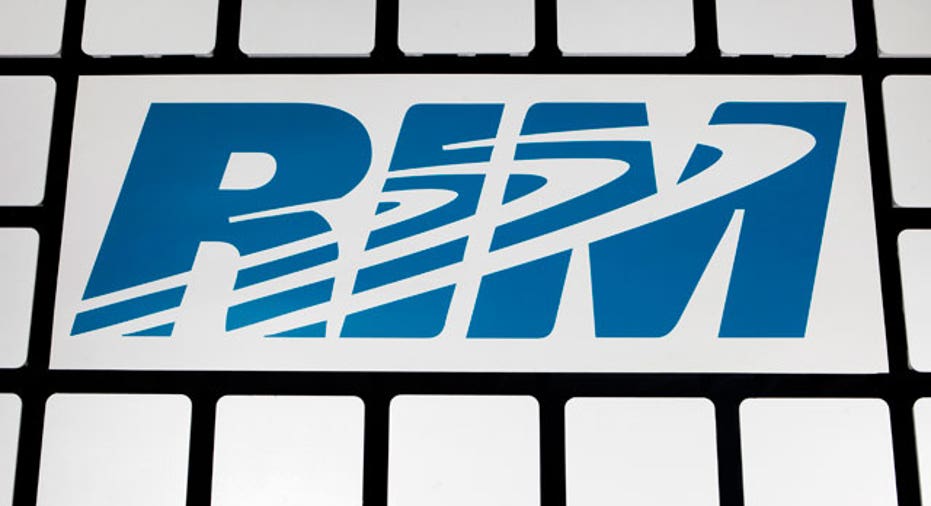 Research In Motion's dismal quarterly results, the latest in a string of disappointments by the BlackBerry maker, could prove a boon to prospective buyers eyeing its treasure trove of wireless patents.
RIM's shares took a beating on Friday, tumbling as much as 24 percent, a day after it reported earnings and issued an outlook that gave shareholders little reason to expect an imminent turnaround by the once proud Canadian technology giant.
Even so, the battered stock price will burnish its allure as an acquisition target, possibly setting the stage for the kind of corporate makeover that investors and analysts say is necessary for the hobbled company to regain its stride.
That very well might entail a change in leadership or at least a diminished role for Mike Lazaridis and Jim Basillie, who now dominate as co-CEOs as well as co-chairmen.
Put simply, RIM is cheap and profitable, and its management is struggling to execute a difficult software transition in a hyper-competitive landscape dominated by the likes of Apple and Google. That could make the company an attractive target for a private equity buyer.
While RIM has long been rumored to be in the sights of cash-rich Microsoft, that option became less likely with the software giant's tie-up with Nokia. Many now point to a private sale as a way to take pressure of the Canadian company while it weighs its next move.
``There's a wound festering in RIM, and either you need to cut off the arm or you let it get worse, and the market is telling you it's going to get worse unless they make a change,'' said Barry Schwartz, vice president and portfolio manager at Baskin Financial Services in Toronto.
Investors wiped some $3 billion off RIM's market value in the first hours of trade on Friday after it posted a sharp drop in quarterly profit and painted a dismal picture for the current quarter and rest of the year after markets closed on Thursday.
Now valued at around $12.5 billion, investment bankers will revisit RIM's fundamentals and weigh up which parts of the company retain value - and who would pay how much for them.
``The valuation is very undemanding,'' said Matthew Thornton, an analyst at Avian Securities in Boston. ``They're still very profitable and cash flow positive. They have a nice recurring revenue base that no other handset manufacturer has.''
RIM receives a monthly income from each subscriber that uses its proprietary network to receive corporate email and other data, a selling point devalued in recent years.
``It's not a stretch to say that a company doing $5 (per share) a year in earnings - with a 10 multiple - is a $50 billion take-out,'' Thornton said.
He said even a 100 percent premium on Friday's price would still represent less than a multiple of 10. Google offered a 63 percent premium in its $12.5 billion move on Motorola Mobility.
RIM's patent portfolio would take on special interest in any calculation of RIM's worth. Tech companies have become increasingly interested in controlling patents to ward off expensive infringement litigation.
RIM has more than 2,000 patents filed with the U.S. Patent and Trademark Office and was a part of a consortium that nabbed a portfolio of patents from bankrupt Nortel Networks.
Even so, coming to grips with exactly what RIM has claimed as its own intellectual property and assessing its value independent of its operations is likely to prove an expensive and complicated endeavor .
``Patent value is nebulous. ... You just don't know the future value of those cash flows,'' said Jeff Fidacaro from Susquehanna Financial in New York.
TIGHT SHIP
Any talk of such a shakeup would have take into account the influence of RIM's top two executives, co-founder Lazaridis and his salesman sidekick Balsillie, who joined Lazaridis as co-CEO well before RIM had ever shipped a BlackBerry.
Each owns more than 5 percent of the company and both also share a role as chairmen of the board, which investors complain makes it more difficult for the board to act independently.
Investors are increasingly vocal in questioning why RIM's distinguished board - heads of banks and other titans of industry - are unable to exert more influence over the pair.
RIM says the chairman titles help the company sell its devices into emerging markets where the Canadian company has garnered most of its growth in recent years.
Earlier this month activist investor Jaguar Financial said it was rallying other shareholders in a bid to empower the board to look at options including spinning off patents or selling the entire company.
Jaguar Chief Executive Vic Albioni said he sees two options for RIM - either appoint a transformational leader or sell the company.
``We have two fabulously successful entrepreneurs but unfortunately the company has lost its way, and it may be time for them to step aside,'' said Albioni. ``I think the results magnify the importance of the board seizing the reins here, and really taking control of the board.'' (Reporting by Alastair Sharp in Toronto and Sinead Carew in New York; Additional reporting by Claire Sibonney and Pav Jordan in Toronto; Editing by Frank McGurty)