Five Ways Your Boss is Downsizing Your Health Insurance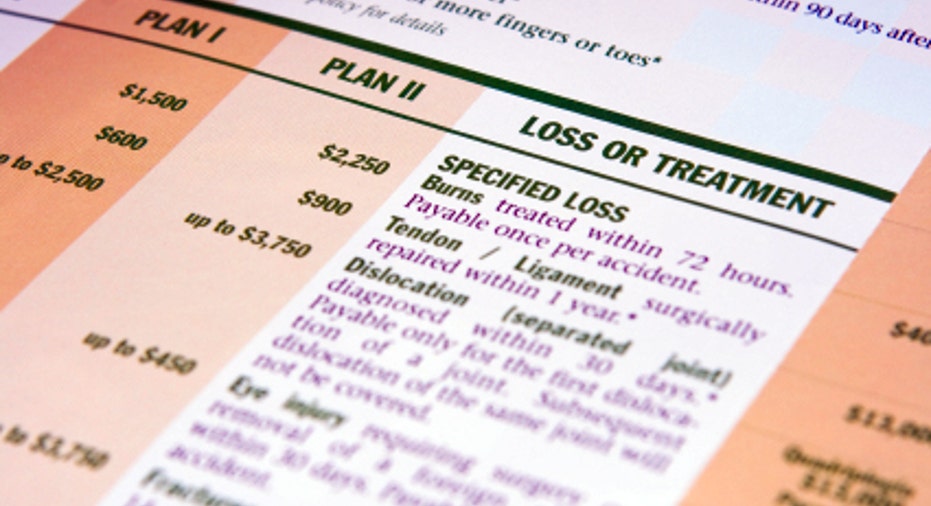 With the average yearly health insurance premium projected to top $10,000 per worker this year, according to human resources consulting firm Aon Hewitt, employers are doing whatever they can to cut health care costs.
Here are five strategies your employer might use:
1. Offer high-deductible health insurance plans
Almost one-third, 32%, of employers with 500 or more employees offered a high-deductible plan in 2011, up from 23% in 2010, according to Mercer, a global human resource consulting company.
The appeal to employers is obvious. The average cost of coverage in a high-deductible plan with a health savings account is almost 20% lower than the cost of a preferred provider organization (PPO) plan, Mercer says.
Health savings accounts let you save pre-tax money for out-of-pocket health care costs. And unlike flexible spending accounts, unused money rolls over to the following year.
The plans are called "consumer-directed" health plans because they encourage people to shop wisely for health care. When you're on the hook for a big deductible, you're more likely to spend carefully than you would be if someone else paid the whole tab.
2. Steer you to cost-efficient health care providers
A growing number of employer-sponsored health plans pay more of the medical bill -- which means you pay less out-of-pocket -- when you go to providers in the network that earn high marks for cost-effectiveness and quality, says Bill Jesserer, a principal at Catalyze Consulting, a risk management consulting firm in Bethel Park, Pa.
This is part of value-based plan design, which aims to get people the best, most cost-efficient care.
"It's focusing on changing behavior and getting people engaged in managing their health," says Cyndy Nayer, president and CEO of the Center for Health Value Innovation in St. Louis and Estero, Fla.
Some employers use "benefits coaches" who help workers understand their health benefits and guide them to best and most cost-effective services, Nayer says. When your kid has an earache after regular office hours, for instance, a benefits coach might suggest you go to an urgent care center, where the child can be treated at far less cost and with a shorter wait than at a hospital emergency department.
3. Reward good health habits, penalize bad ones
Four out of five employers plan to offer financial incentives this year to employees who participate in company wellness or disease management programs, according to the 2011/2012 "Staying@Work" survey by Towers Watson and the National Business Group on Health.
Incentives may include gift cards, cash or a major discount on the employee portion of the premium.
Jesserer says some employers are shifting to rewards for achieving actual results, such as healthier blood pressure and cholesterol levels, or weight loss.
"Data is king," he says. "As the group's health improves, employers can use the data to fight the fight with the underwriter at renewal time and argue the group is a better risk."
Many employers are using health coaches to help employees manage conditions, such as diabetes, or change their lifestyles to accomplish goals, Nayer says. Some health coaching programs focus on the whole family.
Also, some employers are looking to penalize those who don't have healthy habits. The use of penalties among employers more than doubled from 2009 to 2011, rising from 8% to 19%. It could double again this year when 38% of companies plan to have penalties in place. Requiring smokers to pay a higher portion of the health insurance premium is among the most common penalties, according to the report.
4. Charge extra for spouses who can get health insurance coverage elsewhere
Employers are taking a harder line on coverage for spouses who have access to health insurance through their own jobs. Among large employers, 7% impose a surcharge for those spouses, according to Mercer. An additional 7% do not provide any coverage to spouses who have access to coverage through another employer.
5. Raise copays and your share of the premium
As health insurance premiums rise, your employer will likely pass some of that cost on to you. Large employers will ask workers to contribute an average of $2,306 toward the premium in 2012, according to Aon Hewitt. That's 22% of the average projected premium of $10,475.
In 2011, the average worker contribution toward the premium at a large company was $2,084; in 2010, it was $1,952.
You may also pay more in copayments and coinsurance. In 2012, average out-of-pocket costs, including copayments, coinsurance and deductibles, will total $2,275 per employee, up from $2,007 in 2011 and $1,691 in 2010, according to Aon Hewitt.
The good news?
Although employers are looking for ways to cut costs, most don't plan to terminate health insurance coverage. Only 9% of employers with 500 or more workers say they're likely to drop health benefits in 2014, when health insurance exchanges are operating, Mercer says. About one-fifth of employers with 10 to 499 employees say they're likely to terminate coverage in 2014.
The original article can be found at Insurance.com:5 ways your boss is downsizing your health insurance