Five Easy Ways to Pump up Savings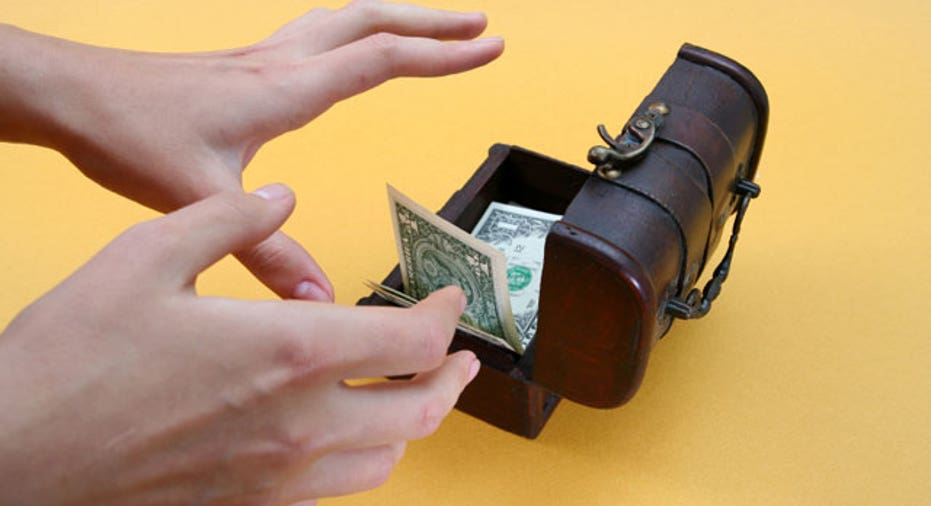 Banks and financial Web sites are offering more innovative tools, incentives and higher rates these days to help you pump up your savings.
Programs like Bank of America's Keep the Change even kick in some money to help you out in the beginning. Others like SmartyPig.com are dishing out cash-back rewards on their co-branded prepaid debit cards that you can shuttle into savings.
Even so, don't count on debit card cash-back rewards programs to help you for long. Chase, Wells Fargo and PNC are among the banks phasing out these debit card programs. Banks are looking at huge changes in revenue due to new regulations, says Ron Shevlin, a senior analyst at Aite Group LLC, a research firm in Boston. The upshot is they're less willing to hand out incentives.
But for consumers with hefty savings or multiple accounts, incentives can still be sweet.
Ultimately, building savings by paying yourself first with direct deposit is best, says Greg McBride, CFA, senior financial analyst at Bankrate.com. That tactic builds savings momentum, he says.
But for some extra oomph, here are five easy tips to build on your savings.
Get Paid Incentives for Saving
Bank incentives are alive and well.
With Bank of America's Keep the Change program, every time you make a debit card purchase, the bank rounds up the number to the nearest dollar amount and deposits it in your savings account. The bank also will match your savings for the first three months, up to $250.
"It's the electronic equivalent of dropping spare change in a glass jar," McBride says.
BBVA Compass has a similar program. When you link your checking account with its Build My Savings account, the bank matches a percentage of your transfers, up to $250 per year. And U.S. Bank has a S.T.A.R.T. savings program, which hands out a $50 Rewards Visa Card when your balance reaches $1,000.
Still, incentives may be more than offset by higher fees and lower yields, McBride says.
Opt for Credit Card Savings Accounts
Some credit card companies are offering tempting online savings deals.
For example, CapitalOne InterestPlus savings paid 1.1% on balances of $1,000 or more in late May 2011 for anyone who opens this type of account. That's compared to average savings yields of 0.68% offered nationally, according to Bankrate's rate comparison tool.
An American Express online savings account also paid a high yield -- 1.15%.
"Since they generally don't have physical branches, they can pay higher interest rates," says Ken Paterson, vice president of research operations at Mercator Advisory Group, a research firm based in Maynard, Mass. And the accounts are insured by the Federal Deposit Insurance Corp., to $250,000, he says.
Harness the Power of Social Networking
Social networking sites can turbocharge savings, especially for teens.
Take MatchFund.com, which lets parents match their teens' savings deposits. Teens also can create savings goals like saving for an iPod. And their spending is co-managed with parents via a categorized spending card, which organizes purchases into groups such as music, games and clothing for parents to approve.
"Kids can actually complete financial lessons and get rewards from mom and dad as a result," says Nick Mokey, a staff writer at Digitaltrends.com. "You're teaching kids about money with things that matter to them like an iPod."
Online savings site SmartyPig.com also lets you set financial goals to which people can contribute to help you meet them. And its savings account interest rate was a hefty 1.35% in May 2011.
Bigger Balances, Higher Rates
Balances of more than $25,000 usually earn you higher rates.
For example, Citibank's Ultimate Savings Account has rates that reward higher balances. If you stash at least $25,000, your interest rate is triple that of deposits under $10,000 (rates from May 2011).
And Wells Fargo's High Yield Savings Account pays four times more for balances of more than $25,000 than for deposits of less than $10,000 in New York; it may vary in other states. If you link to a PMA Premier Checking Account, the bank adds a bonus of 0.1% (also in New York).
Compare rates for other kinds of accounts like money markets via search engines to find the best yields, McBride says. "Higher-yield accounts may not automatically be the best return on your money," he says.
Also, Shevlin says consumers have more leverage to negotiate higher rates at smaller banks, especially if you have multiple accounts and big balances. "Negotiate better rates where you are," he says.
Link Cash-Back Rewards to Savings
Cash-back rewards are another way to pump up savings, especially for big spenders.
Take SmartyPig's prepaid cash debit rewards card. It lets you earn up to 10% back on everyday purchases at 9,000 local and regional retailers. That cash-back money is then applied to savings goals. Also, with the Fidelity Investment Rewards American Express card you earn 2% (May 2011 rate) cash back on purchases that is deposited into a cash account or brokerage account. "That's a great payout," McBride says.
Stay on top of your transactions, McBride says. "People with the biggest trouble saving are most inclined to trip up," he says. "If you pay your balance every month, it's a great way to get paid for everyday transactions."