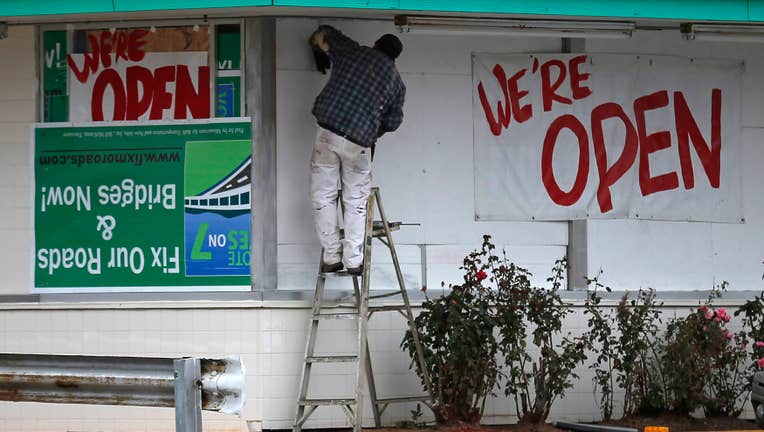 With protesters still gathering daily around the Ferguson police station, small business owners say business has dried up almost entirely since the Aug. 9 shooting of 18-year-old Michael Brown.
The St. Louis suburb of Ferguson is anxiously awaiting the grand jury ruling as to whether Ferguson Police Officer Darren Wilson will be charged in Brown's fatal shooting. Missouri Gov. Jay Nixon declared a state of emergency and activated the National Guard ahead of the decision.
"There's been a very dramatic financial impact on the small businesses that are throughout the West Florissant corridor, as well as several businesses in the South Florissant area," said Rebecca Zoll. Zoll is president of North County Inc., a business and economic development organization focused on Ferguson and its neighboring towns, such as Dellwood and Jennings.
Immediately following the shooting, rioting and looting caused many businesses to shut down operations for as many as fifteen days, Zoll said.
"Several employees couldn't get to the business or they were afraid to come to the business," she added.
And business owners say that traffic is still light in the areas close to the police station.
"Business is down 40% to 60%," Corners Frameshop & Gallery owner Robin Shively said. "I still see Ferguson residents walking in and about – I'm at a very busy corner … but I don't see a lot of people from out of the area coming in."
Shively said customers just don't want to deal with any potential commotion. But others say fear is the factor.
"Business has dwindled down. Our lunch business and night business are down, I would say by 80%," said Mimi's Subway Bar manager Linda, who declined to give her last name. "People are afraid to come out and they're also afraid to cross the protesters." Mimi's Subway Bar in Ferguson has been in operation for 20 years.
Linda said there has been no pick-up in business as time has passed.
"It's nerve-wracking trying to cross the street … Everybody's on edge. They're scared; they're fed up," she added.
Shively said the unrest in Ferguson has made it difficult to grow her 1-year-old business.
"There's a lot of uncertainty. You can't make plans for events, or you know, anything until the situation is resolved," she said.
Shively said she's determined to keep her business open in Ferguson, however, and is hopeful the town will bounce back – an optimism shared by Zoll.
"Once things settle down from a safety perspective , [customers]will return. But it's hard to recover – [businesses have] had such a financial impact during this time, but they do believe they will recover and are committed to staying there," Zoll said. "They have no intentions of leaving, if they can just make it through this very challenging period of time."