FedEx Braces for Record Holiday Season--Again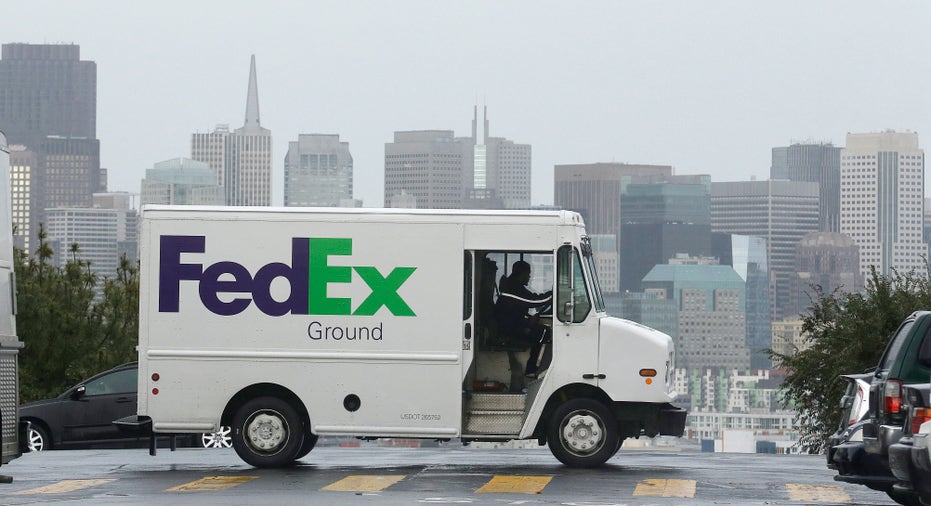 FedEx (NYSE:FDX) said Wednesday it projects another record number of shipments during the busy holiday shopping season, despite a weaker outlook for the broader economy.
The delivery company plans to hire 50,000 seasonal employees, roughly the same as the 55,000 people who were hired for the holidays last year. With Christmas falling on a Sunday this year, FedEx Express will make deliveries on Saturday, Dec. 24, which is Christmas Eve. Customers can also choose to have their packages held at FedEx locations.
Rapid growth in e-commerce shipments has lifted demand for FedEx's services over the last several years. In 2015, FedEx recorded a 15% increase in peak-season volume, delivering more than 325 million packages. Holiday retail sales grew 3% to $626 billion last year, and non-store sales including online shopping were up 9%, according to the National Retail Federation.
T. Michael Glenn, FedEx's executive vice president of market development and corporate communications, said holiday promotions and consumer buying patterns are also created new demand trends. FedEx has experienced significant demand for Monday deliveries during the holidays, as more retailers act as fulfillment centers for their e-commerce orders.
"We expect each of the four Mondays during the upcoming peak period to be among the busiest in our company's history," Glenn told analysts on a conference call.
Delivery giants like FedEx and its chief rival, United Parcel Service (NYSE:UPS), have sought to discourage last-minute shipments and oversized boxes, which can slow down delivery times. In 2013, a deluge of packages shortly before Christmas created a backlog that took days for UPS to resolve. FedEx and UPS have since revamped their pricing structures for all ground shipments, charging retailers and other shippers based on the size of bulky but lightweight packages. The system is known as dimensional-weight pricing.
"We were getting lots of packages that were one or two cubic feet and inside was a six-ounce stuffed toy, and that comes from the way e-commerce is processed there," FedEx CEO Fred Smith said during the 2015 holidays.
FedEx will again raise Express shipping rates by an average of 3.9%, effective Jan. 2, 2017. Rates for FedEx Ground, Home Delivery and Freight will increase by 4.9% on average. The Memphis, Tennessee-based company also shifted its dimensional-weight divisor to 139 from 166, meaning the dimensional weight of each package will be greater. Starting Feb. 6, FedEx Express and Ground fuel surcharges will be adjusted on a weekly basis, not monthly.
Ticker
Security
Last
Change
Change %
FDX
FEDEX CORP.
221.74
+4.45
+2.05%
UPS
UNITED PARCEL SERVICE INC.
170.14
+2.31
+1.38%
Glenn said FedEx continues to address the issue of package density, noting that e-commerce shipments are still not packed as efficiently as they could be. For large items, FedEx has designed its sortation and delivery capacity to accommodate "everything from large-screen TVs to mattresses and trampolines." FedEx's temporary facilities dedicated to sorting oversized packages will be crucial during peak season, Glenn added.
Although the holiday season is expected to be busier than ever, FedEx issued a softer view of the U.S. economy. FedEx is looking for U.S. gross domestic product to grow 1.6% in 2016, less than a previous forecast for 1.8% growth. FedEx also lowered its outlook for global GDP to 2.2% from 2.3%.
FedEx reported higher earnings and revenue in its fiscal first quarter, thanks in part to its acquisition of Dutch company TNT Express. Net income rose 3.3% to $715 million, or $2.65 a share. Revenue jumped 20% to $14.7 billion in the quarter ended Aug. 31. Adjusted earnings of $2.90 a share topped Wall Street estimates by 9 cents.
Ground volume climbed 10%, while the volume of express shipments edged 1% higher in the U.S. and internationally.
Costs tied to the $5 billion takeover of TNT Express will take $1 per share out of adjusted earnings for the full year, FedEx said. The company also plans to invest $5.6 billion on expanding its ground network and updating its fleet of jets, among other areas, in fiscal 2017.