Fed Boosts Debit 'Swipe Fee' Cap to 21 Cents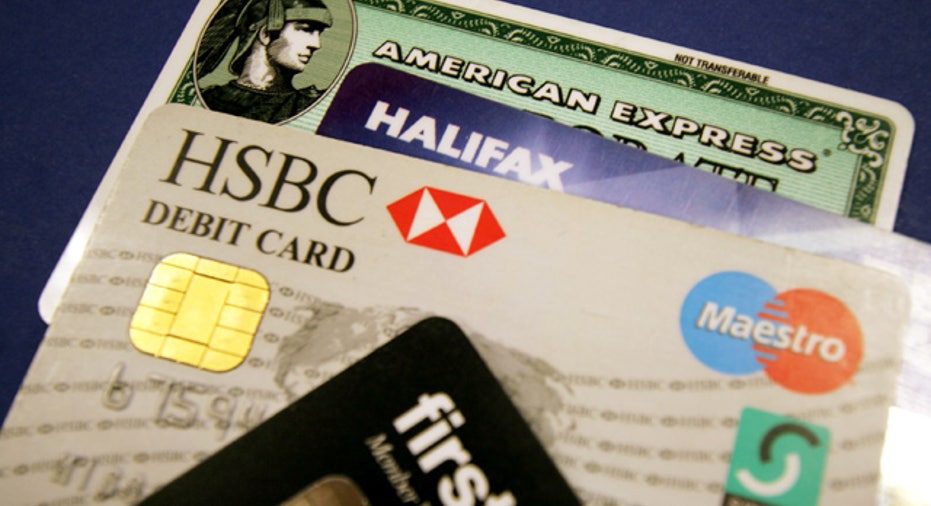 Debit card swipe fees paid by merchants and retailers to large banks will be capped at 21 cents, according to rules finalized Wednesday by the Federal Reserve Board.
The decision on the fees, paid indirectly by consumers each time they swipe a debit card at a cash register, was a win for bankers and a loss for retailers and sent bank stock prices up slightly in afternoon trading. The caps -- as originally proposed -- would have been much worse for bankers, dropping the fee all the way from its current average of 44 cents down to 12 cents. The fight over the fee has pitted banks and credit unions against retailers in a political battle that has raged for months.
The Fed "has taken a significant step in reducing the harm that could have resulted from the proposed rule," Frank Keating, president of the American Bankers Association trade group said in a statement. Even so, he added, the cap will take 45% of the revenue banks now receive from swipe fees, which will force them to charge "higher fees for basic banking services."
Retailers, however, were not pleased: "We are extremely disappointed that the Federal Reserve chose to be influenced by special interests," Matthew Shay, president of the National Retail Federation, said in a statement.
Cap delayed until Oct. 1 The Fed also pushed back the start of the debit card limits to Oct. 1, 2011, giving banks and credit unions nearly three additional months to implement the new debit card rules. Under the Fed's initial proposal, the debit card restrictions would have begun on July 21, 2011.
"I think this is the best available solution that implements the will of Congress," Fed Chairman Ben Bernanke said before board members voted 4-1, with Elizabeth Duke dissenting, to approve the rules. In the massive Wall Street reform law that passed in 2010, Congress mandated that the Fed create rules to limit how much banks and payment card networks could charge merchants for the swipe fees, more formally called interchange fees.
The fees are borne by retailers each time customers swipe their debit cards to make purchases, and are passed along as part of the price consumers pay for goods and services. The fees are set by Visa and MasterCard and generate an estimated $1.8 billion a month in revenues for banks. Convenience store and gas station owners, grocers, large retailers and restaurant owners have long complained that the fees have skyrocketed in recent years and added to their cost of doing business.
Merchants currently pay interchange fees of about 1 to 2% of each transaction -- or about 44 cents on the average purchase. The Fed's original proposal called for caps of 7 cents to 12 cents per transactions. However, banks and credit unions complained that regulators had not taken all of the costs of processing debit card transactions into consideration when setting such low amounts. Their arguments were persuasive because, in addition to the higher 21-cent transaction fee, the Fed is also allowing banks to charge an additional 1 cent per transaction to cover costs for fraud prevention. Because of this and a few pennies for other adjustments, "A covered issuer could receive up to 24 cents for the average transaction," Mark Manuszak, who heads research and statistics for the Fed, told board members.
Small banks exemptFed board members expressed concerns that the final rules will do nothing to help small banks and credit unions. Banks with less than $10 billion in assets are exempt from the debit card swipe fee limits. That means those small banks can charge higher interchange fees for use of their cards. However, as Bernanke and others have pointed out, merchants may not accept cards that carry these higher swipe fees and small banks may not reap the benefits of an exemption.
The proposal had unleashed a flood of lobbyists on lawmakers, as financial institutions sought to have the restrictions rolled back and retailers and consumers groups rallying behind them. That lobbying effort culminated in a U.S. Senate vote June 8 that would have delayed the restrictions to allow a study of their impact on small banks and credit unions. The effort to delay the swipe fees failed by six votes.
Debbie Matz, chairman of the National Credit Union Administration, applauded the Fed for taking small financial institutions' concerns into consideration.
"NCUA had strong concerns about the initial interchange fee proposal," Matz said in a statement. "The final regulation adopted today, however, addresses concerns raised by NCUA during the rulemaking process ... The higher interchange fee amounts included in today's rule are a step in the right direction."
More from CreditCards.com: