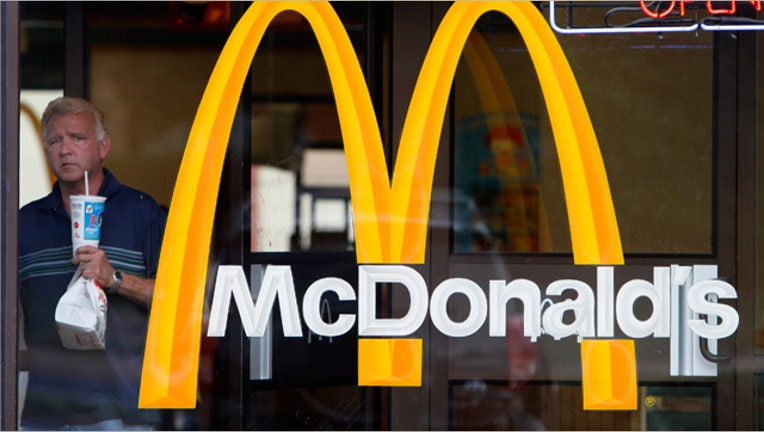 Fast-food employees in a number of cities across the U.S. planned protests Thursday in an effort to force big chains like McDonald's (NYSE: MCD) and Burger King (NYSE: BKW) to raise workers' pay.
A spokesman for the Service Employees International Union said the SEIU is helping to organize the protests among the non-union employees.
Workers at fast-food restaurants in dozens of cities including New York, Chicago, Boston, Indianapolis and Denver plan to walk off their jobs in protest of low wages and poor working conditions. A large rally of fast-food employees was scheduled for Thursday afternoon in Union Square in New York City.
In addition to McDonald's and Burger King, other big chains being targeted by protesters include Taco Bell and KFC, both owned by Yum! Brand (NYSE: YUM), and Subway.
Fast-food restaurants are nearly all operated by individual franchise owners, who set their own hours and wages. Protest organizers say the walkoffs and rallies Thursday are targeting the corporations that oversee the franchises rather than the franchise owners, who are struggling in the difficult U.S. economy as much as their employees.
"Over 99% of all Burger King restaurants in the United States are independently owned and operated by third party franchisees. As a corporation, we respect the rights of all workers; however, Burger King Corp. does not make hiring, firing or other employment-related decisions for our franchisees," Burger King said in a statement.
The workers are seeking a pay raise to $15 an hour, up from the average hourly wage of $9 an hour, organizers said. The federal minimum wage is $7.25 an hour. Workers also want the ability to organize unions without fear of being fired or other forms of retaliation.
The protests began last fall at fast-food chains in New York.
McDonald's defended its employment policies: "The story promoted by the individuals organizing these events does not provide an accurate picture of what it means to work at McDonald's.," the company said in a statement. "McDonald's aims to offer competitive pay and benefits to our employees.  We provide training and professional development for all of those who wish to take advantage of those opportunities.  Our history is full of examples of individuals who worked their first job with McDonald's and went on to successful careers both within and outside of McDonald's."
Yum! Brand and Subway didn't immediately respond to a request for comment.
In the wake of the financial crisis of 2008, which left millions of Americans unemployed and forced others into part-time work, pressure has been rising on large chain companies to raise wages and improve benefit packages for their employees.
The pressure has also been applied outside the fast-food sector to retail giants Wal-Mart (NYSE: WMT) and Target (NYSE: TGT).
Many of these service sector jobs are filled by young workers and immigrants, two groups that have been traditionally difficult to organize into unions.
The chains have so far resisted efforts to unionize, arguing that higher wages and lucrative benefit packages will force them to cut back on employees, which would only exacerbate the stumbling U.S. labor market. The U.S. unemployment rate stood at 7.4% in July.