Fall Isn't Just Football Season, It's Also Scholarship Season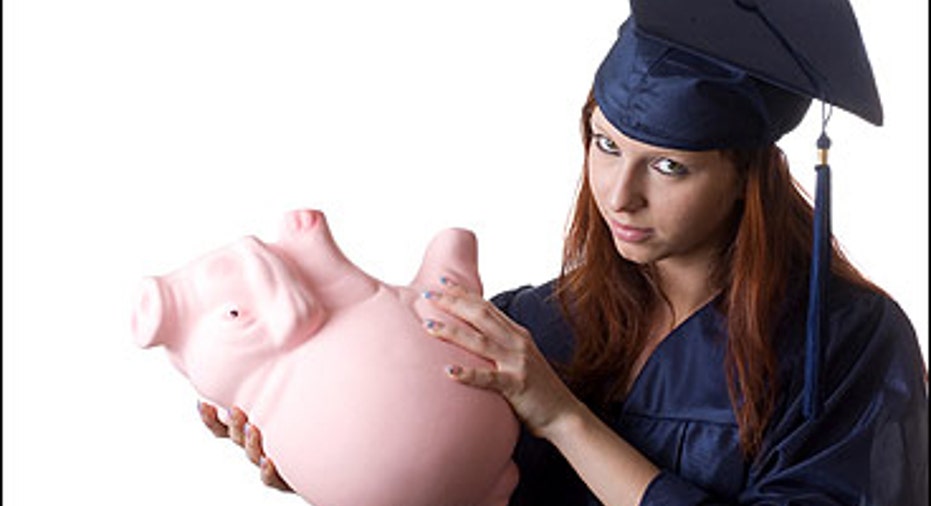 The leaves are starting to turn into their fall colors in some parts of the country as mornings become crisp, farm stands are selling fresh cider and holiday decorations are filling up stores' shelves.
On campuses across the country, college students are knee deep into the fall semester, football is the official Saturday obsession and it's time for…. applying for student loans! In fact, in some cases, the deadline is right around the corner. That's right: Finding money to cover your college expenses should be a year-round focus, says Nikki LaVoie, communications manager for Sallie Mae.
"It's important to understand that there are two major seasons for scholarships: winter and spring," she says. In other words, don't think that the opportunity to snag money for the current school year has dried up just because the semester has started. A quick search of Sallie Mae's scholarship search website was a personal eye-opener for a number of reasons, not the least of which was the fact that there are so many listed scholarships– "three million worth more than $16 billion," according to LaVoie. Since roughly half of those listed represent money that will be distributed in time for the spring semester, the deadline to submit your application is this fall.
"You have to keep looking for free money throughout college," advises LaVoie, who claims she paid for a good deal of her own education by cobbling together multiples of small grants and scholarships. In fact, according to Sallie Mae's most recent survey, scholarship and grant money makes up 30% of the money used to cover college expenses.(1) Parents have reduced their higher-education funding roughly 27% of the cost out of current income and (non-retirement) savings- down from 37% in the 2010 school year. The balance is coming from loans to students and personal loans issued to parents.
Not only is there potentially a lot of money free for the taking, there is tremendous variety in the types of scholarships available. Many have no relationship to either financial need or grade point average.
I created my own account on the Sallie Mae website which, like all most scholarship search engines, requires you to enter information about yourself: your year, interests, major, SAT scores, home state, etc. It was simple and quick. For best results, LaVoie says try to "complete your profile in its entirety, with as much information as you can" to get more specific matches.
"Many people think their field of study or major is important, [but] a passion that you have or special interests are equally important." The list of these is both extensive and eclectic, including money for activities like amateur radio, cheerleading, and even games/marbles. Apparently, whatever your passion, there's a scholarship. So, even if you're a business major, don't neglect to mention that you love to cook or have an interest in astronomy or bird watching.
Sallie Mae's site will also ask about clubs that you or your parents belong to. Among the more esoteric are the American Angus Association, the Maids of Athena, the U.S. Bowling Congress, the Minerals, Metals and Materials Society and Women in Aviation. The point is, many organizations- including more mundane ones such as Kiwanis or church groups- sponsor scholarships for members or their relatives.
Don't overlook your employer or the companies where your parents work. Unions are another big source of scholarships. Keep in mind that even if the potential award is "only" 500-$1,000, that will cover your books as well some miscellaneous expenses, such as lab fees.
On my application, I indicated I was a journalism major, but had an interest in the performing arts. (I actually graduated with a minor in theatre and was a TV news anchor for most of my career.) The potential scholarships that were a match for me included the Princess Grace Awards Program, which provides scholarships of up to $25,000 to students majoring in theatre, dance, film, acting and related fields.
Another option for me was called the Blogging Scholarship. After clicking on the embedded link to its website, I learned that the sponsor is "giving away up to $10,000 this year to a college student who blogs." The primary criteria is that "applicants must maintain blogs with unique and interesting information." The deadline for submission of your application is Nov. 14 and voting begins the following day. Presumably, those who follow your blog will be your biggest fans to win this scholarship, so the more followers you have, the better your chances.
La Voie offers these tips when applying for scholarships:
After you come up with potential sponsors reduce the list to those that are your closest match. Devote your time to these and don't waste it on the rest. (After all, you need to leave time for class reading assignments, term papers and keggers.)
If your application requires you to write an essay, make sure there are no typos. Sloppiness is not going to win you points with the judges.
Don't miss the submission deadline. You are competing against other adults who can read a calendar.
Lastly, be aware that Sallie Mae is not the only place to look for scholarship money. When I typed "college scholarship search" in my web browser, pages of websites popped up. Just be careful. LaVoie cautions that "you don't want to fall prey to financial aid scams. Legitimate scholarship databases are free. You should not have to pay more than a postage stamp."
1. Grants represent 14%; scholarships cover 16%