FAA changes San Francisco landing rules after close call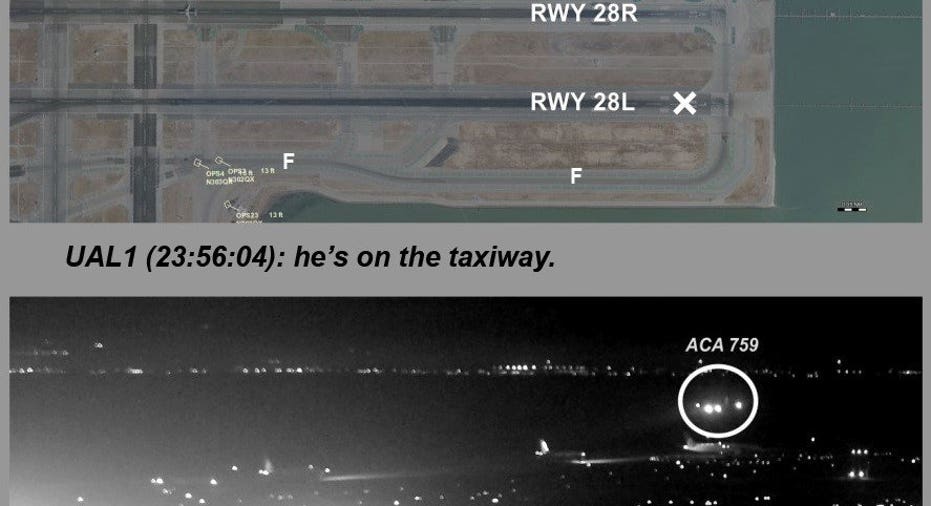 Federal officials have issued new rules for nighttime landings and control-tower staffing at San Francisco International Airport after an Air Canada jet nearly struck planes on the ground last month.
The new procedures will apply when a runway parallel to a plane's designated runway is closed, as it was on July 7, possibly contributing to the Air Canada pilots' confusion.
When an adjacent runway is shut down at night, air traffic controllers will no longer let pilots make so-called visual approaches to land. Instead, they must use instrument landing systems or satellite-based systems to line up for the correct runway.
Federal Aviation Administration spokesman Ian Gregor said Thursday that the agency also will require two controllers in the airport tower during busy late-night periods. Only one controller was working during the Air Canada incident.
The FAA is making changes after two Air Canada pilots mistakenly lined up a jet to land on a taxiway, sort of a side road that four other planes were using to reach the runway.
The Air Canada pilots were cleared to land on runway 28-right. A parallel runway, 28-left, was closed and its lights were turned off.
Instead of landing on the runway, the Airbus A320 flew over the taxiway for about a quarter-mile, dipping as low as 59 feet above the ground — barely higher than the tails of the other planes, which were filled with hundreds of passengers ready to take off.
The Air Canada pilots aborted their landing just in time to avoid disaster. They circled around and eventually landed safely.
Runway 28-left has since reopened, according to airport spokesman Doug Yakel.
The incident is under investigation by the National Transportation Safety Board. It said the pilots told investigators that they didn't recall seeing planes on the taxiway "but that something did not look right to them."
Air Canada did not immediately respond to a request for comment.
___
David Koenig can be reached at http://twitter.com/airlinewriter