Exxon Mobil & Chevron Shares Hit 52-Week Low and May Go Lower With Oil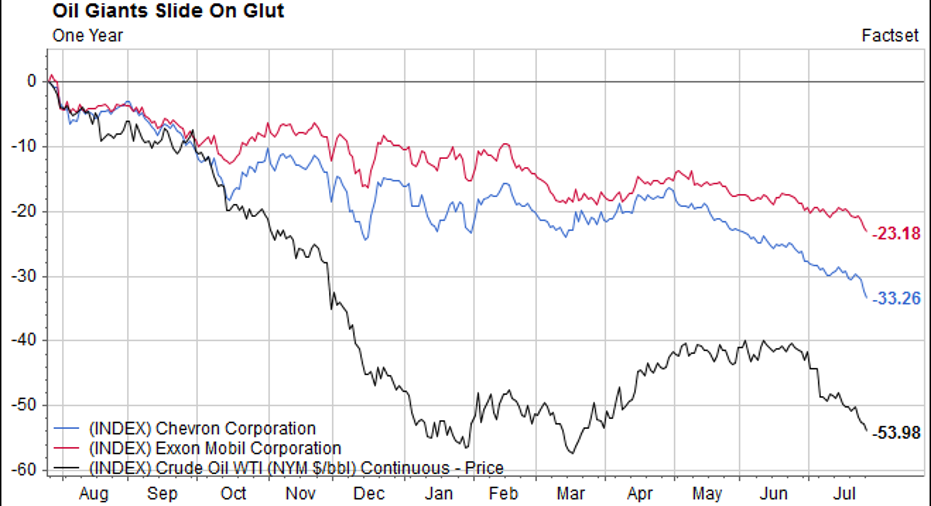 Exxon Mobil (NYSE:XOM) and Chevron (NYSE:CVX) shares are sitting at the lowest level in 12-months. For those investors who think the two may look cheap enough to buy; hold off advises Oppenheimer oil analyst Fadel Gheit.
"It's 100% about oil and nothing else," Gheit told FOXBusiness.com when asked why the stocks have seen such a big sell-off. Gheit, who has a hold rating on both, also added the two look very much like "value traps." The investing term is used to describe how investors seeking stock bargains tend to forget the fundamentals of a company may not look so good. In this case, that would be the bearish outlook for oil which continues to loom large.
On Monday, Bank of America (NYSE:BAC) cut its 3Q oil forecast to $45 a barrel for West Texas Intermediate and $50 a barrel for Brent, the global benchmark. Oil is currently trading around the $47 per barrel level down 53% from the highs of 2014. Gheit cautions that oil prices may turn out to be "more painful long term than people think."
To Gheit's point, last quarter Chevron did not raise its quarterly dividend which has been the norm for at least the past 12 years. Instead the company kept the payout at $1.07. On the earnings conference call, chief financial officer Pat Yarrington noted that "the first quarter was not a very stable financial environment," and that the company wants to maintain what's affordable. "We don't want to get into a position where we are having to cut the dividend or trim the dividend in anyway." she said.
Exxon Mobil, while also dependent on oil, did manage to raise its quarterly dividend last quarter by nearly 6% to $0.73 showcasing more of a diverse business stream than Chevron. While neither company can control the direction of oil prices, Gheit notes they can control costs. He'll be looking for some sharp specifics on that front when each reports earnings later this week.
Exxon Mobil is set report earnings Thursday before the start of trading. Chevron's report follows on Friday morning.