Elvis Presley's vintage private jet up for sale
A custom jet once owned by Elvis Presley is up for sale, just a year after fetching nearly half a million dollars.
The unrestored plane, a 1962 Lockheed Jetstar, has hit the auction block through IronPlanet, a seller of used heavy equipment and government surplus.
Presley's Jetstar sits in a boneyard in Roswell, New Mexico, where private owners have stored the famous plane for more than 35 years. Its current owner acquired the jet for $430,000 last year, according to Robb Report magazine, despite estimates that it could change hands in a multimillion-dollar sale.
The King of Rock 'n' Roll fitted his jet with unique features like gold-plated accents, red velvet seats and red plush carpet. But images on IronPlanet's website show that the jet has aged considerably since being retired. The vintage plane is being sold as-is, and it's missing engines and cockpit components.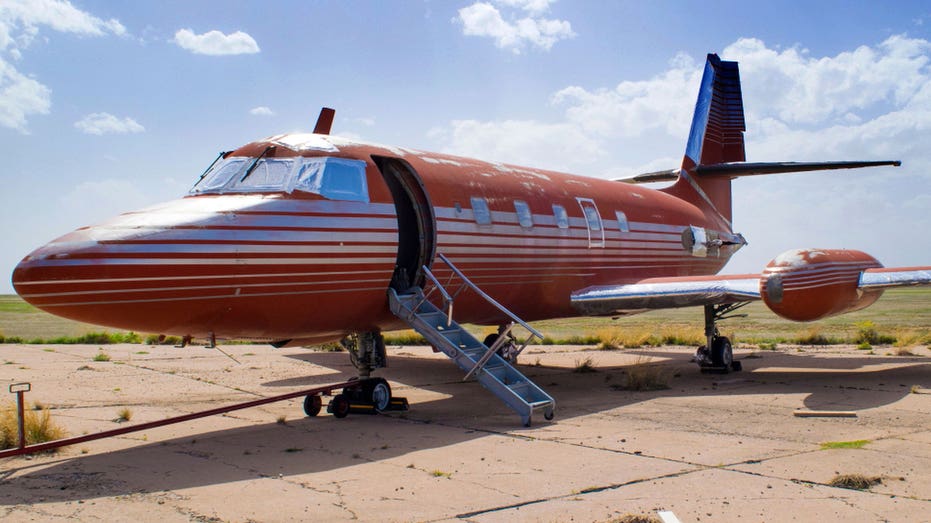 Robb Report estimates that the battered jet would likely be worth millions if it was fully restored. Elvis had a fleet of three private jets. Two of the planes, a Jetstar and Convair 880, are displayed at Graceland as part of a deal between the estate and a private buyer, who purchased the pair in 2015. Unlike the Jetstar currently up for sale, the other two jets have been preserved in the same condition they were in when Elvis used them.
Interested buyers have until July 27 to submit bids, although the sale is subject to an early close.
Elvis memorabilia routinely fetches high prices. A 1960 white gold Omega watch that belonged to Presley sold for $1.8 million in May, far surpassing the auction house's estimate.