Will Elon Musk's 'kid submarine' be used in Thai rescue?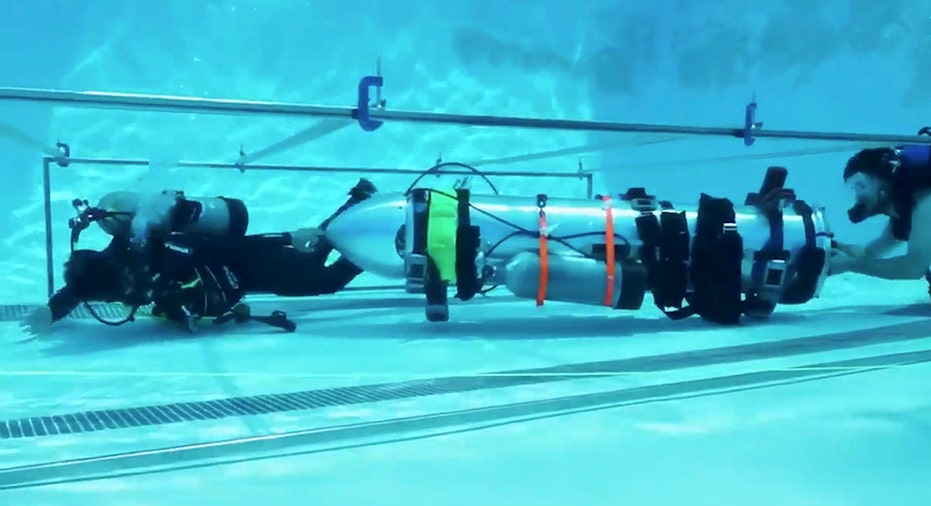 Billionaire Elon Musk's 'mini' submarine developed by his SpaceX team is set to arrive in Thailand around 11 p.m. local time, 12:00 p.m. ET on Monday, according to his tweet.
Musk and his team hope the skinny sub will aid in the rescue of the remaining five members of the youth soccer team who are trapped in a cave, but if the rescuers succeed on their own, Musk sees the sub as a future tool in high-risk rescues.
"Mini-sub arriving in about 17 hours," he tweeted on Sunday. "Hopefully useful. If not, perhaps it will be in a future situation."
While local divers estimate the rescue operation conclude by the time Musk's submarine arrives, it could help if heavy rains continue during the next few hours. One local official told Fox News on Monday that they are hoping to finish the job in three days, suggesting that they may plan to extract the remaining trapped boys and their coach on Tuesday, which may allow time for rescuers to test out Musk's invention.
"Got more great feedback from Thailand. Primary path is basically a tiny, kid-size submarine using the liquid oxygen transfer tube of Falcon rocket as hull. Light enough to be carried by 2 divers, small enough to get through narrow gaps. Extremely robust," Musk tweeted.
Musk shared via Twitter videos of his engineers testing its "kid-size submarine" – the same one that is apparently on its way to Thailand – underwater in a Los Angeles pool.
He added that he is sending engineers from two of his companies, SpaceX and The Boring Company, to travel to Thailand to offer further assistance.
Musk's resume includes The Boring Company, which is behind the burrowing of an underground tunnel, known as the hyperloop, in major U.S. cities, including Los Angeles and Chicago. These tunnels could be game changers in speeding up travel between states.
Since last week, Musk has been offering potential options to Thailand officials conducting the rescue mission. One option, he offered, included inserting a tube or a series of tubes through the Tham Luang cave network and inflating them, creating a tunnel for the boys to travel though without needing to scuba dive.
The eight boys who were rescued through Monday had to travel about two and a half miles with oxygen tanks and were accompanied by two professional divers each. Officials have also been continuously pumping water out the cave. More than 100 personnel and 18 divers worked on Monday's mission.
A Thai army deputy commander added that the operation went "smoothly" but warned the next phase "will depend on all conditions," according to Sky News.