Dunkin' Donuts vs. Starbucks: Drink Wars Raging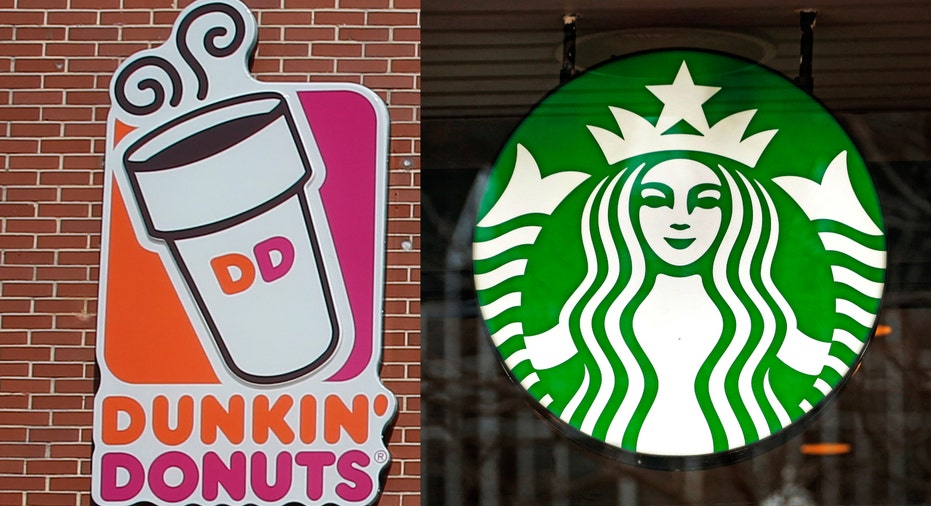 Dunkin' Brands (NASDAQ:DNKN) is firing the latest shot in the battle of the beverage giants vying to win over consumer taste buds and dollars. On May 19, customers can sip the new Frozen Dunkin' Coffee for free.
And there's a lot more to the offering than just plain generosity, it follows Starbucks Unicorn Frappuccino which skyrocketed into a social media sensation last month.
"Starbucks' strategy of late has been to introduce a number of new and unique items to capture share from non-traditional segments and also from at-home purchasing. The Unicorn drink is a prime example of a limited time offer that garnered a ton of attention – not all good, but taste is also subjective, so it's effective at generating controversy," Tim Powell, VP and Senior Analyst of Q1 Consulting, told FOX Business.
Dunkin' has also cashed in on the viral drink campaign, introducing the Dunkin' Energy Punch last month, mimicking the neon colors of Starbucks Unicorn drink with a bright blue iced beverage suitable for Instagram. As these newer offerings become more common, older brands such as the popular Coffee Coolatta, a Dunkin' menu staple since 1994, are getting retired.
"Dunkin' is following a similar strategy of trying to grab new customers and build traffic by offering free samples. Chipotle did this 15 or so years ago in the Boston area and converted customers into a walking salesforce saying positive things about the brand," Powell said. "Both Starbucks and Dunkin' are looking to develop a core base of loyal customers using a habit-forming drink. The key is to get customers while they are young and get them hooked by the time they are in the labor force."
While free and unique drinks create buzz, not everyone is convinced they translate into meaningful sales.
"I don't think the promotions are an 'either/or' situation.  For one thing, they do get a lot of PR and it's good PR plus free anything is a goodwill gesture with customers… Second, they do get customers into the units, who they hope return (or, in the case of Starbucks, repeat purchase the beverage).  Not everyone will agree with me, but in the vast majority of cases, the campaigns do not create sustainable loyalty," Bob Golden, Partner at Pentallect Inc., told FOX Business.
Both Dunkin' and Starbucks are under pressure to boost store-sales. In Dunkin's latest quarter, U.S. comparable store-sales were flat. While rival Starbucks reported a 3% rise, down from 7% in the prior year. Still, shares of Starbucks have gained 7.6% this year, while Dunkin' shares are up 6%.