Dunkin' Brews a 35% Gain After IPO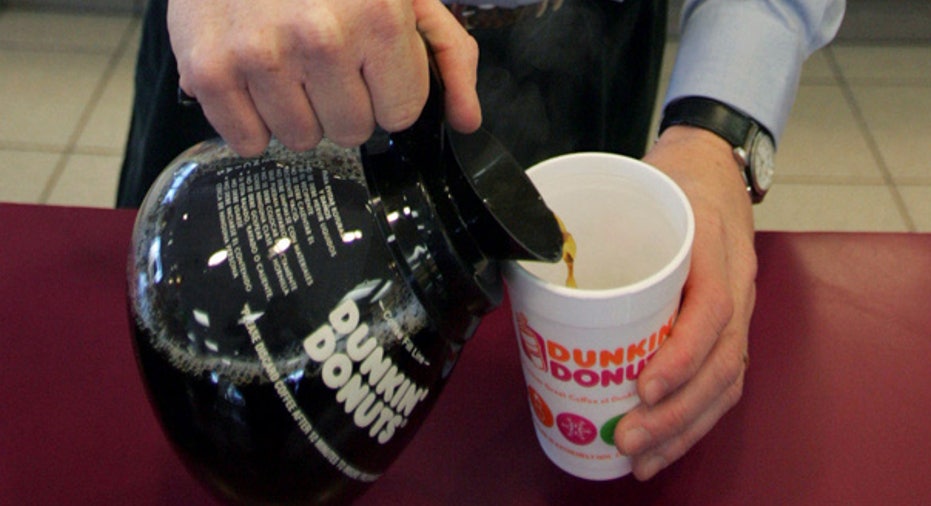 Shares of Dunkin Brands Group jumped 42% in their debut Wednesday morning as the coffee maker enjoys a strong return to the public markets.
Dunkin, which includes both Dunkin Donuts and Baskin-Robbins, began trading on the Nasdaq Stock Market under the ticker symbol DNKN.
The Canton, Mass.-based company priced its initial public offering late Tuesday at $19 a share, raising $427.5 million.
Wednesdays IPO marks a significant milestone in Dunkins comeback after the company was taken private in a $2.32 leveraged buyout in 2006 by Bain Capital, Carlyle Group and Thomas H. Lee Partners. Even after the IPO, those three still plan to hold onto three-quarters of the company.
Dunkin, which was founded in the 1940s by Bill Rosenberg, generated $416.5 million in 2010 sales, representing 76% of Dunkin Brands total sales. However, the company continues to be weighed down by interest payments on its debt, which totals about $1.5 billion.
The IPO implies a market cap of about $2.4 billion, a significantly smaller valuation than some of its rivals. Coffee giant Starbucks (NASDAQ:SBUX) is worth just north of $30 billion, while fast-food heavyweight McDonalds (NYSE:MCD) towers over both with a $91.3 billion market value.
At the same time, Dunkin Donuts has 6,800 locations in the U.S., compared with more than 14,000 domestic restaurants for McDonalds and more than 11,000 for Starbucks.
Dunkin's return to the public markets comes during a very busy week for IPOs on Wall Street and amid a string of bullish debuts for other companies, mostly in the social media space. Both LinkedIn (NASDAQ:LNKD) and Pandora Media (NASDAQ:P) saw their stocks soar in their first day of trading, surpassing forecasts but also leading some to wonder if the space is in the midst of a mini bubble.
The Dunkin' IPO was run by a flurry of investment banks, including JPMorgan Chase (JPM: 41.44, -0.25, -0.60%), Barclays (BCS: 15.06, +0.07, +0.47%), Morgan Stanley (MS: 23.52, +0.22, +0.94%) and Goldman Sachs (GS: 137.60, +0.75, +0.55%). All told, 14 Wall Street banks ran the offering.