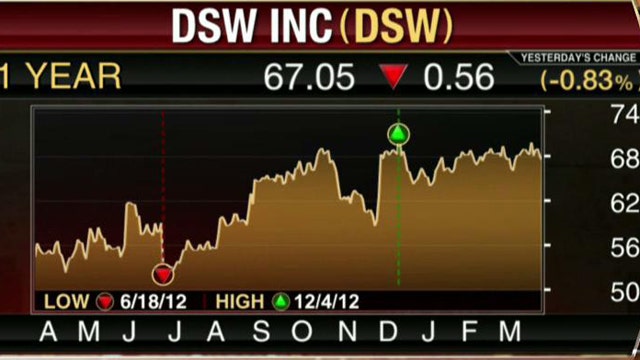 Shoe retailer DSW (NYSE:DSW) revealed much weaker-than-expected fourth-quarter earnings on Tuesday and said it can't give a confident estimate on the full year as sales have unusually softened in the first six weeks of 2013.
The Columbus, Ohio-based company reported net income of $27.1 million, or 59 cents a share, compared with a year-earlier profit of $19.4 million, or 37 cents.
Excluding one-time items, DSW said it earned $31.4 million, or 59 cents, below average analyst estimates of 72 cents in a Thomson Reuters poll.
Revenue for the three months ended Feb. 2 climbed 15.7% to $594.3 million from $513.7 million a year ago, missing the Street's view of $601.8 million. Same-store sales, a measurement of sales at stores open longer than a year, ticked up 3.6%.
"We continue to make excellent progress on our strategic initiatives, all of which are designed to enhance our shopping experience, regardless of how and where the customer chooses to shop," said DSW CEO Mike MacDonald. "I am proud of what we have accomplished as a team."
Shares of the retailer, however, fell more than 8% to $61.49 in premarket trade.
The company, which has struggled along with other retailers amid the downtrodden economy, did not repurchase any shares during the quarter under a pre-approved $100 million share buyback program. Inventories jumped 17.8% year-over-year to $394 million, though DSW said that had been expected.
DSW said same-store sales softened by 5% in the first six weeks of the year, which the retailer argues is out of the norm and impedes its ability to accurately predict full-year earnings and sales.
"Given this weak start, which is markedly different from DSW's consistent record of solid comparable-sales growth over the last 14 quarters, it is difficult to project full year sales and profit performance with confidence," the company said in a statement.
The footwear apparel retailer said it is managing merchandise receipts and inventories assuming flat comparable-sales performance in the first half of the year. If they are flat, DSW projects full-year EPS in the range of $3.30 to $3.40, below the consensus view of $3.85.