Drones Getting Badly Needed Air Traffic Control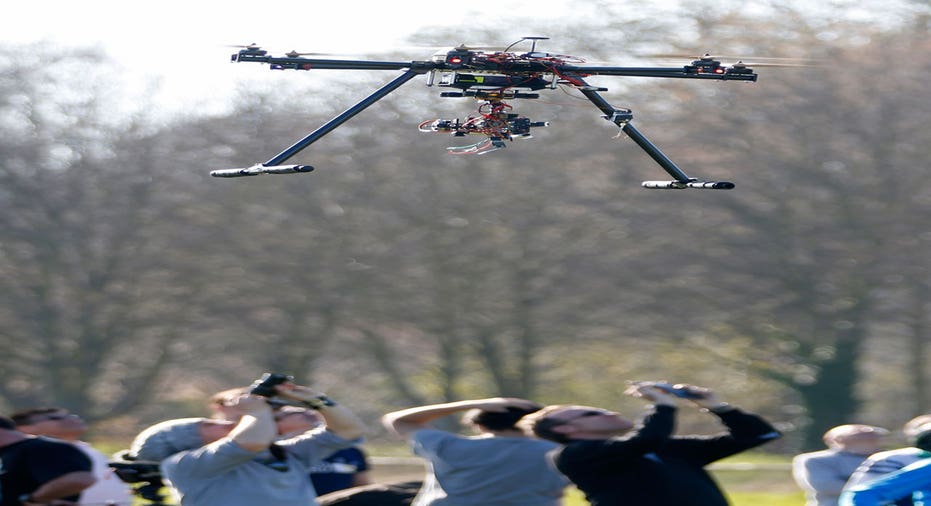 Firefighters battling a 20,000-acre brush fire in California's San Bernardino Mountains in June had to ground their water-bomber planes after a hobby drone was spotted in the area.
Last November, pilots from Virgin Atlantic (NASDAQ:VA), Delta (NYSE:DAL) and JetBlue (NASDAQ:JBLU) reported low-flying drones near their flight paths at New York's John F. Kennedy International Airport. Colliding with a drone could bring down a commercial airliner, much the way a flock of geese sent US Airways (NYSE:AAL) flight 1549 crash landing in the Hudson River in 2009.
The explosion in unmanned aircraft, from full-size small airplanes used by oil and gas companies to inspect pipelines, to remote controlled flying cameras taping a high school football game, are the latest threat to aerial safety.
In fact, last week, the U.S. Department of Transportation (DOT) announced it's drawing up rules to require all drone owners to register their craft, in order to avoid a potentially deadly mishap.
The Federal Aviation Administration (FAA) is already struggling to track all aircraft flying above 10,000 feet, but most drones fly only a few hundred or thousand feet in the air, well below existing radar. And even when its digital NextGen air traffic control system is in place, the FAA simply won't have the capacity to monitor drones.
Jonathan Evans, a former medevac helicopter pilot, has developed the first drone traffic control system, which his firm, Skyward is rolling out in the U.S., and countries including Ireland, Australia and the United Kingdom. In a first stage, Skyward is simply making available online maps of restricted airspace.
"The foundation piece of managing low-level flight basically starts with a map," Evans said in a recent interview. "To show a new generation of aviators where they can fly, in the context of where a 737 is coming down, is fundamental to aviation airspace management."
Skyward's maps show up on a drone pilot's computer or handheld, and help the pilot with pre-flight planning.  The current system takes in the FAA's Notices to Airmen, known as "Notams," that list changes in flight paths and restricted areas for pilots, and automatically plots that into a system that also uses Google Earth (NASDAQ:GOOGL) and other navigation tools to let drone operators know where they can fly.
The Skyward app includes a drone fleet management system, that lets operators keep all their paperwork up to date and online on the company's website.
The next step is tracking drones, and creating an alert system that would ping air traffic controllers, airplane pilots and drone operators when a drone is getting close to commercial flight paths. To do that, Evans will be using a combination of GPS systems and radio signals that drones send back to their operators, and piping all the data back over the web to Skyward's computers.
"Right now, if I want to fly a drone for a real estate photo shoot, I have to telephone the local FAA tower and say where I'm going to fly, and the controller puts it in his system, and if any other pilots are coming through that airspace, he tells the human pilots to keep an eye out for the drone," says Evans.
With the FAA still a decade away from going fully digital, that's good news in some ways for Skyward.
"Drones are an inherently digital technology," says Evans. "We would manage the network of drones, and when appropriate the blip would show up on FAA screen. We can be digital infrastructure, maintaining the digital aircraft, and integrating that with the current system."