Drink Scotch Without Putting Budget on the Rocks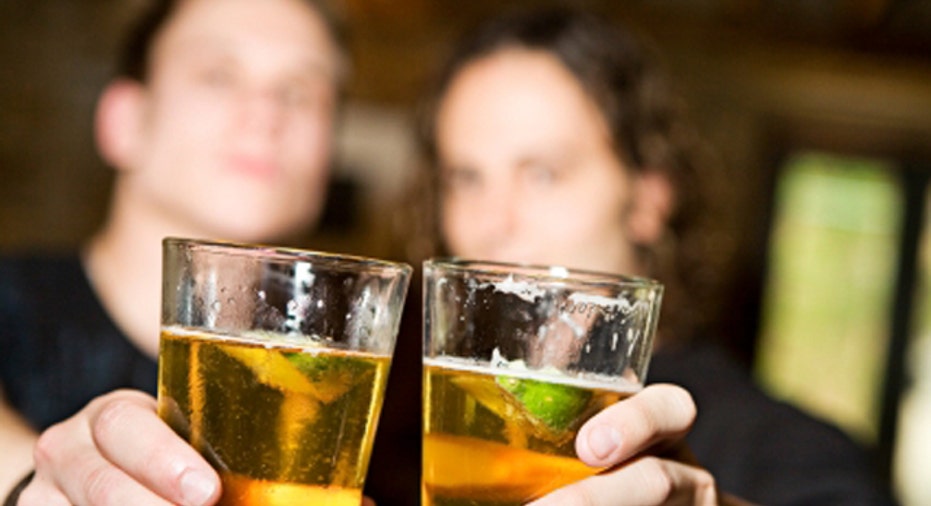 I'll Drink to That
At some point over the last several years, Americans have come to the sobering realization that they are not Don Draper replicas. As responsible adults, this is a positive discovery. Maybe it was the wardrobe or the hairline that brought you back to reality, but for most of us, it was our livers. Drinking scotch like tap water while exuding utter suaveness, Don, Roger, Peggy and the gang have done their part in a greater reinvigoration of a quintessential spirit.
"Scotch is becoming more in vogue," says Danielle Eddy, spokeswoman for the Distilled Spirits Council of the U.S., a national trade association of distillers.
It's boom time for Scotch whisky and other whiskeys in many parts of the world. The council reported sales of high-quality ("super premium") categories of blended and single-malt scotch have increased 66.9% and 17.1% in volume, respectively, from 2010 to 2011 in the U.S. The Scotch Whisky Association reported a 23% increase in exports over the first three quarters of 2011 and was on target to break its record of approximately $5.4 billion.
"I think it's a perfect storm of reason," Eddy says, pointing to better knowledge of the flavors, pop-culture references, educational bartenders and more local distilleries fostering the increase. "People are drinking better, not necessarily more."
Pop-Culture Appeal
Are anyone's parents cool? Of course not. This may play into part of the increased appeal of whiskeys, with preference perhaps skipping a generation to the whippersnappers.
"When people are coming of age and deciding what to drink, it's usually not what their parents drink," Eddy says.
According to the Beverage Information Group, more than 23% of scotch drinkers were 65 or older in 2011, which would seem to suggest we're about ready for a new wave of whiskey enthusiasts.
Grandparents are usually not the target audience for shows such as "Sex and the City," either.
"A few years ago when all of the ladies were drinking cosmos, Mr. Big was the only one ordering a Manhattan or drinking scotch," Eddy says. "Now with 'Mad Men' and 'Boardwalk Empire,' you see them doing the same thing, making brown spirits cool again."
Bartenders then play a big role in accessibility. Sandee Wright, co-owner of The Whiskey Ward in New York, provides patrons a flight tasting from three of more than 100 whiskeys on hand.
"We try to find out what people's tastes are like and what they normally drink, and we'll suggest something that they've never had before," Wright says. "Our cocktail menu is a great segue for people who are not whiskey drinkers in general to get started."
Whisky or Whiskey?
The name "whisky" originated from an old Gaelic word that meant "water of life," which seems perfectly accurate and might still hold some marketing value.
Over the centuries, the drink has evolved into many varieties and multiple names, which can be confusing to a new whiskey drinker. Early on, Irish distillers began spelling their spirits as "whiskey" with the "e" to differentiate from the Scottish brand. The practice was brought over to America and has largely become uniform. Canada, Japan and India also do their fair share of distilling and mostly keep to the original spelling.
Scotch itself must be entirely made in Scotland to bear the name -- and the Scots are not kidding around about this. The Scotch Whisky Act of 1988 makes it an offense for distilleries to not completely abide by a stringent set of rules, including labeling the distillery's region and the type of scotch. Single malt is produced with only water and malted barley at a single distillery. A single-grain scotch differs from a single-malt scotch in that it can include additional grains. And as its name explains, blended scotch is a combination of multiple whiskys.
Since 1964, Congress has recognized bourbon, named after Bourbon County in Kentucky, as specifically an American whiskey. It must have at least a 51% corn mixture aged in charred oak barrels. Rye whiskey must have a majority mash of the namesake.
Flavor Profiles
Everything from the shape of the distillation stills to the type of peat and grains used presents a wide flavor spectrum for whiskeys that can rival wine varietals.
Of Scotland's major scotch-producing regions, Highlands tend to be richer and fruitier, while Islays have a smokiness that can linger and a more peaty, or earthy, flavor.
"I won't likely serve a smoky malt from Islay to someone just beginning to explore whiskey," says Craig Bridger, bartender at Char No. 4 in New York City. He adds that he's noticed a general increase in knowledge of whiskeys.
American whiskeys usually have less variation in flavor profile. Bourbon is sweeter than its scotch counterparts due to the primary grain being corn, and straight rye can have a bit more spiciness.
"Drinkers are moving toward whiskey because it has the potential to have so much character," says Lance Winters, master distiller at St. George Spirits, a distillery near San Francisco. "At the risk of over-generalizing, barrel-aged spirits like whiskey also have a sweetness that helps their approachability."
Distillers have had 500 years to fine-tune that approachability. Its history includes George Washington's own distillery on Mount Vernon where he produced 11,000 gallons of whiskey in 1799. The Scotch Whisky Association, as part of its 100th anniversary, is sending six distillers to Mount Vernon to make an "authentic" single-malt batch on American soil.
I'll Have Another
Despite, or perhaps because of, prolonged economic uncertainty, much of the world seems to be awakening to the allure and complexities of a good scotch. The Scotch Whisky Association reported substantial increases in nearly every major export market in the first six months of 2011, including some 569 million bottles representing $2.85 billion in total global shipments.
Eddy says the U.S. has consumed an average of approximately 9 million 9-liter cases of scotch annually since 1997, but that is on the rise. The Scotch Whisky Association noted an increase of 14% of exports by value to the U.S. in the first half of 2011, which is the top scotch export market at $425 million for the period.
Emerging markets saw even larger increases, with Brazil (56%), Central and South America (49%), and Asia (33%) also rapidly adopting scotch into their respective wet bars and drinking repertoire.
As might be a surprise to some, Japan has long been on the whisky scene. The nation's whisky distilling began in the late 19th century. Suntory, made famous stateside by Bill Murray's character in "Lost in Translation," began making whisky in 1923 and is the oldest distillery in the country. Their uniquely flavored Hakushu 12 was released in the U.S. last fall for around $65, though the 25-year-old version sells for around $880. Relaxing times, indeed.
Distill, Thy Neighbor
Entrepreneurs with malt on the mind are leading a renaissance of sorts, redefining exactly what makes an American whiskey. The number of craft distilleries in the U.S. has exploded from a few dozen just 10 years ago to more than 260 today, capitalizing on local ingredients and pushing the boundaries of traditional processes.
St. George Spirits has been producing single-malt whiskey since 2000, a rarity in the domestic market.
"Over the last 16 years, the number of artisanally produced whiskeys has increased dramatically," says Winters. "People's palates have been evolving and are becoming more acclimated to spirits, allowing them to pick up and appreciate subtle and not-so-subtle differences between offerings."
Winters says his current whiskey, Lot 11, benefits from a higher average age of 10 years, which provides greater depth and a light smokiness that is a staple to the single malt. The distillery will next tackle the more traditional bourbon and rye using organic grain from California.
Many other craft distilleries are benefiting from local farmers, which not only provide fresh ingredients but also are a marketing tool themselves, as many customers prefer to support a fully local distiller.
Investing in Scotch
Rounding out the liquor cabinet with a few bottles of single malt may not be the first thought that comes to mind when expanding your portfolio, but it's an increasingly popular one. Though the flavor profile is pretty much set when scotch is bottled, higher-aged whiskeys from prestigious or closed distilleries and single cask can bring remarkable returns. The rarest and most valuable bottles can increase a stunning tenfold in value in as little as 10 years.
"The market is increasing because other investments are less interesting at the moment. All over the world, people are investing in whiskey," Michel Kappen, founder of the World Whisky Index, told CNBC. He added that the average return is 14% per year, which can accrue quickly depending on the product.
Glenfiddich distillery is in the process of auctioning off 11 bottles of reserve single malt in honor of the 110-year-old granddaughter of the distillery's founder. The first bottle sold in December for a record-breaking $73,000, and the second sold in February for $69,000.
The worldwide increase in scotch demand is creating possible shortage scenarios and a great window to begin investing. Start with a sealed, limited-release bottle from a well-known distillery in the $40 range and store out of direct sunlight. In the end, the best part may be deciding whether to have your investment neat or on the rocks.