DopeCoin, PotCoin Want to Solve Marijuana's Banking Problems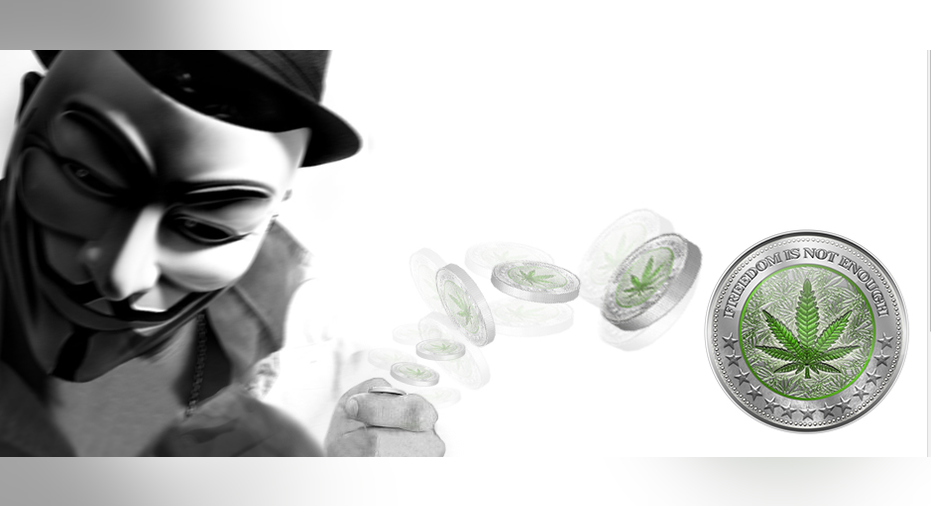 Many Marijuana entrepreneurs, facing roadblocks at the bank, are struggling to deal with running an all-cash business. Two new cryptocurrencies have cropped up looking to help.
DopeCoin and PotCoin are both courting drug-sellers and buyers.
DopeCoin's developer, known pseudonymously as "Dopey," says his cryptocurrency is aimed at both the legal and illegal marketplace.
"We're talking about a multi-billion dollar market," says Dopey, a Canadian developer in his mid-30s with experience in online billing systems.
PotCoin is focusing its attention solely on the legalized marijuana industry, which ArcView Market Research claims could become a $10.2 billion industry in the U.S. by 2018.
"PotCoin was designed to empower, secure and facilitate the Cannabis community's daily transactions," according to the cryptocurrency's website.
Because federal law still deems marijuana an illegal drug, banks in Colorado and Washington haven't opened their arms to recreational and medicinal pot shops operating legally.
Denver dispensary owner Tim Cullen, who runs Evergreen Apothecary and the Colorado Harvest Company, says safety has been a major concern of his all-cash operation. A number of armed robberies have been reported since Colorado began allowing recreational marijuana sales on Jan. 1, and Cullen says he is paying for 24-hour armed security at his shops.
"It's not something I want. It's something I feel like we have to do, to protect my 41 employees," says Cullen.
Dopey says his cryptocurrency could provide pot shop owners with a safer and cheaper way of doing business, by reducing the amount of transactions done with cash. He, like Potcoin's developers, sees a major opportunity in the legalized drug industry.
"This will be one of the biggest emerging marketplaces from [now] until 2020," says Dopey.
Dopey says his interest in cryptocurrencies stems from his belief in freedom of speech and freedom of choice, as well as a feeling that the government, corporations and big banking have taken advantage of the little guys for too long.
"I'm not an evil person. I'm not trying to push drugs. I'm trying to give people an opportunity to … really embrace their freedom, and to have an opportunity to stay anonymous," says Dopey. He says he smokes marijuana occasionally, but does not use harder drugs or sell narcotics.
Like with Bitcoins, people interested in obtaining DopeCoins can "mine" them online. Dopey says interested buyers can also purchase DopeCoins online using credit cards or PayPal at cryptocurrency marketplace CryptoKopen, or trade Bitcoins for DopeCoins on exchanges like MintPal.
At least one expert, however, is skeptical.
"The thing with Bitcoin is that it has what is called a network advantage. The currency is increasingly more popular as more people accept it and use it," says Columbia University professor Moshe Cohen.
"The way to eat into that is produce something differentiated in some way, with some features that are different and attractive," says Cohen. He cites Facebook as an example of how to disrupt a company with an established network advantage: While Myspace had a huge network advantage, Facebook's ability to provide users with a verified identity enabled it to steal away Myspace users.
Cohen, however, says neither DopeCoin nor PotCoin have that special sauce.
"What's deterring people from entering the space is they are worried about theft and loss and hacking," says Cohen, citing Mt.Gox's recent troubles. "Added anonymity doesn't solve those problems, and actually creates more questions."
Pot-Shop Owners Skeptical of Digital Currencies
While Cullen says he would like to see better banking solutions available to marijuana-dispensary owners, he's not so sure cryptocurrencies like DopeCoin or PotCoin are the answer.
"Never has one person asked us if we take Bitcoin," says Cullen, who says he doesn't think his customers are using digital currencies. "I'm open to any form of currencies that allow for business transactions … but it's not a viable option for us at this point."
In Spokane, Wash., Kouchlock Productions CEO Sean Green, who sells medical marijuana, says his business briefly accepted Bitcoin. But after Forbes reported his story earlier this month, his Coinbase Bitcoin account was abruptly terminated, suggesting that even Bitcoin "banks" aren't interested right now in dealing with the marijuana industry.
The experience has soured Green's attitude toward digital currencies – and he says he won't be looking into DopeCoin or PotCoin.
"Banking is the biggest problem we're dealing with … I was looking for a solution, and that didn't do it," says Green.
That said, he and Dopey see eye-to-eye on one thing: The value of banking on marijuana.
"I'm looking for a permanent banking solution. There only needs to be one bank willing to accept our business, and then they're likely to get the entire industry's business," says Green. "Projection-wise, it's billions, and whoever wants it first could accept it in deposits."