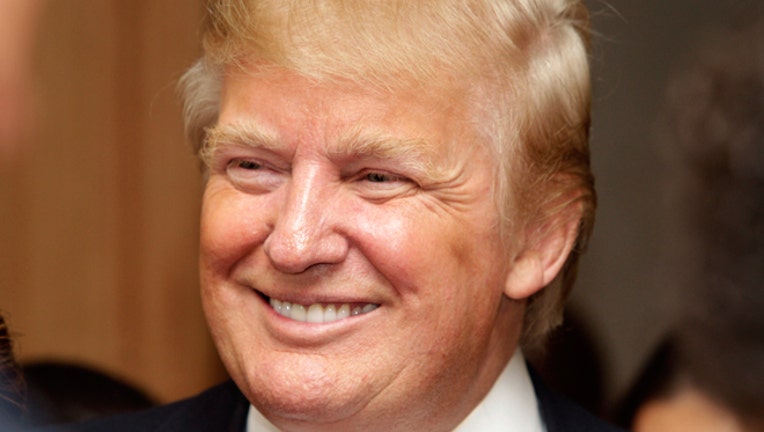 Donald Trump says he is so rich that disclosure forms he must fill out to run for president aren't big enough to do justice to his massive wealth. That was the upshot from a press release issued by the Trump campaign Wednesday, announcing that The Donald had filed his disclosure forms with the federal government that provide more details about his net worth. The full disclosure report should be made available in the coming days, but the press release, which included a list of stocks Trump owns, shows that Trump's even richer than what he has recently estimated. In fact, the press release said, the federal disclosure "report was not designed for a man of Mr. Trump's massive wealth…As of this date, Mr. Trump's net worth is in excess of TEN BILLION DOLLARS." (emphasis his)
When Trump announced he was running for president in mid-June, he put his net worth at nearly $9 billion ($8,737,540,000 to be exact), a value that was derived more than a year ago. But since that time, "Real estate values in New York City, San Francisco, Miami and many other places where he owns property have gone up considerably during this period of time. His debt is a very small percentage of value, and at very low interest rates," the press release said. It should be noted that Forbes estimates his net worth at $4 billion; Trump once sued a reporter for libel after writing that his net worth was closer to hundreds of millions of dollars. A New Jersey appellate judge dismissed the case in 2011, saying Trump failed to prove "actual malice."
"We apply the same methodology for all of the billionaires on our list, which includes rigorous independent review of a wide range of publicly available information," a Forbes spokesperson told FOX Business. "In view of Donald Trump's new filing with the FEC, we will review the information and, if appropriate and necessary, will make any necessary adjustments to our estimate of his net worth."
Even so, Trump says he earned $362 million last year alone (not counting dividends, interest, capital gains, rents and royalties). He says he sold numerous stocks in 2014, earning $27 million. The stock sales included shares of Amazon, Apple, Morgan Stanley, Goldman Sachs and Yahoo. His biggest winner was Bank of America, which he sold at a profit of $6.7 million. His biggest loser: A $204,576 loss on shares of DR Horton Inc., the report said.
In addition to his stock holdings, Trump has money in hedge fund Paulson & Co., and Angelo Gordon & Co. As first reported by Fox Business, the wife of New Jersey Gov., Chris Christie, a rival Republican presidential candidate, recently left her job as an executive at Angelo Gordon to assist in her husband's campaign.
Trump also took a shot at NBC, the television network that ran his popular reality television show, The Apprentice. NBC broke off ties with Trump after he made controversial comments about Mexican immigrants in his presidential announcement speech. But the press release said "NBC/Universal renewed…The Apprentice (for a 15th season), but Mr. Trump decided to turn them down in order to run for President of the United States. NBC was not happy." Trump disclosed that he earned $213 million over the 14 years The Apprentice aired. An NBC spokesman had no immediate comment. Trump has lost an estimated $50 million to $80 million on various endorsements and licensing deals following his immigration comments, but he has also risen in the polls; some have him leading a crowded GOP field. Trump has said he will use his own money to finance his campaign, but it's unclear how much he will have to spend given his high name recognition and flair for publicity. In fact, he has used the controversial immigration comments as an opportunity to defend himself in the national media, and with that his poll numbers have risen. Trump's gains have come at the expense of Republican frontrunners such as Jeb Bush, the former governor of Florida and brother of president George W Bush. Wall Street fundraisers for Bush, in particular, have been irked by Trump's rise in the polls, and his frequent jabs at Bush, who was once considered the odds-on favorite to win the Republican nomination for the 2016 election. Having the name Bush provides both positives (name recognition and a fundraising apparatus) and negatives, given the controversial nature of his brother's presidency (The Iraq War and the 2008 financial crisis occurred under his watch). But as one Wall Street CEO who raises money for Republican candidates put it: "Jeb's problem used to be George W. Bush, but now it's Donald Trump."