Does a Samsung-Blackberry Deal Even Make Sense?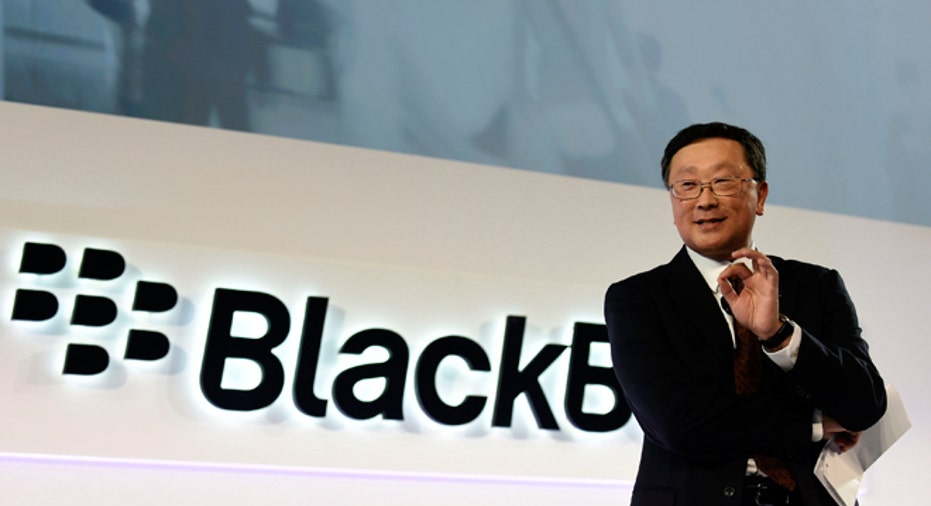 BlackBerry (NASDAQ:BBRY) shares took off in late day trading Wednesday, rising nearly 30%, fueled by a report from Reuters that Samsung Electronics approached BlackBerry about buying the smartphone maker for as much as $7.5 billion. According to the report, Samsung proposed an initial price range of $13.35 to $15.49 per share and the conversion of $1.25 billion in convertible debt. Reuters goes on to suggest the prime motivation behind Samsung's interest in BlackBerry is the company's patent pool.
A few years ago, buying mobile patents was quite the rage -- Google (NASDAQ:GOOGL) acquired Motorola Mobility, while Apple (NASDAQ:AAPL), Microsoft (NASDAQ:MSFT), Sony Corp. (NYSE:SNE), BlackBerry, Ericsson AB (NASDAQ:ERIC) and EMC Corp. (NYSE:EMC) shares in Nortel's patent portfolio. Even the Board of intellectual property licensing company InterDigital (NASDA:IDCC) put the company into play, but today the company remains public.
While Samsung may be looking to arm itself and protect its internally developed Tizen operating system with BlackBerry's patent portfolio as it tries to distance itself from Google's Android OS, I think there are other aspects to a proposed Samsung-BlackBerry combination that make far more sense. For those unfamiliar with Tizen, it's Samsung's effort to hedge its reliance on Google and Android, the market share leading smartphone operating system that is used by the vast majority of smartphone vendors.
The first question is to ask what would distinguish the Samsung-BlackBerry combination from other such tie ups, like Google's acquisition of Motorola Mobility or Microsoft's buy of Nokia's handset business or even the long ago relationship between Sony and Ericsson?
Those acquisitions, which really didn't pan out as some hoped for focused primarily on hardware. If we've learned something from Apple's success, it's that easy to use software that works across the company's product portfolio in a seamless manner is a real differentiator. One of the downsides of so many smartphone vendors, Samsung included, utilizing the Android OS is homogenized if not commoditized products that have little differentiation. As Samsung is seeing, the risk is predatory pricing for market share that wreak havoc on a company's revenues and margins.
Samsung has been the smartphone market share leader, but the proliferation of Android devices, particularly at lower price points and by Chinese smartphone companies has taken its toll on the company. Examples of the latter include Xiaomi, which tripled its smartphone volumes in 2014 and appeared almost out of nowhere on the top five list of smartphone vendors in 3Q 2014, Lenovo (another top 5 competitor per IDC), and Huawei.
You may be wondering "How did BlackBerry's smartphone business fair in in 3Q 2014?" If market share leader Samsung is seeing share loss, one has to wonder how BlackBerry is holding up against the onslaught of cheaper, but feature rich Android smartphones.
According to Strategy Analytics, BlackBerry's share of the smartphone market fell to 0.7%, down from 1% in the year ago quarter. Some have been optimistic about BlackBerry's chances and they pointed to the recent launches of the Passport device and BlackBerry Classic, but in recent weeks firms such as R.W. Baird and Canaccord Genuity have cut revenue and earnings. Not a pretty picture.
Clearly Samsung would have little interest in BlackBerry's hardware business outside the government and shrinking enterprise market presence devices given the Bring Your Own Device that has favored iPhone and Android smartphones.
But, BlackBerry devices run the BlackBerry OS and offer the BlackBerry Messenger service. BlackBerry still has the enterprise server business and a desktop offering as well its security products. Moreover, in December Ford (NYSE:F) announced it was switched from a communications and entertainment system based on Microsoft Auto to BlackBerry's QNX platform. Other notable QNX customers include General Motors (NYSE:GM), which uses the software in its OnStar automobile communication systems, and Apple, which uses the software for its CarPlay utility that connects iPhones to infotainment systems. According to BlackBerry, its QNX technology is currently deployed by over 40 OEMs in tens of millions of vehicles throughout North America, Europe and Asia, but from a financial perspective it's a small contributor to BlackBerry's revenues and profits.
The real jewel in the BlackBerry portfolio for Samsung, in my opinion, is the company's software and its potential to not only differentiate it from Android, but also offer an ecosystem play across the growing connected device landscape. Looking at Samsung's far larger consumer electronics portfolio -- TVs, computers, laptops, washers and dryers, refrigerators, dishwashers, ranges, lighting and vacuums to name more than a few -- having a proprietary software platform that connects them all to a Samsung smartphone, tablet or even to a QNX powered auto infotainment system becomes a standout in a commoditized playing field. Some would say, and I would agree, it sounds very Apple-y. While a rollout across its consumer electronic portfolio would take time, Samsung would offer scale to BlackBerry's software that it would have a much tougher time getting on its own. It would also improve Samsung's position in what is becoming an increasingly connected world.
Against that backdrop, there are merits to a marriage between Samsung and BlackBerry, so while BlackBerry denied the reports, the looming question is still whether BlackBerry's board sees that same potential? If not, BlackBerry shares will have a lot further to fall than they did in after hours trading last night.