Dodgers File for Chapter 11 as McCourt Struggles to Keep Club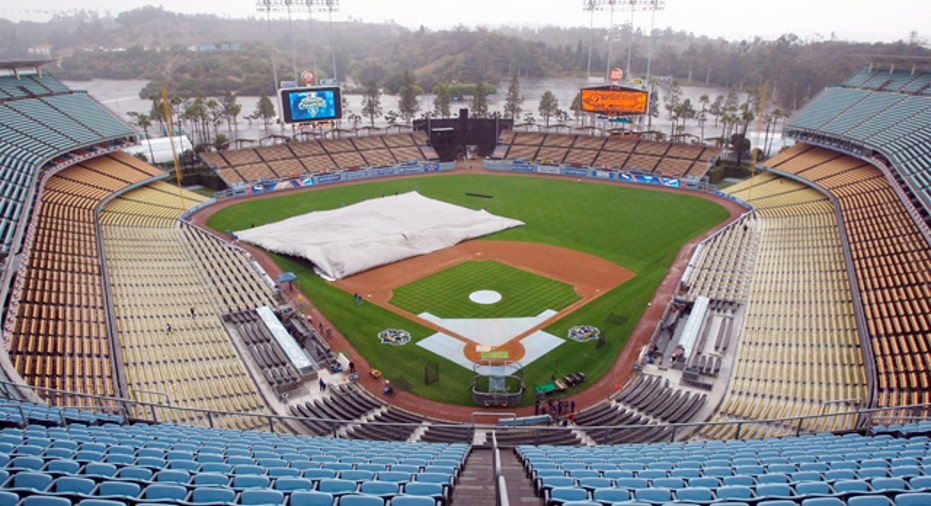 Just days after a key $3 billion television contract was nixed by Major League Baseball, the debt-ridden Los Angeles Dodgers filed for Chapter 11 bankruptcy on Monday.
The move orchestrated by embattled Dodgers owner Frank McCourt appears aimed at preventing MLB from taking over the marquee franchise and buying time to reach a new TV deal that will solve the near-term cash flow issues.
According to court filings made in U.S. Bankruptcy Court in Delaware, the Dodgers have between $500 million and $1 billion in assets and between $100 million and $500 million in liabilities, Reuters reported.
The Dodgers have incurred enormous amounts of debt over the past several years, especially when McCourt acquired the club in 2004 in a controversial deal that was almost entirely comprised of debt.
McCourt, whose bitter divorce from Jaime McCourt has kept the club in limbo, blamed the Chapter 11 on MLB Commissioner Bud Seligs refusal to approve a TV deal with FOX that was reportedly worth $3 billion. FOX, like FOX Business, is owned by Rupert Murdochs News Corp. (NASDAQ:NWSA).
The decision to deny the FOX contract scuttled the McCourts' divorce settlement and made it unlikely the Dodgers would make payroll this month.
"We brought the Commissioner a media rights deal that would have solved the cash flow challenge I presented to him a year ago, when his leadership team called us a 'model franchise,'" McCourt said in a statement. "Yet he's turned his back on the Dodgers, treated us differently, and forced us to the point we find ourselves in today. I simply cannot allow the Commissioner to knowingly and intentionally be in a position to expose the Dodgers to financial risk any longer."
MLB did not immediately respond to a request for comment.
Its a strategic filing to buy time and create leverage in terms of negotiating a television contract, said Ira Herman, a bankruptcy partner at Thompson & Knight.
The Dodgers say they have received a commitment for $150 million in financing from Highbridge Principal Strategies, a unit of JPMorgan Chase (NYSE:JPM), to keep the club operating while in bankruptcy. Presumably, this loan would allow McCourt to meet payroll this month, something that appeared to be in doubt after MLB denied the FOX deal.
"The team is entering the bankruptcy case with enough committed financing to meet all of its short term expenses and to successful reorganize," said Bruce Bennett, bankruptcy counsel from Dewey & LeBoeuf. "The media rights will, one way or another, generate enough value to facilitate a reorganization."  
The Dodgers said that despite filing for bankruptcy, all salaries will be paid and all employee benefits will continue, the team will be able to sign and acquire players, ticket prices will remain the same, purchased tickets will be honored, amenities and promotions will continue and vendors and suppliers will be paid post-petition amounts.
McCourt is asking the court for permission to keep paying employee salaries and benefits, sign players and pay vendors.
It remains unclear how the Dodgers situation will play out, including whether or not McCourt will be able to hold onto control of his team.
It could facilitate a sale of the team or a [TV] transaction more satisfactory to McCourt or Selig. It also creates an auction atmosphere and will bring a lot of different players to the table, said Herman, who said a bankruptcy filing attracts the whole world.
Robert Boland, a professor at NYU and former player agent, pointed out that bankruptcies usually make professional teams in violation of league charters, paving the way for ownership removal.
It may give McCourt temporary protection, but it may give Selig ammunition to remove him from the franchise too. I would think it does, said Boland
The bankruptcy filing also covers LA Real Estate LLC, the owner of iconic Dodgers Stadium, and three other entities.
According to a recent Forbes estimate, the Dodgers franchise is worth $800 million, making it baseballs third-most valuable team. However, the club was carrying an estimated $630 million of debt, putting its debt-to-value ratio at an alarming 54%.
McCourt "must understand the risk of a forced sale of the Dodgers is less than the risk of not filing for bankruptcy. That has to be his calculus, said Herman.
The Dodgers are not alone as a number of other clubs have been in financial distress in recent years, including the Texas Rangers, which were forced into bankruptcy last year.
This is something that has happened with increasing frequency in sports. It didnt used to happen much at all, said Boland. The bankruptcy court may offer the owner greater opportunity to get what he wants out of the deal than the rules of any sport.
Baseballs current debt woes are highlighted by the New York Mets, which last month sold about one-third of the ballclub to hedge fund star David Einhorn for $200 million.
According to Reuters, the bankruptcy filing shows the Dodgers largest unsecured creditors include former star players Manny Ramirez and Andruw Jones.