Did Cambridge Analytica access your Facebook data? How to check
Facebook on Monday began informing users if their profile data may have been shared with Cambridge Analytica, a political research firm at the center of a data privacy scandal.
The social media company is informing affected users at the top of "News Feeds." The alert, titled "Protecting Your Information," will be visible to users whose information was accessed by a third-party website and potentially shared with Cambridge Analytica. Facebook will direct those users to a "See How You're Affected" tool.
Facebook will provide other users with a different link that identifies which apps are connected to their accounts. Users have the option of prohibiting apps from accessing their data.
Facebook and CEO Mark Zuckerberg have faced intense scrutiny amid reports that Cambridge Analytica improperly retained personal data on up to 87 million Facebook users.
Facebook said researcher Aleksandr Kogan created a personality quiz called "This is Your Digital Life," which accessed data from users who signed into the app and from their Facebook friends. About 300,000 people signed into the app and gave it permission to access personal data, Zuckerberg said in testimony prepared for a House Committee on Energy and Commerce hearing on Wednesday. The information was later shared with Cambridge Analytica in violation of Facebook's terms. Cambridge Analytica has said it deleted the Facebook data.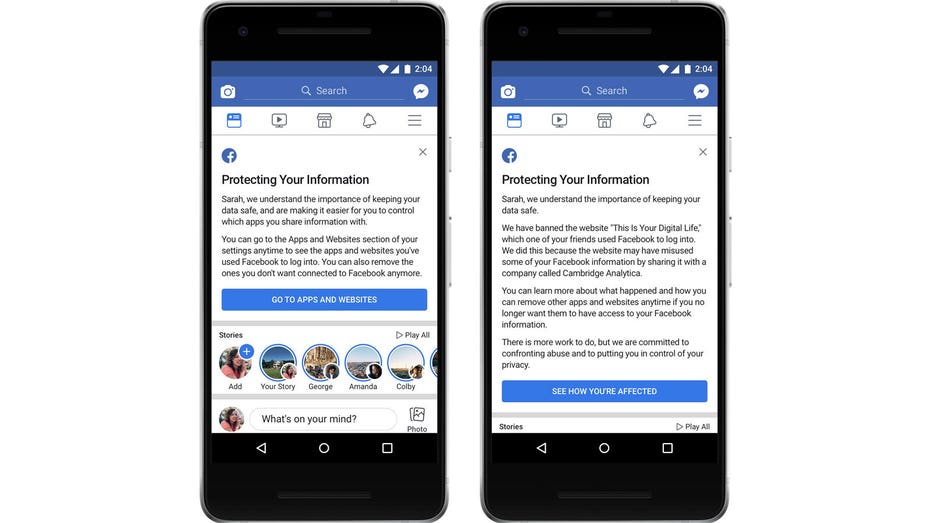 Zuckerberg will appear before congressional lawmakers on Tuesday and Wednesday. In prepared testimony, the Facebook founder said the company is "working to understand exactly what happened with Cambridge Analytica and taking steps to make sure this doesn't happen again."