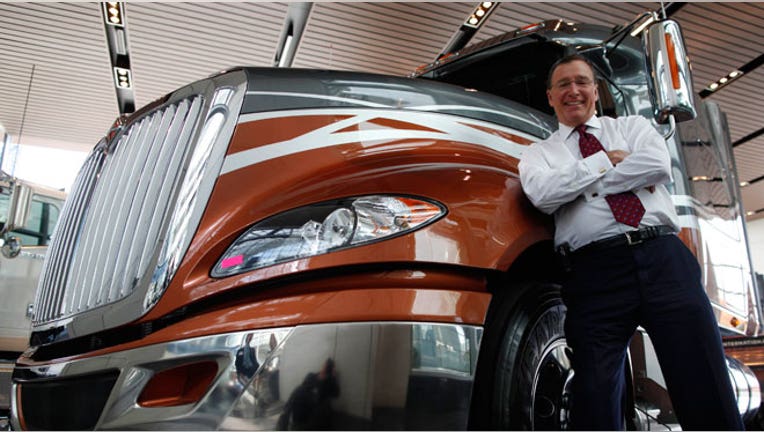 Even though its second-quarter earnings came in below expectations, Navistar International (NYSE:NAV) got an upgrade from BMO Capital Markets on Tuesday morning.
The investment bank shed its bear outlook for the truck maker, upgrading it to market perform and boosting its price target to $35 from $20. BMO did cut bottom-line estimates through next year.
"Order rates are climbing on [NAV's] expanded product portfolio and management expects to recover some market share in F2H while forecasting a tailwind of improved industry volumes," BMO analysts wrote in a research note to clients.
J.P. Morgan (NYSE:JPM) remained bullish on Navistar, citing the company's "strong" order backlog and "better cash management" in the second quarter.
Shares were trading 7.2% lower at $31.84 in late morning trading. As of Monday's close, the stock was up nearly 58% on the year.
On Monday afternoon, Navistar reported a second-quarter loss that widened as a result of higher warranty expenses on truck engines. The company also saw a 34% decline in truck sales after switching its treatment system for diesel engine exhaust.
Navistar said it is making progress on a turnaround strategy it implemented in the wake of regulatory scrutiny over its diesel engines. While using a different treatment technology than other North American truck makers, Navistar failed to meet tougher U.S. emissions standards for about three years.
The company changed lanes last summer and decided to buy exhaust-treatment components and heavy-duty truck engines from Cummins (NYSE:CMI).
However, sales have yet to show a full rebound. Navistar's truck sales fell $1.5 billion in the latest period, down from $2.3 billion a year earlier. Its truck business posted a $109 million loss versus a year-ago loss of $45 million.
"We thought the take rate would be higher," Chief Executive Troy Clarke said Monday on a conference call with analysts. "We're disappointed with our sales and share performance. We thought progress would come faster."
Overall, Navistar said its second-quarter loss was $374 million, or $4.65 a share, compared to a loss of $172 million, or $2.50 a share, in the prior-year period.
Revenue fell 23% to $2.53 billion, as industry demand was down 14% and Navistar's market share remained below levels seen before the engine troubles.
At the end of the second quarter, Navistar held a 15% share of the heavy-duty truck market in the U.S., Canada and Mexico. That reflects a slight increase over the first quarter but is well below the 25% market share recorded at the end of 2009. The company hopes to achieve about 18% market share by the end of this year.