Designer Diapers: Sales Booster or Bum Idea?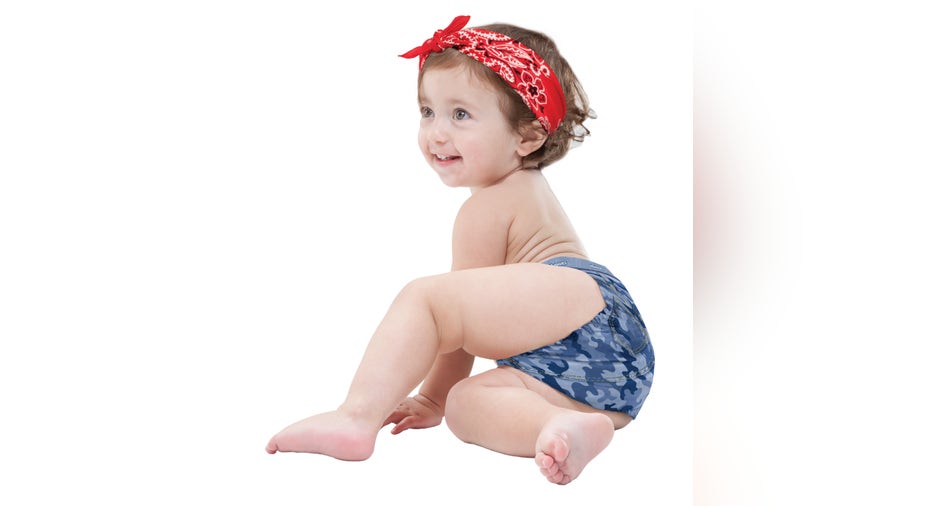 This fall, Huggies will launch camouflage diapers just in time for hunting season. But if deep brown and green hues dont match your babys eyes, you can opt for polka dot, floral and argyle-patterned diapers already offered by Pampers.
But with designer diapers costing as much as 20% more than regular ones, will cash-strapped parents be willing to pay more to decorate a part of their baby thats usually hidden or constantly being ripped off and thrown into the trash as quickly as possible?
Joey Mooring, spokesperson for the Huggies brand, says the company first tested the market with designer diapers in 2007 with a denim diaper in Israel. He says the denim diapers were so popular, they made their way around the globe from Australia to Europe and are now a staple at most major U.S. retailers. The company sold more than 60 million denim diapers this spring alone, he adds.
What we have found is that during hot summer months, moms are using this as part of the babys wardrobe, says Mooring. It really helps give moms more options on what babies can wear at picnics and barbeques, and they dont have to worry about their child sitting in the grass in a white diaper.
Huggies has a dedicated design team that focuses on the latest trends in baby care, which predicted camouflage would be the latest craze in infant and toddler apparel. The camouflage diapers will hit stores this week and are exclusive to Wal-Mart (NYSE: WMT) stores nationwide.
Wal-Mart was so excited with our denim line they asked if we could do something exclusively for them, and they fell in love with the camouflage, says Mooring.
And parents can feel good about their purchase: for every pack of camo diapers purchased, Huggies will donate a pack to a military family in need.
Although Huggiess designer diapers cost more, Mooring says most parents are willing to pay extra because the designer duds are now a part of their babys wardrobe. He says that if parents choose to let the diaper play double duty as protection and pants, they can save time and money in the long run by not having to do laundry as frequently.
Of course what everyone is forgetting is that the baby doesnt care what it wears, says Lorrie Thomas Ross, marketing expert and CEO of WebMarketingTherapy.com. This is for the parents. But if anything can take something as unsexy as diaper changing and make it enjoyable, then its worth a little extra money.
Its no secret that baby fashion is huge, says Ross, and so is the market for designer diapers. Whether or not the designs themselves have staying power is another story.
Companies really need to target seasonality here, Ross warns. Denim ties into back to school, so parents may want baby to have a denim bum just like their big brother or sister. For Easter anything in spring colors would be big, but not all designs are going to work year round.
Ross also pinpointed baby showers as a potential niche audience for designer diapers. While guests may not want to give a pack of plain diapers, giving a pack of cute floral or camouflage diapers is much more fun.
Creating fun and trendy designs to lure customers to purchase a product is important, but Ross warns companies need to stay true to quality. If parents see a design they like, they may be inspired to purchase it, even if its not their normal brand. If the diapers hold up better than what theyre used to, those parents could become full-time converts to the brand.
Brands can really capture market share here if they do it right. A parent may realize that they prefer this companys brand of diapers to what theyve been using for years, says Ross. Of course people may also convert if they see a celebrity with their naked baby wearing nothing but a Huggies camo diaper. At the end of the day, people buy what they want.
At Pampers, spokesperson Tricia Higgins says the company has released two different pattered diaper lines over the last two summers to warm reviews. Last summer, Pampers partnered with designer Cynthia Rowley to create 11 different pastel diaper designs, and this summer it released in-house designed floral, polka dot, argyle and toy prints.
Colorful, printed diapers bring added fun to the diaper-changing experience, says Higgins.
And  that added fun, is exactly the reason parents will be purchasing these diapers, says Ross.
People dont need a $120 blinged-out iPhone cover either, but they still buy them because they're fun. The only difference with diapers is that theyre going to get pooped on and thrown away.