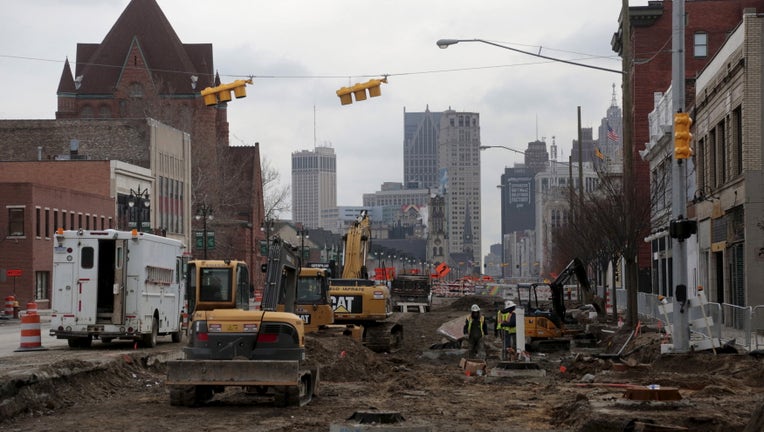 Investing in America's infrastructure may not be the top issue on the 2016 campaign trail, but some candidates are adding it to their political agenda. In late November 2015, Democratic presidential hopeful Hillary Clinton unveiled a five-year infrastructure plan with a hefty price tag of $275 billion. The domestic proposal is part of Clinton's "jobs agenda" aimed at creating middle-class jobs while investing heavily in improving the country's highways, airports and ports.
Clinton called the plan "a down payment on our future" and said she would go further than the legislation currently being considered by Congress. In early December 2015, the House and Senate passed a bipartisan long-term transportation bill costing $305 billion over a five-year period. The bill, which was signed into law by President Obama, is the largest transportation package in more than a decade.
According to data from the White House Council of Economic Advisers, every $1 billion invested in infrastructure creates approximately 13,000 jobs. Each dollar put towards infrastructure leads to an estimated $1.60 increase in gross domestic product (GDP) the following year and twice that over the coming 20 years, according to Clinton's campaign statement.
"American workers and businesses are the engines of a dynamic, entrepreneurial, and growing economy—an economy that supports good jobs with high wages. But by failing to invest in our infrastructure, we are forcing these engines of growth and job-creation to run on second-rate fuel," Clinton said in a statement.
Clinton's strategy includes some of the following specifics:
?         The plan will work to ensure that federal infrastructure investments are resilient to both current and future climate risks, and will partner with states, cities and rural communities to develop regionally coordinated, resilient infrastructure strategies.
?         The plan would fix and expand roads and bridges—reducing congestion and cutting the "pothole tax."
?         It also calls for expanding public transit options to lower transportation costs and unlock economic opportunity for Americans in opportunity deserts.
?         It would connect small businesses, farmers, and manufacturers to their customers and suppliers with a national freight investment program.
?         The plan would accelerate next generation aviation technology and invest in creating world-class American airports — saving travelers time, cutting down on delays, and reducing carbon emissions- and connect all Americans to the digital economy with 21st century Internet access.
The Republican National Committee released a statement criticizing the plan: "With Hillary Clinton's spending binge already at a trillion dollars and counting, it's clear she wants to treat Americans' tax dollars like every day is Black Friday with no plan to pay the bill."
Democratic presidential rival, Vermont Senator Bernie Sanders, also proposed an infrastructure plan of his own called the "Rebuild America Act." The stimulus program would generate 13 million new jobs by spending $1 trillion to improve or rebuild roads, bridges and transit systems over a five-year period. Sanders' plan is meant to supplement the existing federal highway program, with annual expenditures of about $148 billion on top of the current $50 billion a year in highway spending.
"For most of our history, the U.S. proudly led the world in building infrastructure that grew our economy, gave our businesses a competitive advantage, and provided our workers a decent standard of living. Sadly, that is no longer the case," Sanders said in a statement.
Sanders' strategy includes some of the following specifics:
?         The Rebuild America Act would more than double the current level of funding for the highway and transit accounts of the Highway Trust Fund, and would create a National Infrastructure Bank to leverage private capital to finance more than $125 billion in new projects.
?         It will invest $75 billion to upgrade our passenger and freight rail lines, to move people and goods more quickly and efficiently.
?         The Act will invest $12.5 billion to improve airports across the country, and $17.5 billion to bring air traffic control system into the 21st century by accelerating deployment of NextGen technology to make skies safer and airports more efficient.
?         It will allocate an additional $15 billion over five years to clear the backlog of projects to improve inland waterways, coastal harbors and shipping channels.
?         It will invest $6 billion a year so states can improve the drinking water systems that provide Americans with clean, safe water; and $6 billion a year to improve the wastewater plants and storm water infrastructure that protect water quality in our nation's rivers and lakes.
On the Republican side, most of the top tier candidates have only mentioned the need for investing in infrastructure. GOP front runner Donald Trump has not outlined a specific plan at this point but has been the most vocal about his concerns to rehabilitate the infrastructure system.
In an interview on Fox News last month, Trump said, "We have to rebuild our country. Our country is a mess. Our infrastructure's crumbling and we owe $19 trillion." In December 2015, Trump told CNN the United States should've spent $4 trillion to "fix our roads, our bridges, and all of the other problems; our airports and all of the other problems we've had, we would've been a lot better off." The month before on the FOX Business Network, the billionaire businessman suggested the U.S. has "been fighting the battles of the world for so long, and our country is becoming third world. We owe $19 trillion - we have to rebuild our country, our infrastructure."
Trump's biggest Republican presidential rival, Texas Senator Ted Cruz, has not rolled out an extensive plan to rebuild America's infrastructure. Cruz's website does suggest "any investment in American infrastructure would be concentrated in the energy sector by approving the Keystone Pipeline and empowering the private sector to create good-paying American jobs." The Texas senator also says he would remove federal impediments to energy exploration, development and trade, but does not offer specifics. In December 2015, Cruz was one of the Republicans in the Senate that voted against the $305 billion measure to fund roads, bridges and rail lines. The bill passed Congress and was signed by President Obama.
Unlike Trump and Cruz, Republican presidential hopeful Florida Senator Marco Rubio has outlined a plan concerning investment in American infrastructure. The proposal, "Marco's Plan for Transportation in the New American Century" , is not as detailed as his Democratic rivals but it does outline some concrete steps. However, similar to Senator Cruz, Rubio also voted against a $305 billion bi-partisan bill to fund roads, bridges and rail lines.
Rubio's outlined plan on his campaign website includes the following:
?         Cut Outdated Gas Taxes: Reduce the federal gasoline tax rate by 80%and Veto any gas-tax increase.
?         Empower States to Innovate: Turn back control of the highways to the states, stopping special interests in Washington from building "Bridges to Nowhere" and engaging in other wasteful spending. Free states from the strings that come attached to federal funding and remove barriers to public-private partnerships.
?         Find Common-Sense Savings: Repeal the Davis-Bacon Act that inflates government costs by billions every year and is a giveaway of taxpayer dollars to labor unions. Phase out the Mass Transit Account, which loots the Highway Trust Fund and stop diverting highway funds to unnecessary pet projects.
Ohio Governor John Kasich has addressed concerns for the need to invest in infrastructure, but unlike Rubio has not offered a point-by-point plan. He is a proponent of directing infrastructure investment away from the federal government into the hands of states. Kasich made his stance clear last summer in a Time Magazine editorial, "Gov. John Kasich: Let the States Fix Our Crumbling Highways—Instead of Washington."
"Some states are so desperate that they are taking matters into their own hands, but they lack the authority to make real progress. Six states recently increased their gas taxes to try to fund their own needs, but that only puts more pressure on consumers and job creators at a time when the economy is still trying to get going. These tax hikes wouldn't be necessary if Washington made some common-sense reforms, like take itself out of the picture," said Kasich in the editorial.
On his campaign website, the Kasich Action Plan breaks down some of his infrastructure improvement ideas in greater detail.